Every summer, owners empty their pocketbooks as they watch their general manager's attempt to draft, spend and trade their way to a Stanley Cup. Each year, the goal is to go out and make their team better than the year before. Some are excellent at it, making smart acquisitions during free agency and addressing big-time needs through the draft and by making trades. Other general managers struggle in the draft and the trade market and find themselves overspending on July 1st.
Ultimately, those general managers are going to be judged by a few different things. All of it boils down to decisions they make. Coaches they hire, players they acquire and players they trade away. For the purpose of this project, we are going to look at how successful NHL general managers were in the 2015-16 season in terms of the players they acquired. That includes all means of acquiring the player (draft, free agency, waivers, or trade).
Which general managers were best at adding players who moved the needle last season?
General Managers are given "credit" for an acquisition if they acquired a player and that player was still on that team for the 2015-16 season. Only GMs with a minimum of five remaining acquisitions were included. All statistics at 5-on-5 unless otherwise indicated. Data via corsica.hockey.
Production
Every time a player like Steven Stamkos hits the market, things get crazy. While he didn't end up reaching free agency, his potential to be acquired was felt throughout the NHL. GMs were ready to break the bank to get him signed. Why?
Because every team will jump at an opportunity to land a player who is a massive difference-maker on the score-sheet.
Over the past several seasons, we've seen major moves and contract extensions for players who add buckets of goals and offensive production to a club. Stamkos was signed to an eight-year deal, offensive-minded defensemen P.K. Subban and Shea Weber were swapped for each other and Taylor Hall was moved to a team starved for goals. All of that happened in about 30 minutes. We've seen similar moves over the past few years. Teams are always looking for that dynamic, offensive talent.
This table illustrates the top 15 GMs in the league in terms of their acquisitions' primary points per sixty minutes of 5-on-5 play.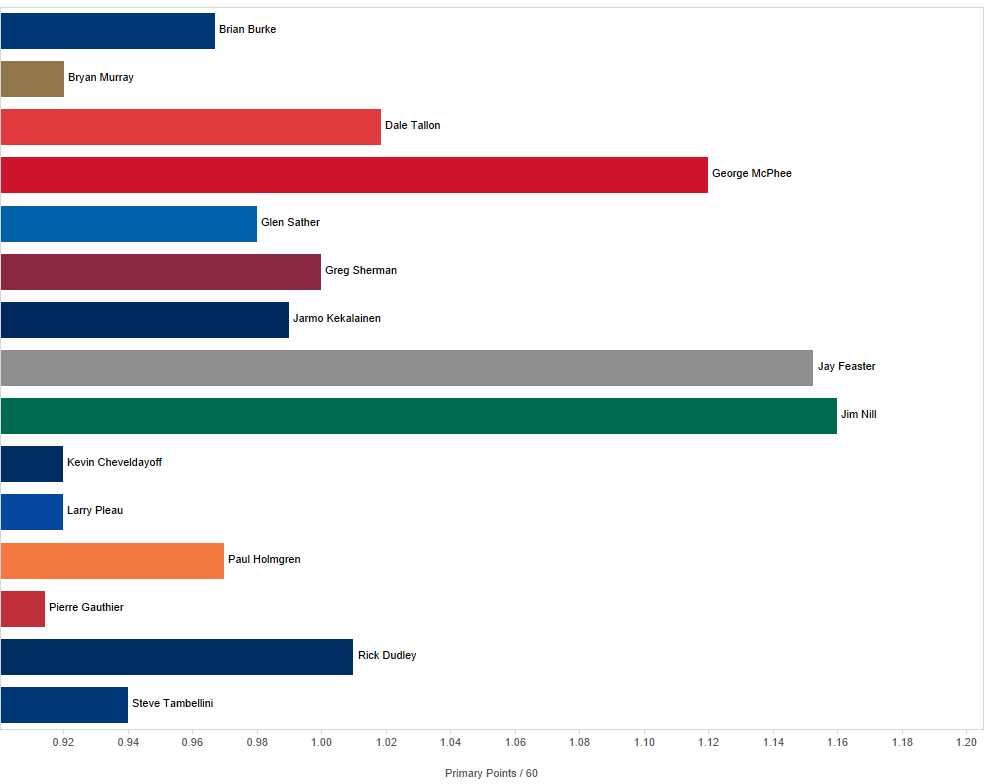 Not a big surprise to see Jim Nill lead in this category. In the past three offseasons he has acquired Patrick Sharp, Jason Spezza and Tyler Seguin. Those players alone will add plenty of offense to a group, let alone some of the solid depth moves Nill has made. His acquisitions' combined 1.16 primary-points-per-60 was best among all GMs with at least five acquisitions.
After that, we have a pair of general managers who were fired from their clubs. Jay Feaster has players that he acquired on both the Calgary Flames and the Tampa Bay Lightning, highlighted by the group of Steven Stamkos, Johnny Gaudreau and Sean Monahan. Recently hired George McPhee slots in third with his acquisitions combining for a 1.12 primary-points-per 60 in the 2015-16 season. It will be interesting to see what he can do in Las Vegas.
Possession
Not all general managers are looking to acquire offensive talents. Some want to a build a team that controls play in both ends of the ice. It isn't always easy to tell which GMs are acquiring the players who really move the needle possession-wise. There are GMs with a relative Corsi-for-% close to zero simply because they've acquired almost every player currently on the team. So we'll look at the relative Corsi-for-% of GM's acquisitions along with the overall Corsi-For-% of those acquisitions.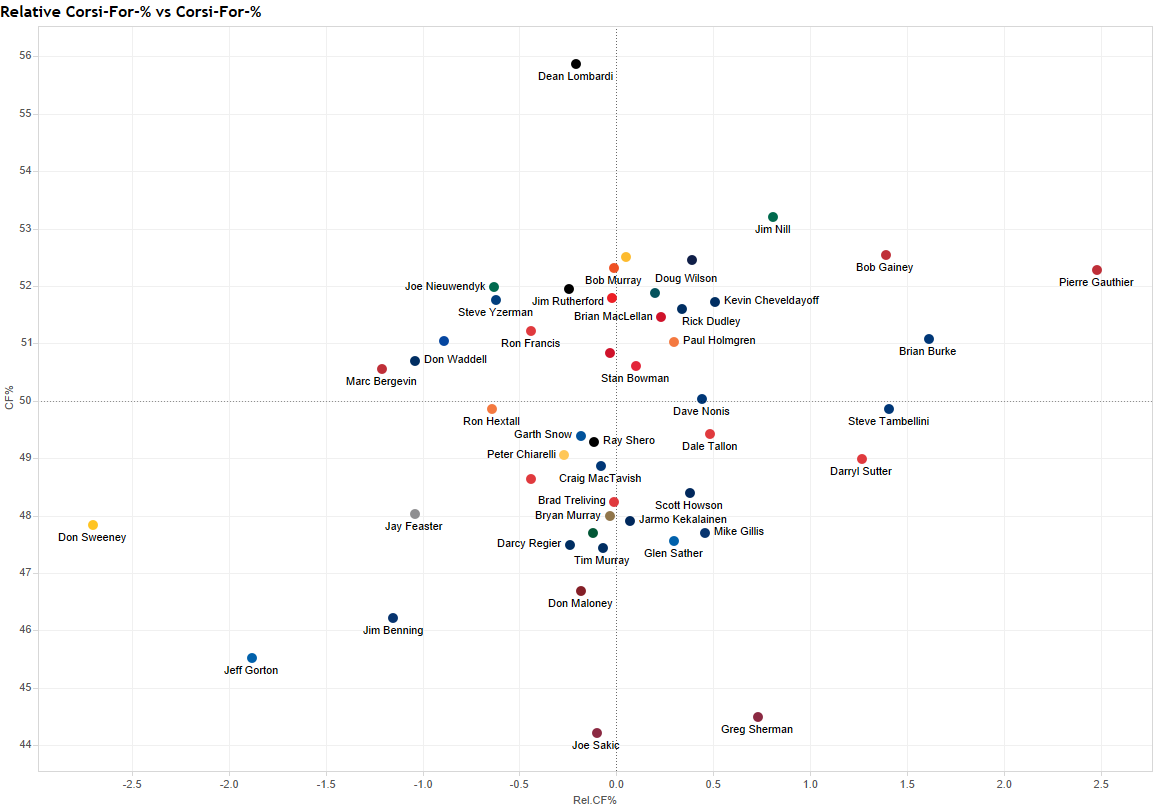 Again, Nill arrives near the top of acquiring possession-driving players. Bob Gainey, Pierre Gauthier and surprisingly Brian Burke join him in acquiring players who are making a huge difference with the puck. Despite their players falling in the red in terms of overall CF%, acquisitions from Darryl Sutter and Steve Tambellini were positive relative to the rest of their team.
Another name to note who doesn't get a ton of recognition is Kevin Cheveldayoff. Aside from the Evander Kane trade, he hasn't seemed to have made a ton of noise in terms of acquiring players but has really done an excellent job in Winnipeg. Jacob Trouba, Mark Scheifele, Mathieu Perreault and Nikolaj Ehlers highlight his list of acquisitions since taking over for the Jets and that list looks like it is going to expand with impact players every year. A lot of his work has been done in the first round of the draft and he will be able to add Patrik Laine to that list next season.
Later on this week, we will take a look at some of the general managers who are getting the least out of their acquisitions. Thank you for reading.
Jordan has been covering the Stars for The Hockey Writers since February 2015. He is originally from Iowa City, Iowa. You can follow Jordan on twitter @jordan_dix