The end of my 2016 fantasy season was fairly treacherous. I was the major buyer at the trade deadline, trying my darndest to keep pace (and surpass) a rival GM who, nearing the trade deadline, had a firm hold on first place. I shipped out as many draft picks as I possibly could to get me over the hump and brought in the likes of Jordan Eberle, Henrik Zetterberg, Brad Marchand, Devan Dubnyk and Jake Muzzin.
I was like a slightly younger Alex Anthopoulos out there but, unfortunately, never found my Bat-Flip moment. After all was said and done, my efforts weren't enough to overcome a torrid finish to the year by Crosby, a trio of Norris candidates and a masterful deadline by the GM I was chasing—highlighted by the acquisition of Anze Kopitar, Dougie Hamilton and Loui Eriksson.
I use the word treacherous, which may seem dramatic to some, but I truly sold it all for a chance to reclaim the trophy (aptly named 'The Grail') and it slid through my fingers. So, as we're resetting for another year of fantasy fun, I find myself at a serious disadvantage—drafting uphill, if you will. With that in mind, here are some players I've been keeping an eye on. 
Forward
Thomas Vanek
This is a player who should have never left Long Island. He had a special kind of chemistry brewing with John Tavares and he looked to have a bright, productive future for an up-and-coming team. But that's not exactly how it played out. Electing to pass on a healthy extension with the New York club, he landed in Montreal for a disappointing playoff run, then signed with the Wild, the home-state of his NCAA club, the Golden Gophers. We all know how that ended. His buy-out is a true reflection of how difficult it is to sustain success in today's NHL—when you find a niche or, say, an all-world linemate, grab that opportunity and skate with it.
The Detroit Red Wings felt, for a modest $2.6 million, the former 43-goal scorer was worth a shot. At 32 years of age, he's passed his prime, but he is the type of player who may still be available in the later rounds of a draft and could put up some points, too. Detroit has an impressive cast of young, dynamic forwards who could benefit from a veteran scorer who knows how to convert scoring chances around the front of the net. If given 15-16 minutes a night, power play time and the opportunity to play with some combination of Dylan Larkin, Tomas Tatar, Gustav Nyquist or Henrik Zetterberg, should the captain slide to the centre of the ice, Vanek could once again reach 25-30 goals and 50-55 points.
Kyle Turris
It's easy to overlook 30-point players. But not when they're 26-years old and the number-one centreman for a skilled offensive club who put up 58 and 64 points the two years prior to battling through last year's injury-riddled campaign. Those 30 points are not a measure of the player Kyle Turris is and astute managers know this. If you're like me, you hope there are some zealous GMs come draft day who have already anointed Derek Brassard the uncontested first-line centre in Canada's capital or who couldn't resist the breakout appeal of the talented Mika Zibanejad in the Big Apple. Hype has that effect. Let those GMs chase the centremen who are top of mind while you hope Kyle Turris falls to the later rounds and returns to 60-65 point form.
Kyle Connor
Amidst the hype of the Winnipeg Jets' highest Entry Draft selection since 2002* in Patrik Laine, a quiet, 2015 first-round selection has the chance to steal the spotlight on the left side of the ice in Winnipeg this year. Kyle Connor, 19 years old, lit up the NCAA. Last year—his rookie campaign—he scored 35 goals and 71 points in 38 GP for the University of Michigan. Former Michigan teammates, JT Compher and Tyler Motte, were the scoring race runner-ups, posting 63 and 56 respectively. Which is to say, 71 points is impressive. Very impressive.
Connor signed an entry-level deal with the Jets back in April and has his sights set on making the big club come September. While first-and-second pair defenders focus their attention on Mark Scheifele and the man with the Ovechkin-like release, Patrik Laine, Kyle Connor may blaze under the radar and onto the score sheet with regularity. The best case scenario here is a strong rookie campaign in the neighborhood of 45-55 points.
Here's to hoping the Patrik Laine hype keeps Connor somewhat concealed until those late rounds.
*Kari Lehtonen was drafted 2nd overall in 2002 by the Atlanta Thrashers. Since relocating to Winnipeg, the highest selection was Mark Scheifele, taken 7th overall in 2011
Defense
Michael Stone
Top four shot generators for the Arizona Coyotes last year:
1. Oliver Ekman-Larsson
2. Tobias Rieder
3. Shane Doan
4. Michael Stone

— Catherine Silverman (@CataCarryOn) July 12, 2016
Finding productive defenseman late in any draft is tough. There are only so many who receive regular, meaningful power play time and, of those, there is an even smaller segment who regularly factor into the scoring plays. Oliver Ekman-Larsson, for example, is a top-tier power-play quarterback who should have been protected in keeper leagues for years (and years). But what of his teammate, Michael Stone?
Yes, the Yotes made an impressive, successful play to land Alex Goligoski and, yes, Connor Murphy did see a lot of time alongside fantasy stud, OEL, but Stone saw quite a bit of power play time on the first unit and made the most of it too. He put up a respectable 14 points on the man-advantage, tallying 36 points overall (two less than the dynamic Sami Vatanen, for context).
The hope here? Your rival GMs write off Stone has a beneficiary of playing with one of the best young D in the game—a player who is one lineup change from fantasy irrelevance. Well, this may be true, but only to an extent. Of course Stone benefits from playing with OEL on the power play (who wouldn't?), but he is a tremendous young, complete defenseman in his own right. While he and the Coyotes saddle up for his arbitration case, it's difficult to overlook how effective he has been and may very well continue to be.
If all goes well, he could modestly build on last year's campaign as the Coyotes take a collective step forward. Look for 30-40 points here.
Zach Werenski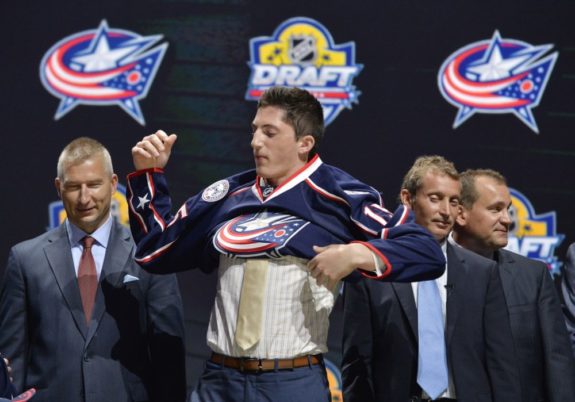 This one may not be quite 'off the board' enough to warrant a late round selection, especially in keeper leagues, but Zach Werenski, if available, should be an absolutely priority pick.
The 19-year old had one heck of a hockey season this past year. First, he was a point-per-game player for the University of Michigan (36 points in 36 games), he then set a shared record with the aforementioned Kyle Connor for most assists and points in a single Big 10 championship game with three and four, respectively, and then went pro just in time for the Lake Erie Monsters' Calder Cup run. The dynamic defenseman didn't miss a step in his transition to the professional ranks—he scored his first goal for the club in overtime on April 9th and proceeded to put up 14 points in 17 games en route to winning the Calder Cup.
At 6'2 and 206 pounds, this is an NHL-sized, talented offensive defenseman. Not only should he make the Blue Jackets in 2016-17, he should also be counted on for big minutes and a bit of offensive punch alongside the supremely talented Seth Jones.
Fingers crossed your rivals are focussed elsewhere when looking to round out their d-core. Werenski could very well record a 42-47 point rookie campaign if he's deployed on the man advantage and quickly earns the trust of Torts.
Goaltender
Cam Talbot
Connor McDavid with gold medal winner. Cam Talbot gold medal shutout. Edmonton Oilers had big part to play in May.

— Terry Jones (@sunterryjones) May 22, 2016

Depending on the format of your league, quality starting goaltenders may be long gone by the late rounds or just starting to thin out. The elite tenders will certainly be spoken for, so where can you find value? Well, luckily the Edmonton Oilers have a reputation for playing some porous defensive hockey. Many GMs will focus their attention on teams and goalies they can rely on, meaning goalies like Cam Talbot—talented, up-and-coming—may be overlooked because they get peppered with shots on a nightly basis and seldom find the win column.
Well, that perception could work to your advantage this year. As a backup tender, Talbot posted a .941 and .926 SvP% in New York before catching the eye of the Oilers' brass, desperately in need of a true number-one goaltender. Talbot played very well last year in Edmonton despite only posting 21 wins. He had a .917 SvP% while stopping 1,511 shots, more than his first two NHL seasons combined.
There's a lot of change in Oil Country, which should fuel some winning hockey. A full season of McDavid, the addition of some mean, heavy forwards (hello, Milan) and a group of young, talented defensemen—including Adam Larsson—who will most certainly be playing for pride and respect. This is a recipe for winning hockey.
Add it all up? You have a team ready and hungry to win and a goaltender who has never posted a SvP% below .917 backstopping them. If Talbot remains available by the time you late-rounders start drafting, scoop him up while you can. He could reward you with the first 30-win season of his career.
Even If You're Drafting Late, You're Still in It to Win It
There are many players, similar to those listed above, who can add value to your team late in your draft. You just need to look for them and pay attention to evolving circumstances and roster movement through the summer.
With regards to my own season, my expectation is enough of my late-round picks will pan out and I will once again be buying down the home stretch in 2017. With any luck, I'll be right back in this terrible draft position next year—only this time with the Grail.
Good luck with your draft preparation.