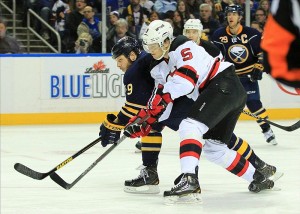 It's been a tough road for Adam Larsson. He was drafted fourth overall back in 2011, and after starting his rookie season strong, injuries and inconsistency continually kept him out of the lineup. However, in this recent stretch of games, with full trust from the coaching staff, Larsson has been able to show the deep level of potential we all knew he possessed.
Scoring and Producing
He got game-tying goal with 2:50 remaining against the Toronto Maple Leafs on Wednesday night, which sparked a Devils come back, and concluded in their third shootout victory this season. The goal was great, but what got me about the goal wasn't the strength of the shot, or the placement, but the reaction upon scoring. The way Larsson raised his arms; it was like a signal for the crowd to rise with him.
Larsson finished as the games number one star. Along with the goal, he registered four shots, was a plus one, and played an impressive 24:59 minutes of ice time. Over Larsson's last eight games, he has one goal and six points. To put that in perspective, Larsson had only produced four points over his first 22 appearances.
Whether Larsson's upbringing is due to the dismissal of Pete DeBoer, we don't know; but when the coaching staff has trust in a player, especially one of Larsson's caliber, the skies the limit. Trust is a two-way street, the coaching staff won't play you if they believe you won't produce for them. Regardless if its scoring goals, or being solid defensively. What's great about Larsson is he has the potential to be great on both sides of the puck. For all we know, this could only be the start of something special on their young blue line.
Larsson on coaching staff: "They trust me. I think that's all I needed. I needed guys that showed they trusted me; then it's up to you"

— Mike Morreale (@mikemorrealeNHL) January 29, 2015
New Jersey has a plethora of young defensemen, and it's hard enough for someone like Eric Gelinas to stay in the lineup as is. This potentially was Larsson's last chance, at least with the Devils, to show he could be a member of this team long-term. On the flip side, we have seen sparks of a number one defensemen out of Larsson. However, he has continually gotten hurt when he begins to produce. If Larsson can stay healthy, along with continually gaining confidence, Larsson will be the player New Jersey builds around for years to come.
Andy Greene's Impact on Larsson
Andy Greene is the definition of professionalism, and has been a big part of Larsson's development. Like Larsson, Greene played over 25 minutes, and is showing him the ropes of how to be a team's number one defensemen. However, from a credential standpoint, the two couldn't be more different. While Larsson was a fourth overall draft pick, Andy Greene was never drafted.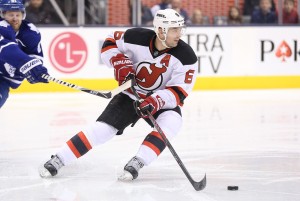 Greene played four seasons at Miami University where he played tremendous hockey during that stretch. Coincidentally, General Manger Lou Lamoriello, picked up Greene almost right after his college eligibility was up.
Greene plays in all situations, and while he doesn't post great offensive numbers, his ice awareness, smooth skating, and presence in uncanny. Those are the attributes Larsson can learn from a guy like Greene. The upside, is with Larsson's elite ice-vision, while being only 22 years old, he has the potential to be better than Greene in all facets of the game. For the here and now though, Larsson has to keep learning under his tutelage.
Confidence is everything, in not just hockey, but sports in general. It gives the feeling that when you're on the ice, you can play to the best of your ability. After these past couple of years with Larsson, we all knew the potential was there; it was just a matter of bringing it out.
Corey Spina lives in Wayne, New Jersey. He is a senior at Centenary College, and is majoring in Communications/Journalism. Corey is in his second season covering the New Jersey Devils for The Hockey Writers, he completed a sports journalism internship with TAPinto, and he is the Host/Producer of the Sports Buzz on WNTI.org.