The thought alone of Kimmo Timonen returning to the NHL is nothing short of odds-defying. After staving off retirement for one last year, the 39-year-old blue liner's bout with blood clots in both lungs, as well as his right leg, back in September meant a likely end to an illustrious 14-year career. But despite the recent developments of a potential return, should the Flyers and their fans get their hopes up?
Reasonable Expectations
Contrary to belief or want, the possibility of Kimmo Timonen returning doesn't solve the issues that's left the Flyers gasping for playoff oxygen. Sure, his veteran presence would spell relief for a blue line that's lived Murphy's Law this season. But what could we really expect from an aging defenseman who last played in live action nine months ago?
"I don't know," said Flyers coach Craig Berube. "I have no idea. … Depends on the person. He's a pretty smart individual. I think that he's kept himself in really good shape. Obviously, he has to get on the ice and put some work in. But Kimmo plays a lot of the game with his brain."
While Timonen's cerebral attributes have played a dominant role in the undersized defender's effectiveness throughout his career, playing at a high level isn't exactly the result of a mere flip of the switch – even for younger players who aren't overcoming a potentially life-threatening ordeal.
In a recent Q & A with NJ.com's Randy Miller, the decorated veteran acknowledged that he hadn't skated since last season's playoff round against the New York Rangers, on top of needing weeks, instead of days to properly return.
"Next day. I think!" said Timonen in Miller's interview. "Hey, experience! Nah … At least two weeks – two, three weeks.
Make no mistake about it, however. Installing Timonen back into the lineup would be a morale-boosting injection. Not only would his return add stability to a core that's been devastated by countless injuries, it'd also account for an emotional spike, one that the team could possibly rally behind.
"He's the piece that we've been missing," said teammate Jakub Voracek.
But would a Timonen comeback be enough to reverse Philadelphia's fortunes?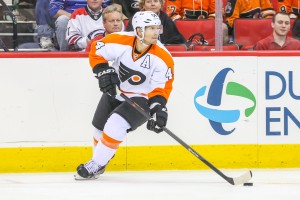 The unfortunate answer is that it likely won't. With 32 games left on the schedule, the Flyers are nestled in fifth place of the Metropolitan Division with 49 points. And despite their current three-game win streak, Philly finds themselves nine points out of the final Wild Card spot.
Adding even more difficulty to the task at hand, every Eastern Conference team, aside from the conference's top team in the Tampa Bay Lightning, holds games in hand on the Flyers going into Jan. 30's slate of action.
In other words, the Flyers not only need to go on an improbable run to finish out the season, they'll need Timonen to magically recapture his 2007-08 form, where he tallied eight goals and 36 assists in 80 games.
Salary Cap Equation
Being healthy enough to play, of course, isn't the only factor in Timonen returning.
When it comes to the salary cap, the Flyers own the fifth highest estimated salary cap at $68.806 million. And although Timonen's one-year, $2 million contract is considered team-friendly, there are bonus incentives the team will be forced to contend with.
The untold concern for the Flyers is Timonen's impact on next season's salary cap. His return could trigger bonus pay, which would be applied retroactively to next season's limit. All told, Timonen could hit the Flyers with another $1.25 million in "dead space" next season.

His base pay is $2 million, applied to this year's cap. According to a source, Timonen will earn an additional $750,000 with 10 games played, an additional $250,000 on top of that at 20 games played, and $250,000 on top of that if he makes it to 30 games. There was another $250,000 on the table for 40 games, but that is no longer possible. — Frank Seravalli, Philly.com
The issue itself is easily remedied. On Wednesday, GM Ron Hextall confirmed a move would be made to account for Timonen's return.
"That's a space we've used for call-ups all year,'' said Hextall. "There are implications there for sure. We can make room. We have to make room right now. We'll have to make a move if Kimmo comes back.''
If Timonen returns, Hextall said the Flyers will have to clear cap space. Sounds far more positive today than weeks ago.

— Tim Panaccio (@tpanotchRET) January 28, 2015
At this stage, wheeling and dealing could prove to be quite advantageous for the Flyers, or it could be counterproductive. It all depends on who's sent packing, in addition to who or what is received – although ridding themselves of one or two of the few deadweight contracts on the books would be a victory in itself.
Mark Streit's $5.25 million cap hit stands to be the most lucrative casualty. Sitting fifth in the league among defensemen with 35 points, the offensive defenseman's value has never been higher. The Flyers would not only erase Streit's cap hit two years early, they'd also stand to get a profitable return.
But how would moving the one-time 62-point scorer help the team this season? After all, isn't winning, or at least competing, the point of Timonen's rebound?
Timonen Returning to Win
In a career that's spanned nearly a decade and a half, Kimmo Timonen has accumulated his fair share of accolades. The 5-10, 194-pound defender was named to five All-Star Games, playing in two of them, along with owning the Nashville Predator's all-time assist record with 222 up until this season.
Timonen has appeared in 1,092 NHL games, joining the 500 point club back in 2012. That's in addition to medaling four times in Olympic competition, earning three bronze medals to go along with a silver medal as a member of Team Finland.
The one prize that has torturously eluded the left handed defenseman, however, is the Stanley Cup.
"I still want to get into the playoffs and hopefully get one more playoff run for me and that's it," Timonen said earlier in January. "This is gonna be the end of story for me anyway. That's still my passion. We'll see what happens with that. I don't know where we're gonna be in a few weeks."
If you're Timonen, what is there to gain? No Stanley Cup here this year. Do you hope the team trades you at the deadline?

— Sarah Baicker (@sbbaicker) January 29, 2015
Given Philadelphia's current status – as mentioned above – it's all but likely Timonen will ride off into the sunset on Apr. 11, the conclusion of the regular season. Especially if they become sellers by the trade deadline.
That is, of course, unless the Flyers deal him to a contender.
This is a bit premature, as we wait for Kimmo's status officially, but word is already getting around in the NHL that if Timonen can get a few games in and show he has game left he could become an extremely hot commodity….if he is willing to play somewhere for a few months… — Eklund, Hockey Buzz
One possible destination, previously mentioned by Philly.com's Frank Seravalli, is Nashville. The Preds not only have over $10 million in open cap space, but could stand to gain from Timonen's experience and complimentary scoring. Adding Timonen to a cast that includes Shea Weber and Roman Josi – a pair of 30-plus point scorers – would certainly benefit the league's second best team in points (68).
Best case scenario, Timonen comes back and looks great,Flyers trade him after he plays 9 games and goes on to win a Cup. I'm good with that.

— PuckSauce (@FlyersPuckSauce) January 29, 2015
Timonen would also be reunited with the organization he broke in with in the 1998-99 season. The former Nashville captain spent a total of eight seasons with the Predators, posting back-to-back 50-point years in 2006 and 2007. He would also rejoin head coach Peter Laviolette, whom he played for in Philadelphia for over the course of four seasons.
Other potential suitors include the Los Angeles Kings, Anaheim Ducks, Calgary Flames, and Detroit Red Wings. That's all predicated, of course, on a lot of big "if's." 
Something Flyers fans have grown accustomed to all too well lately.