In this translated interview, originally appearing on the popular Russian website Sovsport.ru, Vladimir Tarasenko talked about his first All-Star Weekend, shared his impressions about living and playing in St. Louis, and described what he gathered from being a journalist. Read more about the Blues' great season here: Back to Business: Blues Look to Continue Winning Post All-Star Break. In his third NHL season, Tarasenko is becoming a superstar, as his team mates said numerous times.
* For the original interview by Alisa Volbidakht, click here.
– What kind of impressions did you have from your first All-Star weekend?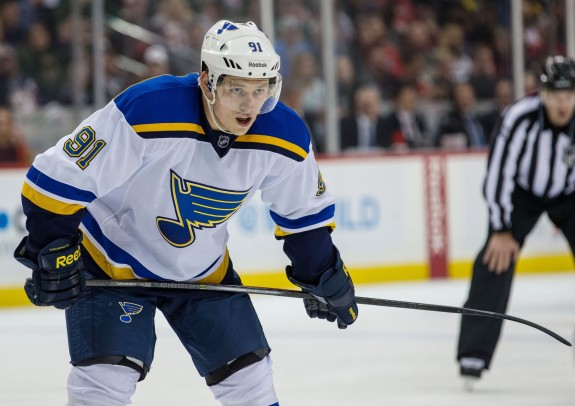 – It has been a great weekend. I had a chance to talk with many guys I didn't know earlier, meet Russian guys, like Alex Ovechkin. I was picked for four contests in the Skills Competition. I don't even know if that's good or bad. I tried the fastest skater, the shoot-out game… And the draft was great. It was the first time for me to participate in such a show.
– Were you nervous?
– Frankly speaking, I didn't want to be picked last at the draft! It's not a good thing. But I wanted the car, like Ovechkin. Alex really wanted it more than anyone else.
– Do you remember the first time you hit the ice?
– Of course I do, I was five. I got to a public skating session with my grandpa in Novosibirsk. It wasn't all that great, I didn't understand what was going on. But I remember that day very well.
– And the first time in the NHL?
– I remember that day very well too. Almost three years have passed. I felt like my dream has just been fulfilled. And I managed to score right away. You can't forget these moments. Just like the WJC in Buffalo.
– What's the secret of your success of this season?
– A mix of hard work and efforts. Is there any other possible secret?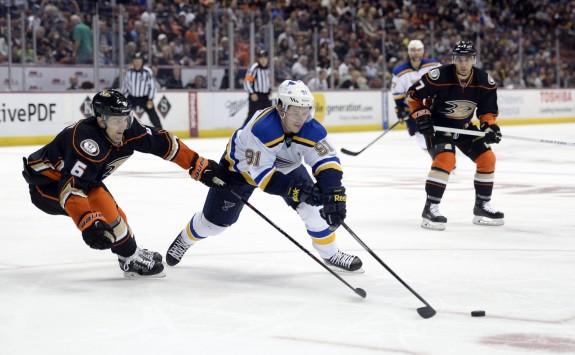 – Was it hard to feel at home in St. Louis?
– At first it was. But they helped me and now I feel great.
– What can you say about the city?
– It's a great city… quiet, calm. There is everything to keep yourself focused on hockey, play well and don't get messed up by personal things.
– Who is your best friend within the team?
– Kevin Shattenkirk. During the first season we were room mates during away games. They called us together to the All-Star weekend.
– How do you spend your free time? What is your hobby?
– I simply rest. I get ready for practices and games. That's all.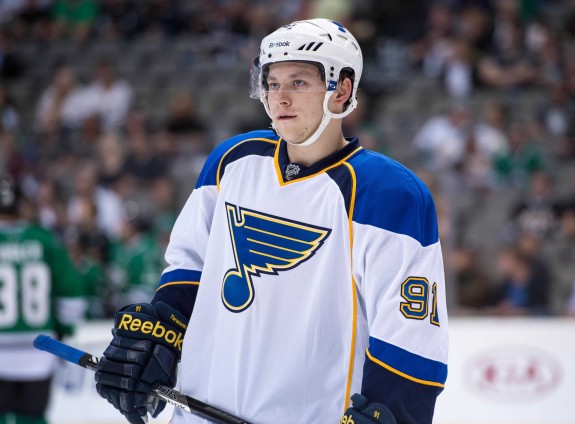 – Is there hockey only in your life?
– We play every other day. Sometimes there are "cultural tours", but not often.
– Books, music, movies?
– That too. I listen to all kinds of music. It depends on my mood. It also determines if I'll listen to the iPad before a game, it doesn't happen every time.
– Who is the best NHL player?
– Among the ones I practiced with, Pavel Datsyuk. There are no better players from a hockey point of view. There are many things fans don't notice during a game, this is where Datsyuk excels. And many other hockey players will agree with me that it's hard to find any other player with better hands or more professional.
– Not long ago it has been said that St. Louis will start discussing a contract with you only during the off-season.
– Where did you hear about it? Russian media? I haven't heard anything.
– Those news were appearing on American press.
– We'll see. I want to stay here in St. Louis.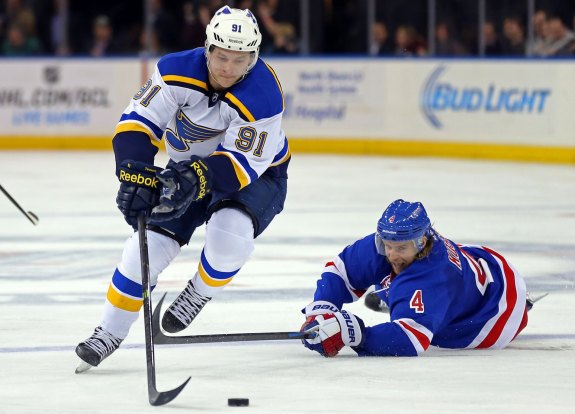 – What is the main difference between the NHL and the KHL?
– Arenas. The KHL is doing huge steps forwards, but the NHL is a league with so many years of history. The KHL may reach the NHL, but they will need to work hard. I think that both are excellent leagues. I enjoyed playing in the KHL, and I never wanted to get out of it as soon as possible. But to get to the perfection, you have to play in the NHL.
– This is what motivates you playing hockey?
– Yes, of course. I don't want to degrade. You need to further work and keep your level as high as possible, I don't want to be remembered as a "one-season wonder".
– During the All-Star weekend you tested yourself as a journalist.
– Yes. It has been a good experience. Now I know myself how to give provocative questions. And how to correctly reply them.
[Read also: Tarasenko's humility on par with scoring ability]