The St. Louis Blues enjoyed the longest break in the NHL over the past 9 days, thanks to the All-Star game in Columbus and some favorable scheduling. The team will look to come out flying against the quick Predators team in a 4-point game that could mean the difference in the division (and playoff standings) by season's end.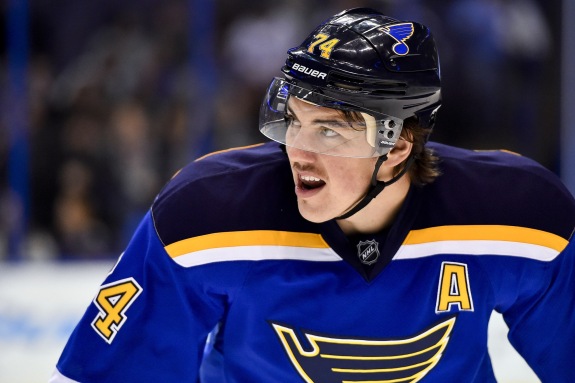 Blues Will Count on ALL-Stars to Beat Nashville
The Blues have been on the short end of the stick when playing the Predators so far this season, only coming away with 1 win in 4 contests through the first half of this year. This means that Thursday night when the two teams meet, it will be their final bout of the 2014-15 regular season, making this game one of the biggest of the entire year. The Blues need to come out on top in order to gain 2 crucial divisional points, and to keep Nashville from gaining any (hence the 4 point swing). The team will be able to accomplish this feat by focusing on a 200-foot game, and by capitalizing on their man advantages.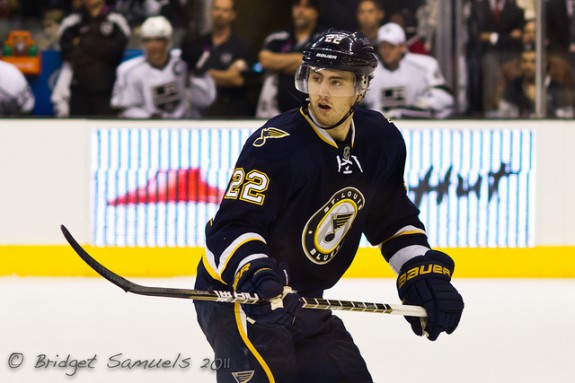 Fans can expect that complete 200-foot team effort in the first game back since the All-Star break with all 4 lines rolling quickly (barring man advantages, and odd play). David Backes, TJ Oshie, and Alexander Steen should also come out flying and continue their dominance again Thursday against Nashville, but they won't be the only Blues' stars itching to make plays. Defenseman Kevin Shattenkirk will look to get involved early and often, coming off of his very 1st All-Star selection where he registered a goal form the low slot in the 1st period. He has been a big part of the Blues offensive production this season, and will look to continue that play Thursday night and beyond. He has 39 points (8G, 31A, plus-17) on the season, which is 2 behind Mark Giordano of the surprising Calgary Flames for the league lead by a defenseman, but Giordano has played in 2 more games than Shattenkirk as well. If Shatt Deuces can get involved in the play early, and can get backchecking help in his own zone, he should have a big night at home in his first game since being that 1st time All-Star.
Kevin Shattenkirk finished the All-Star game with a goal and an assist. Tarasenko registered four assists.

— Randall Ritchey (@randallritchey) January 26, 2015
Shattenkirk Isn't the Only All-Star  Looking to Make a Statement
The obvious Blue to watch on any night is the shifty and skilled Russian Vladimir Tarasenko. His playmaking ability is now well documented, and his ability to create space is uncanny. Add in his success so far this season against the Predators and fans can expect him to be on the score sheet again Thursday evening. He has 3 goals and 2 assists for 5 points (plus-1) in 4 games against the Predators this season, and looks to start the 2nd half of the year off right with some big plays to help his team gain those invaluable 2 points against Nashville. Tarasenko will be looking to get back in sync with his 'STL' line mates Jaden Schwartz and Jori Lehtera after a strong 4-assist showing in Columbus last weekend.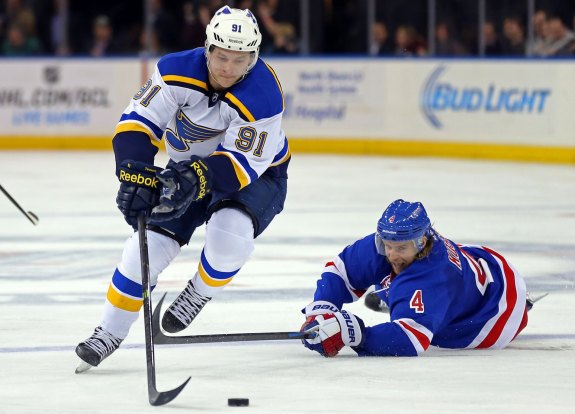 Blues Focus Needs to Be on Special Teams Against the Preds
The biggest problem the team has faced against the Predators this season outside of matching their incredible tempo for a full 60 minutes, is the special teams play. It really is a tale of 2 stories too, as both teams seem to enjoy the penalty kill and loathe the power play against one another. The Blues penalty kill is actually fairing quite well against the Predators this season, averaging almost 94% (93.75) while down a man (they are 81.2%, 17th overall on the season). Look for the boys in Blue to continue this trend tonight, with active sticks and bodies filling lanes to negate any opportunities the Preds try and set up.    
WATCH: @jschwartz_17, @OSH74, @dbackes42 & @shattdeuces talk about being back home and the improved special teams. >> http://t.co/s7IIfjDno7 — St. Louis Blues (@StLouisBlues) January 8, 2015
Also look for the team to try and revamp their power play against the crafty Nashville defense, as the Blues currently have only scored 1 goal against the Preds this season while up a man in 10 total attempts (12.5%). They will look for consistently moving feet and quick passes through seams to catch the Nashville penalty kill in transition in order to get a high quality shot off on Preds backup Carter Hutton (starting goalie Pekka Rinne is still injured). If the Notes can manage these special teams effectively, they should come out on top Thursday night.
If they can continue to feed off of one another, and build off what Elliott, Shattenkirk, and Tarasenko were able to do at this year's NHL All-Star game, the team should gain an important 'W' in this 4-point divisional battle. If they come out with a slower start it will be an uphill battle to come from behind, but as long as Ells stays strong between the pipes (which is to be expected) and the offense continues its torrid pace as of late, the team should come out on top in the end.
Like what you've just read? Follow me on Twitter: Follow @pep30