"My goal was just some improvisation", Vladimir Tarasenko told the Russian portal Sport-Express after the 4-3 win against the New York Rangers on November 4th. "I was a bit lucky. We can say that it has been a concatenation of circumstances."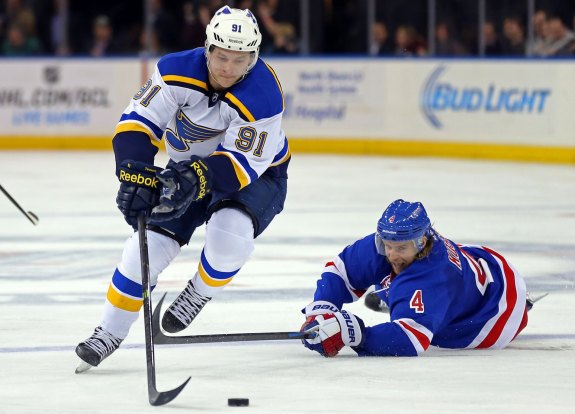 The 22-years-old Tarasenko is having a great season, scoring so far seven goals and 13 points in 11 games played. Against the Rangers he probably had his best game of the season, scoring the 1-1 goal with a spectacular one-hand move after an impressive acceleration through the neutral and offensive zone, then adding the GWG during the shoot-out. In this translated interview, Vladimir Tarasenko showed all his humility and willingness to work further.
– The start of the game has been a bit strange. Were you expecting that the Rangers would push up the speed?
– Well, each team who gets to the Stanley Cup finals, of course, are supposed to dominate the rink when they play at home. I'm not sure we were ready for this. But our goalie played well and allowed us to get back. I think that we should review the game, because we shouldn't start a game like that, we weren't ready.
– You scored a great goal during the game. Did you prepare such a move or all spontaneously happened?
– It was just some improvisation. I was a bit lucky. You can score such goals every game, thus we can say that it has been a concatenation of circumstances (smiles). Of course, we try many different plays during each practice. With every game, we improve our chemistry. We played thus far only ten or eleven games, we have another 70 in front of us. There is still time to find the right line combinations.
– What should you keep on working on?
– Are you talking about me or about the team?
– About the team.
– Today's game showed that we have to give more attention to the first part of the game, our goalie can't save us every time. That would be too much to handle. But we should also generally work on each game element. It's a long season and we should not stop at what we accomplished. Usually, as soon as you relax, everything goes in the opposite direction: one step forward and two backward. We need to work to avoid this, but I think that we will succeed.
– I would like to talk about the game winning shootout goal. Did you plan your move? What do you consider before taking your shootouts?
– We always have a video of the goalies to know how they play during the shootouts. To speak the truth, however, I always try not to watch them, because I think they are confusing. And in the league there aren't many goalies with a definite own style. Almost everyone plays butterfly. And there is another aspect: before this season they changed the rules for the cleaning of the rink before the shootout, therefore you shouldn't juggle too much with the puck, otherwise there will be a big chance that it will lose adherence with the blade. Therefore you need to play simpler, but more effectively. Today it worked, and it's good. We'll keep on working.
A professional hockey writer and translator. Loves Russian culture, language, and hockey. Reachable on twitter @AlexSerenRosso