Does the thought of a Norris Trophy candidate who will turn 37-years-young in December raise an eyebrow? What if I added that this defenseman is part of the "lacking unit" on Philadelphia's blue line? Absurd as it may sound, Mark Streit could very well vie for the award that's given to the league's top defensive player. But don't take my word for it – see for yourself.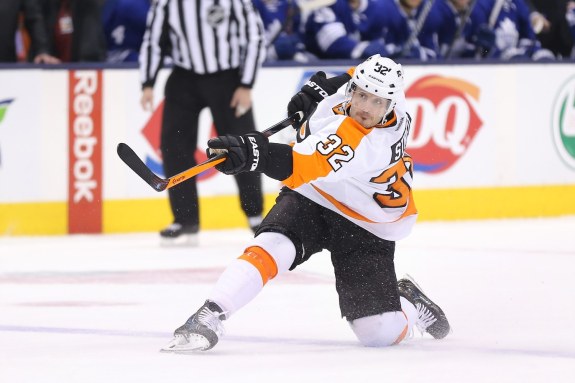 An Offensive Defenseman
When former Flyers GM Paul Holmgren acquired Mark Streit from the New York Islanders, he essentially killed two birds with one stone. The 9th-round pick of the Montreal Canadiens in 2004 enjoyed a benchmark year in 2007-08, showcasing his positional dexterity by launching 62-points for the Habs. It was Streit's offensive prowess that led Montreal to use him at times as an actual forward.
When Streit hightailed to Long Island the following season, the Swiss defender continued his scoring ways, setting a career-high in goals with 16. And after solidifying a power play presence in his final season with Montreal (34 power play points), he did the same on the Islanders' man advantage, scoring 62 percent (10 goals) of his total goals (16) on the power play.
"An overage draft pick for the Montreal Canadiens (ninth round in 2004 at age 26), Streit played three years with the Habs, then joined the Islanders as a free agent in 2008. He led them in scoring his first season there with 16 goals and 56 points. But after two superb seasons Streit was cross-checked by teammate Matt Moulson during an Islanders intra-squad scrimmage in September 2010. He fell awkwardly into the boards and wound up missing the entire season with a shoulder injury. Many observers feel he hasn't quite regained his pre-injury form." — Rob Parent, Daily Times News
Mark Streit finishes the preseason atop the NHL in scoring with eight points (2,6), five of those points on the powerplay, had a +3 rating.

— Flyers Nation (@FlyersNation) October 3, 2014
Despite the uncertainty thrusted onto Streit since his shoulder injury in 2010, he was tapped to become the Islanders' 13th captain in team history in 2011. While wearing the "C" in Long Island, Streit would appear in every single regular season game (82-games in 2001-12, 48-games in 2012-13), while notching 34 power play points throughout that span.
"What's not up for debate are the man's skills with the puck. We did find out pretty quickly why the Candiens tried to play him as a forward." — Dan Saraceni, Lighthouse Hockey
Many groaned when Holmgren pulled a trade and sign with Streit, not so much because of his age at the time he was acquired, but at the cost. Streit's age, of course, played into the uneasiness of his four-year, $21 million deal. But based on past and present signings throughout the free agent market, especially at the ever so valuable blue line position, the figures were not only on par for what the market was demanding, it's been money well spent for the Flyers to this point.
"The limited free agent options are the number one reason why the Flyers overpaid Mark Streit last summer fter acquiring his rights from the Islanders was that they still had to pay him according to open market prices to get him to forgo unrestricted free agency. It is also the same reason why the team committed a lengthy big-dollar extension to Andrew MacDonald to pre-empt his UFA status. That's the price to pay for having traded away so many draft picks over the years and for not having NHL-ready defensemen in the farm system who are currently capable of filling top-six roles on an every game basis." — Bill Meltzer, Hockey Buzz
I'm expecting Mark Streit to have a very good season and for him still to get lumped in with the Flyers "bad contracts" anyway.

— Charlie O'Connor (@charlieo_conn) October 1, 2014
Streit avoided much criticism in his first season with the Flyers, due in large part to the frustration surrounding Vinny Lecavalier, but also by quietly putting together another steady season on Philadelphia's fragile blue line. Streit reached the 10-goal mark for the fifth time in his NHL career, while registering an 8.3 shooting percentage, his highest since his career-year 62-point campaign with Montreal. He did this while adding 15 power play points and a pair of game-winning goals, while logging an average time on ice of 20:39.
"He became a good player for us last year," said Flyers coach Craig Berube. "Not that he wasn't a good player, but coming to a new team and in a new environment it took a little bit … to find his niche."
Still, even with his body of work in the past, Streit has only cracked the top 10 twice among other Norris Trophy candidates, finishing eighth in 2009, and 10th the following year. Even more stunning, Streit finished 13th in voting in the aftermath of his 62-point season with the Habs in 2008.
Needless to say, the likelihood of Streit pushing his way into Norris Trophy conversation this season is an uphill climb. Especially with teammate Kimmo Timonen finishing 12th in the voting last July, despite Streit outscoring Brayden Schenn, Matt Read, and Timonen himself. In fact, Streit scored nine more points than the closest Flyer to last season's Norris Trophy.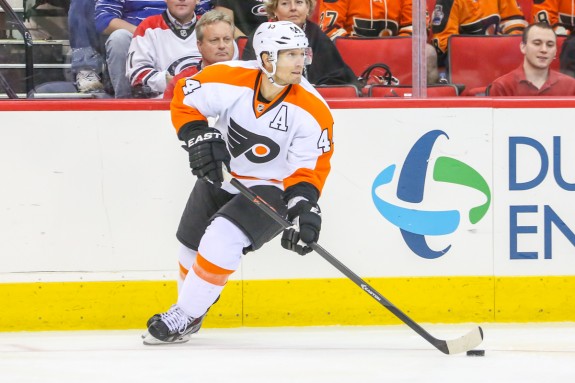 An Increased Role
Although Timonen was held in higher regard by everyone from fans and analysts, to Norris Trophy voters, Streit will be the focus of Philadelphia's blue line now that Timonen has been subtracted from the equation. Even with Braydon Coburn and Andrew MacDonald evening out the team's top defensive pairings, Streit will undoubtedly be leaned on more in various phases.
"I've been experienced at doing that," said Streit. "When I was with the Islanders I was their captain for a long time and I was an assistant captain for the Swiss national team. So I think I can help the team and I want to take a little bit more responsibility in the locker room and on the ice than I did last year."
Leadership aside, Streit will be counted on to quarterback the team's top power play unit. And although the Flyers' power play went 0-5 in their preseason finale against Washington, Streit's five power play points in four preseason games factored immensely into his NHL preseason-leading eight points.
"One player who looked terrific all through training camp was veteran defenseman Mark Streit, whose eight points led the NHL in preseason scoring entering Friday.

"Streit will be the Flyers' new, first-unit power play quarterback. He scored a goal in this game, giving him two in the preseason along with six assists. Streit is also a likely candidate to wear an "A" this season along with Wayne Simmonds as alternate captains." — Tim Panaccio, CSN Philly
Streit will begin the season on Philadelphia's second pairing, along with Nicklas Grossmann. And despite the array of disdain aimed at Grossmann, Streit has increasingly developed a chemistry with his beefier counterpart. This can be seen throughout their time together last season, which began at a rather pedestrian rate, but later blossomed after the Olympic break.
"Early in the season, the Streit-Grossmann pairing could be fairly called a mess. Streit alternated between passive defense without the puck and overly-aggressive offense with the puck. Grossmann was struggling when initiating the breakout, and even his usual solid positional play in the defensive zone did not prevent a deluge of goals against with him on the ice.

"But as the season has progressed, things have dramatically improved. Streit's style is still aggressive, but now it is complemented by the forwards, whose commitment to backchecking and temporarily moving into coverage has allowed Streit to freelance far more effectively." — Charlie O'Connor, Broad Street Hockey
Even if this odd couple pairing were to be broken up at some point during the season, an increase in minutes doesn't necessarily spell doom for the nine-year veteran. Streit's average time on ice of 20:39 last season was his lowest since the 2007-08 season where he logged an average time of 17:31. But what about his age, you ask? Considering Streit's total playing time of 83:26 in four preseason games, it looks like that can be easily dismissed.
Yes, preseason is preseason. But if Streit can produce at the rate he's done in four preseason games, he'll demand Norris Trophy votes – even if he doesn't represent the status quo of elite puck-possessing defensemen.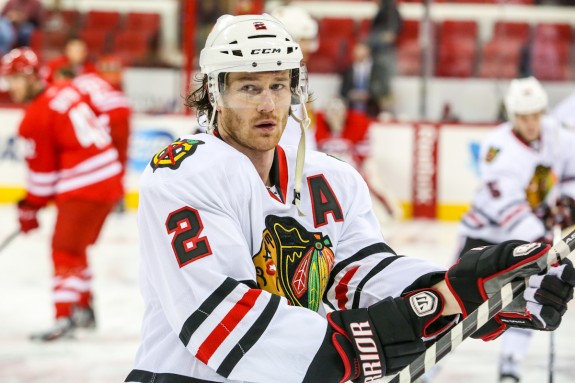 The Norris Trophy Trend
Why does it matter that Streit possesses the offensive skill set that can drive a power play rush? To answer that, look a little closer at past Norris Trophy winners.
Is it age? Not quite, although Streit's advanced years, by NHL standards anyway, certainly don't handicap his chances at joining the mix. In fact, in the past 15 years, a defenseman age 30 or above took home the hardware 11 times. That's not to say being an experienced veteran holds a distinct advantage. After all, of these 11 years, Nicklas Lidstrom accounted for seven of them, which included two separate runs of winning the award in three consecutive years.
The true trend can be found in the category that doesn't normally define a defenseman in the first place. It's scoring.
Although P.K. Subban won the award in 2013 with only 38-points, he was the lowest scoring defenseman to win the Norris since Washington's Rod Langway won it with 33-points in 1984. Additionally, the only Norris Trophy candidate to win the award without exceeding 30 points was Doug Harvey, producing only 27-points for Montreal in 1960.
"The Norris Trophy is one of the hardest awards to predict, because its definition seems to change almost every year. It is defined as the "defense player who demonstrates throughout the season the greatest all-round ability in the position", but the area of focus always changes, whether it be for an offensive defenseman like Erik Karlsson, or a bruising body like 7-time winner Nicklas Lidstrom." — Jake Reiser, TRL Hockey
Perhaps Bobby Orr is to blame for transforming the historical award from one that proclaims the best defensive player to the best offensive defenseman. After all, he was the first defenseman to win the Norris Trophy with triple digit point totals, and did so six times. Is it any surprise that since Orr's monstrous scoring run ended, three other 100-point scoring defensemen (Denis Potvin, Paul Coffey, and Brian Leetch) had their names added to the list?
#Zdeno Chara deserved the #Norris Trophy. #Erik Karlsson only knows offense. Someday he may learn defense. The kid was a playoff disaster.

— Stan Fischler (@StanFischler) June 21, 2012
Erik Karlsson's award-winning year of 2012, however, brought the discussion back to the quesiton: how is the "best defenseman" determined?
"That's not quite how most who have seen Karlsson would describe his game. Even the Senators appeared to understand his limitations. Karlsson led the team in overall ice time at 25:19 a game, but rarely was used when Ottawa was protecting a precarious lead late. And he certainly wasn't trusted often when Ottawa was down a man, averaging just 33 seconds a game on the penalty kill. Sixteen other Senators averaged more shorthanded time than that.

"Contrast that with Wednesday's other finalists, Shea Weber of Nashville and Zdeno Chara of Boston. Weber was a workhorse as well, averaging 26:09 in ice time, which included a healthy 2:16 of penalty kill time and 3:31 on the power play. Chara checked in at 25:00 overall, 2:43 shorthanded and 2:39 on the power play. Weber and Chara also provided a physical presence that Karlsson does not bring to the game. Weber dished out 177 hits with his 6-foot-4, 232-pound frame, while Chara pounded foes with his mammoth 6-foot-9, 255-pound body 166 times. Karlsson, at just 6-foot, 180 pounds, wisely shied away from so many collisions, managing just 60 hits." — Douglas Flynn, NESN
Along with point-scoring, another tendency in those who won is a positive plus-minus. And even though Nicklas Lidstrom came out on top in 2011 with a minus-two rating, only he and Randy Carlyle in 1981 were the only defensemen to capture the trophy with a negative plus-minus since the statistic was first tracked in 1968. With Lidstrom's manageable minus-two rating in 2011, is there any wonder left as to why Karlsson yielded the award to Duncan Keith this past year?
Karlsson, who led all defensemen in points with 74, turned in a minus-15 rating for an Ottawa Senators team that carried an astounding minus-29 goal differential. Duncan Keith, on the other hand, not only scored 13-points less than Karlsson, he also skated at an average of nearly three minutes less than Ottawa's new captain. Keith's plus-22 rating, though, was a glaring contrast, which falls into the evolving stat category of winning the Norris Trophy.
These circumstances, as murky as they are, actually help Streit's cause. After all, who's going to mistake his presence on the blue line with that of Drew Doughty, or Niklas Kronwall? But with the anticipation of Streit's offensive numbers to jump, along with his plus-three rating for a Flyers team that finished the season with a plus-one goal differential, it's not preposterous to suggest his name could, or should, creep into the discussion.
If McDonagh continues on this path, he should absolutely win the Norris Trophy at some point in his career. Offense matters for that trophy.

— Dan Rosen (@drosennhl) March 27, 2014
Would it have been laughable to suggest that Streit would outscore Ryan McDonagh, Ryan Suter, and Zdeno Chara? That's exactly what Streit did last season. If Streit can surpass last year's totals, why should it be considered shear lunacy to include his name this season with the list of this season's Norris Trophy candidates?
Andy is a contributor for The Hockey Writers, covering the Philadelphia Flyers. He holds a Bachelor's Degree in Communications from Walsh University. He enjoys spending time with his family, golfing, and reading. He is married with a daughter. You can follow Andy on Twitter @ADudones.