In 2013-14, the Colorado Avalanche were the biggest surprise in the NHL.
After failing to reach the playoffs in each of the past three seasons, stretching from 2010-11 to 2012-13, the Avalanche stormed back into contention with an impressive, dominating season. Finishing the season with an astounding 52-22-8 record, good for 112 points and third in the league, the Avalanche's winning percentage of .634% was almost double that of their previous season, a mere .333% which resulted in a 29th place finish.
Reasons for 2013-14 success:
Offensive Options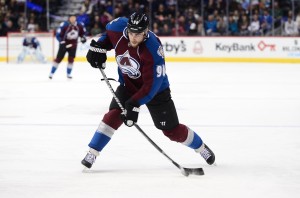 Part of the reason why Colorado had such a successful season last year was due largely in part to their offense. Although no single player posted an extremely high number of points, the Avalanche were successful because all four lines were able to contribute offensively.
Forwards: Matt Duchene, Gabriel Landeskog, Ryan O'Reilly and Paul Stastny led the way for the avalanche, each posting 20-goal seasons while maintaining a near point-per game production. Nathan Mackinnon was a surprising, yet integral part of the Avalanche's offensive prowess this past season, scoring 24 goals and 63 points in his rookie season.
A major reason for the offensive success of the Avalanche was due to their ability to get timely scoring from their depth players. Third and fourth line players such as Jamie McGinn, P.A Parenteau, John Mitchell and Maxime Talbot all made strong offensive contributions for the Avalanche, all scoring 25-40 points, which is great offensive production from your depth players.
Defensemen: Colorado was fortunate to receive strong offensive contributions from their defenseman. In particular, Erik Johnson and upstart Tyson Barrie, both of whom tallied near 40 point seasons. For Barrie, 38 points set a new career high in only 64 games, while Johnson's 39 points matched his 2009-10 high he set with the St. Louis Blues. Further, defenders such as Andre Benoit and Nick Holden also had solid offensive seasons, with both setting career highs in points with 28 and 25, respectively.
Dependable Defense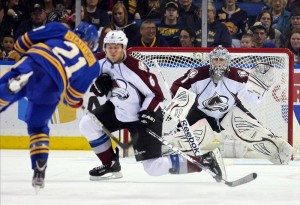 Another reason for Colorado's success this past season was their strong defensive game. All players understood the importance of playing a strong, 200 foot game and the importance of being responsible defensively in one's own end. This led to a +27 team rating, good for 7th in the league.
Forwards: To illustrate just how strong Avalanche forwards were in their defensive game, only four full-time players registered a minus rating. Patrick Bordeleau (-1), Ryan O'Rielly (-1), Jamie McGinn (-3) and Marc-Andre Cliché (-11). Other than these four, all Avalanche forwards posted a plus rating, or one very close to it. Gabriel Landeskog led the way with a +21 rating, while MacKinnon, John Mitchell and Paul Stastny posted plus ratings of +20, +13 and +9, while no other Avalanche forward was below zero.
Defenseman: No Colorado Avalanche defenseman registered a minus rating, which is extremely impressive. Leading the way were Tyson Barrie, Nick Holden and Jan Hejda who registered a +17, +12 and +8 rating, respectively.
Great Goaltending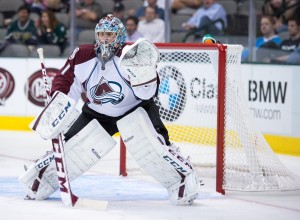 Varlamov: To say Varlamov had a good season last year would be an understatement. Semyon had a spectacular year. He was first in the league in wins with 41, saves with 1,867 and third in save percentage at .927%. His goals against average was 2.41 in starting 60 games for the Avalanche, with two shutouts. Varlamov was the back-bone of Colorado's success this past season, providing strong, consistent goaltending throughout the year, earning the trust of fellow players by making timely saves and by bailing the team out in situations resulting from the few mistakes his teammates made.
Giguere: Giguere gave the Avalanche all the could have asked for this past season, good goaltending when called upon. Although Giguere started only 19 games, the former Conn Smythe winner played well, registering 11 wins to go along with a .913 save percentage. Jean-Sebastian's veteran presence was a strong quality he brought to a young team, as his leadership was very important to the success of a youth laden team.
Why the Avalanche will be better in 2014-15:
Added Veteran Presence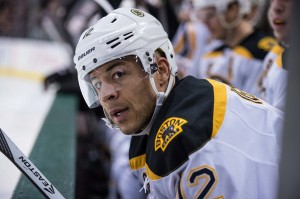 In 2013-14, the Avalanche fielded one of the youngest rosters in the NHL at an average age of 27.4, tied with the Edmonton Oilers. Duchene, Landeskog, O'Reilly and MacKinnon are seen as the leaders of the Avalanche, but at such a young age they lack the experience to be true leaders on the team. As a result, veteran players with playoff experience were brought in to steady the young ship and to provide a veteran presence. Forwards Jarome Iginla, long-time captain of the Calgary Flames, Daniel Briere, a veteran of 99 playoff games, and defenseman Brad Stuart, with 107 games of playoff experience, add much needed experience to an up and coming Avalanche team.
With Iginla, the Avalanche bolster their top six with a proven goal scorer with good size and strength. Having compiled twelve 30 goal seasons, Iginla will provide a secondary scoring threat for Colorado. His tough, physical style of play will also be beneficial to the Avalanche, who lack a rough power forward who can contribute offensively on a consistent basis.
Briere is a four time 30 goal man who is known more for his ability to distribute the puck. Daniel's numbers have continued to regress over the years, yet he remains a useful player on any team due to his leadership abilities. On this year's team, Briere will likely play a third line role, playing a defense first game while looking to contribute offensively at times.
Brad Stuart has been one of the top defenders on every team he has played on. Stuart plays a strong, physical defensive game and has the ability to contribute offensively. In all likelihood Stuart will fill out the second defense pairing with Tyson Barrie, filling the role of departed Andre Benoit.
Emerging Young Stars
The core of the Colorado Avalanche is made up budding young stars. These players are still in their early twenties, and have the potential to be game changers night in and night out. Fortunately for the Avalanche, these youngsters are only getting better.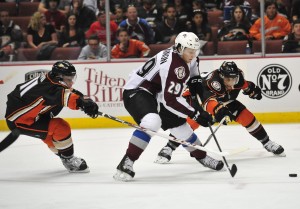 Centres: At 23 years old, Matt Duchene seems like a veteran on this young team. Fresh off of a career best season in which he compiled 23 goals and 70 points, which led the team, Duchene should continue to progress both his offensive and defensive game. In centering the teams first line with Landeskog and O'Reilly, Duchene will, in all likelihood, exceed his previous career bests in playing with two of the best young stars in the NHL today.
Nathan MacKinnon is worth noting individually. The reigning Calder Trophy winner posted crazy rookie numbers, with 24 and 63 points, and established himself as an elite NHL player in his first season of competition. The sky is the limit for the now 19 year old forward, drafted first overall in 2013, who likely has the greatest potential of all of the young stars on Colorado. Look for MacKinnon to have another stellar year and improve both his offensive and defensive game. Although many are predicting a regression in his output, MacKinnon's skills and work ethic will ensure he continues his exemplary development in the NHL.
Wingers: The Avalanche have yet another two emerging young star players in their lineup at the wings. Gabriel Landeskog, drafted second overall and the current captain of the team, is one of these two players. The 22 year old Swede battled issues with his consistency last season, yet still managed to ramp up his offensive production with 26 goals and 65 points, both career highs. Gabriel's defensive game also improved this past season, as he finished with a career best +21 rating, which led the team. Landeskog should continue to progress this season while playing on the teams first line, as his progression will be linked directly to and will result from playing with Duchene and O'Reilly, two young stars.
Ryan O'Reilly is the other young star winger on the Avalanche this season. After dealing with off-ice issues over the past couple seasons, most specifically with contract negotiations, the 23 year old O'Rielly is poised to improve yet again. Similar to the other young Avalanche stars, O'Reilly is also coming off the best season of his career, in which he recorded 28 goals and 64 points. Defensively, O'Reilly is one of the most consistent players on his team, while he is mature for his age, taking one minor penalty all year for a total of 2 PIM last season.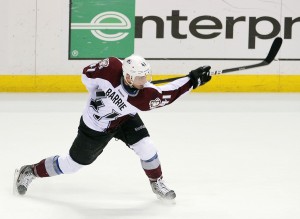 Defense: Although Erik Johnson is relatively young, the main defender worth noting here is Tyson Barrie. At the age of 23, Tyson will enter this season ready to play his first full year in the NHL, having spent parts of the past three seasons with Lake Erie of the AHL. Barrie is coming off a major knee injury he suffered in last years first round playoff matchup with the Minnesota Wild, but if he can retain good health, Tyson should be one of the most productive defenders on this team. Not only did he record over half a point per game last season, but Barrie was great defensively, seeing time on the penalty kill while achieving a + 17 rating.
2014-15 Expectations:
In breaking down what made the Avalanche successful last season, the additions they have made to their team and the plethora of young, developing star forwards on their roster, it is clear that Colorado should be as good, if not better than they were this past season.
A lot of online ink has been spilt insisting that the Avalanche will endure a major regression this season. Yet when looking at the current situation realistically, there is no reason why Colorado should be any worse than they were last year. Key departures such as Paul Stastny and P-A Parenteau have been replaced by the likes of Daniel Briere and Jarome Iginla, two veteran players who will not only replace departed offense production, but also bring excellent leadership qualities.
Alongside these veteran acquisitions, the Avalanche roster is loaded with talented young stars who continue to develop their NHL game. In doing so, they are adding the strength, knowledge, chemistry and experience necessary to become elite NHL players.
All in all, this could be the year for the Colorado Avalanche. They have the skill, talent, experience and goaltending to make a serious run in the playoffs, a run which could end with hoisting the Stanley Cup, which would be the teams first since 2001.