The 2013-14 season saw a few surprises in terms of which teams proved to be successful. Some teams soared above expectations and never hit that expected midseason slump. Others regressed from a perennial playoff contender, into a team that no one was scared to play against. For the 2014-15 season, of course some teams will again rise and fall. For now, let's take a look at 5 teams most likely to regress from their 2013-14 performances. A lot of factors go into a team possibly downgraded their results. Losses in free agency, aging star veterans, previous overachievers, and not yet mature youngsters are just a few things that could lead a team to a disappointing 2014-15 season.
5: Detroit Red Wings
2013-14: 39-28-15; 93PTS. 2nd Wild Card in East. Lost in 1st round to Boston Bruins.  
The Detroit Red Wings pretty much stood pat in the offseason, most notably losing David Legwand to free agency, while re-signing Kyle Quincey and Dan Cleary. However, for the Red Wings, it's not about what they did or didn't do, it's simply about an aging core while the new kids are still too young to take over. Veteran Henrik Zetterberg (33) is not letting his age define him as he continues to put up over point-per-game numbers, but he only played 45 games last year. Pavel Datsyuk (36), on the other hand, is slowing down a little bit and has been injury riddled a lot of late. He also played just 45 games last year and is already out 4-5 weeks with a separated shoulder to start 2014-15. The up and comers, comprised of Nyqvist, Tatar, Jurco, DeKeyser, and Mantha, are far too young to be expected to carry this team into the playoffs. That being said, 2014-15 could be the first year in the past 24 to have the playoffs not featuring the Red Wings.
4: Pittsburgh Penguins
2013-14: 51-24-7; 109PTS. Won Metropolitan Division. Lost in 2nd round to N.Y. Rangers.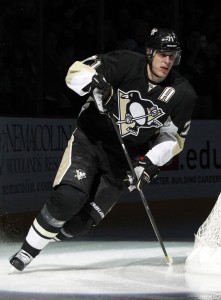 The Pittsburgh Penguins went through a ton of changes in the offseason. Starting at the top, they let go of GM, Ray Shero, and Coach, Dan Bylsma. Then, they hired Jim Rutherford and Mike Johnston to fill their roles, respectively. On draft day, they traded James Neal to the Nashville Predators for Patric Hornqvist and Nick Spaling. In free agency, they lost Brooks Orpik, Matt Niskanen, and Jussi Jokinen, while adding Christian Ehrhoff. The Penguins are expected to be a powerhouse year in, year out. However, with playoff failures over the past 5 postseasons, it was time for a change. Without Neal, Evgeni Malkin will need a new winger this year and who knows how well he will mesh with others. Kris Letang is also coming off a stroke last season so, unfortunately, his health may be an issue. Between the pipes, Fleury has taken on the role of a 'choker' in the postseason, but he has remained very reliable in the regular season. All in all, Pittsburgh should regress a little, but expect them to remain among the top of the East.
3: San Jose Sharks
2013-14: 51-22-9; 111PTS. 2nd in Pacific Division. Lost in 1st round to L.A. Kings.  
The San Jose Sharks are, self admittedly, going through a bit of a leadership change. GM Doug Wilson stripped Joe Thornton and Patrick Marleau of their captaincy letters. They also bought out Martin Havlat, and traded both Dan Boyle and Brad Stuart for virtually nothing. The GM has stated he wants a new leadership core on this team led by Logan Couture and Joe Pavelski, but that may make for an awkward locker room when longtime leaders Thornton and Marleau are still producing consistently. It's obvious the players and the management have a different view of what this team is capable for this year and it's definitely discouraging to hear your GM say you're in a 'rebuilding process'. Also, last years collapse to LA after holding a 3-0 series lead showed proof that this team does not exactly blend well. Lastly, the goaltending situation between Niemi and Stalock is very uncertain as to who is the starter. Put all of this together, and there's strong possibility for a fall back for the Sharks this season. Still a definite playoff contender though.
2: New York Rangers
2013-14: 45-31-6; 96PTS. 2nd in Metropolitan Division. Lost in Cup Finals to L.A. Kings.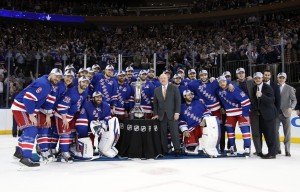 The New York Rangers are coming off a surprise run to the Cup Finals, and with that, a shorter than usual summer. However, the short summer was a busy one for GM Glen Sather. In free agency, he signed Dan Boyle, Lee Stempniak, and Ryan Malone. However, he also bought out Brad Richards and let Anton Stralman, Brian Boyle, and Benoit Pouliot walk. It is doubtful that the forwards brought in will be capable of filling those lost roles. Also, the Rangers are extremely thin at the centre position. Not only did they lose Richards and Pouliot, but now Derek Stepan is out 4-6 weeks after fracturing his fibula in an on-ice incident. Not only that, New York is still counting on the success on veterans Martin St. Louis (39) and Dan Boyle (38) to lead this team both on offence and defence, respectively. To add to that, Rick Nash is coming off of an injury riddled season that included a concussion. As evident, there are more than enough possibilities which would result in a decline of the New York Rangers this year.
1: Colorado Avalanche
2013-14: 52-22-8; 112PTS. Won Central Division. Lost in 1st round to Minnesota Wild.  
 The Colorado Avalanche stunned the hockey world last year, miraculously improving from 29th in the league in 2012-13, to 3rd overall in '13-14. Finally, the Avalanche young guns came together to find their potential and, luckily for Colorado, it all happened in the same season. A repeat of that however, is unlikely. The Avalanche lost Paul Stastny to free agency, while they traded P.A. Parenteau to Montreal for Daniel Briere. They signed Jarome Iginla to add a producing veteran presence to the team. Lastly, they traded a couple of draft picks to San Jose for Brad Stuart. Colorado was among the worst teams in possession last year and let up 32.7 shots against per game. Luckily, Semyon Varlamov had a career year to keep them in games. However, Varlamov has yet to prove himself as a consistent starter and the defence in front of him, besides Johnson and Barrie, isn't exactly promising. It will be extremely difficult for Colorado to repeat last year's success especially in a ridiculously strong Central Division. Look for them to come down to earth and be more of a Wild Card team this spring.
Any other teams you think deserve to be on this list? Disagree with these five?
Feel free to let us know in the comments below!