A little more than a month ago, TSN's Darren Dreger reported that the Anaheim Ducks and Colorado Avalanche had discussed a potential Gabriel Landeskog-Hampus Lindholm trade.
Talks have died down since then but the Ducks are still in the hunt for a left winger with training camp approaching fast. In addition to that, the Avalanche are trapped against the salary cap ceiling with less than one million dollars to work with and still in need of defense.
Adding fuel to the fire is the fact it seems talks have been quiet between Lindholm's camp and the Ducks. In this article, I break down the situations for both players and assess their trade value.
Hampus Lindholm
Lindholm has become highly regarded in the analytics world since being drafted sixth overall in 2010. The 23-year-old quietly had an excellent season in terms of offense production, putting up a career-high 40 points in 80 games.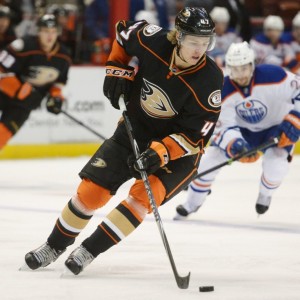 It appears Lindholm's play on the other side of the puck is reaching an elite status as well. The Swede finished top 100 in TOI, blocked shots, PIM and takeaways among defenders in the NHL. In addition to this, Lindholm finished 3rd in on-ice Corsi among defenders, and every player on the Ducks saw an increase in their Corsi-for percentage when on the ice with Lindholm.  This is a great variety of skills and shows Lindholm has what it takes to become, if he isn't already, a number one defender. Don't be surprised if he's asking for something around eight years, $56 Million in contract negotiations. He's trending up this summer, and big time.
Speaking of contracts, Lindholm is a restricted free agent and is in a little bit of a sticky situation right now. His agent, Claude Lemieux, was fined for fraud back in November. The problem started when Lemieux, who wasn't a certified NHLPA agent, partnered up with certified agent Rich Winter so he could help negotiate contracts with two of his biggest clients,  goaltender Fredrik Anderson and his former teammate Lindholm.
However, Winter later sued Lemieux because he felt Lemieux was completely taking over contract negotiations with the Ducks. That situation was solved a few months later in February when Lemieux became certified by the NHLPA and the two agents ended their partnership. However, the relationship between Lindholm's agent and the Ducks doesn't look very good. Lemieux's other client, Anderson, was traded to the Leafs, but I think that was more a hockey decision than anything. However, Anderson's high asking prices probably played a part. It doesn't make sense to move Lindholm, who is arguably Anaheim's most valuable defender, but the Ducks have been unable to trade Cam Fowler and stuck with a logjam on defense. And if the Ducks move Lindholm, they are left with Fowler, Sami Vatanen, Shea Theodore and Brandon Mountor which are still a great crop of young defenders.
Gabriel Landeskog
Landeskog has been a hot commodity in trade rumors after reports surfaced the Avalanche were willing to trade an 'important player', and TSN spoke of a potential trade to Anaheim. Since then, the 23-year-old has been linked to the Ducks, Canucks, and Canadiens. It has already been three seasons since the Avalanche made the second overall pick in 2011 the NHL's youngest captain. That record could soon be broken by Connor McDavid, but there is no questioning the Swede's leadership qualities.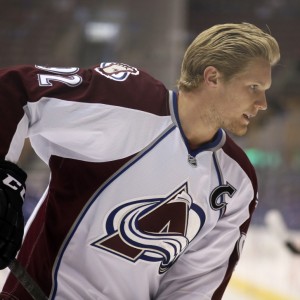 Landeskog had his worst season points-per-game wise in 2015-16, but still put up a solid 59 points and you can't deny that he has one of the most defensively sound games in the league. Landeskog's game is like Jonathan Toews, the numbers are only a fraction of his impact on the game.
In terms of Landeskog's analytics stats, the Avalanche captain ranked fourth in one-ice Corsi among Avalanche players who played at least 1000 minutes, and second to only Nathan MacKinnon in on-ice Fenwick percentage for Colorado. The Avalanche have been under heavy criticism for their terrible puck possession stats, but the former OHL standout isn't part of the problem.
So, do you think a Landeskog-Lindholm swap would be fair? In my opinion, I think the Avalanche would have to add something around the value of a third round pick to make this trade happen. Yes, Landeskog is a very good player, but Lindholm's presence on both ends of the rink is simply invaluable. Forwards are much easier to replace than defencemen. Would you like to see Lindholm in an Avalanche jersey, and Landeskog wearing black, gold and orange?
Leave your thoughts in the comment section below.
Born a hockey fan, I am a journalist who has been writing for nearly 2 years. I love covering all NHL teams, and own the Instagram account @hockeynews.ig