As the Boston Bruins prepare for the 2016-17 season, they'll look to fill several spots in their forward group. While searching for a new winger to slide onto David Krejci's left wing, the B's also try to fill several bottom six spots – particularly on the right wing, where two spots are up for grabs.
The B's may look to free agency to address their needs, but it's likely that they'll search internally for players who can fill the lower half of the forward corps.
Three Providence Bruins forwards will be strong contenders to step into bottom-six roles right out of training camp this fall:
Danton Heinen
When it comes to forwards, Danton Heinen is at the front of the pack to make the NHL roster out of training camp.
The former University of Denver standout had a very solid season with Providence this year. In 64 games with the Baby Bruins, Heinen tallied 14 goals and 30 assists for 44 points.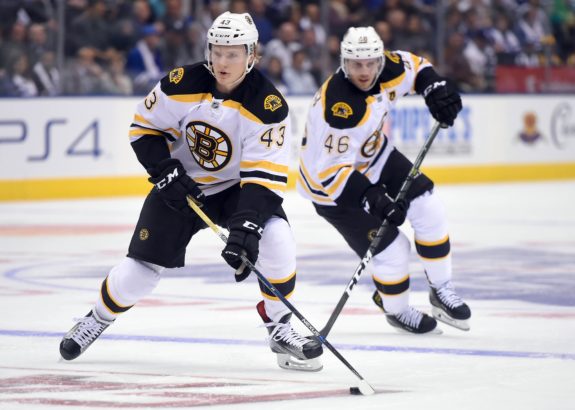 However, it was his performance in Providence's postseason run that really solidified Heinen's spot at the head of the pack. In 17 postseason games, Heinen buried nine goals and registered nine assists for a team-high 18 points.
He also appeared in 8 NHL games this season and was pretty quiet. But, with room open on the left side, Heinen will have an opportunity to secure a spot on the Bruins' roster out of camp.
Jake DeBrusk
Behind David Pastrnak and David Backes on the right side, the Bruins have two slots that a number of players will be fighting for next season. Jake DeBrusk, the #14 overall draft pick by the Bruins in 2015, will be one of the candidates to fill one of those slots in the fall.
DeBrusk impressed in his rookie season with Providence, with 19 goals and 30 assists in 74 games. He carried his success into the playoffs as well, notching six goals (tied for second on the team) and three assists in 17 postseason games.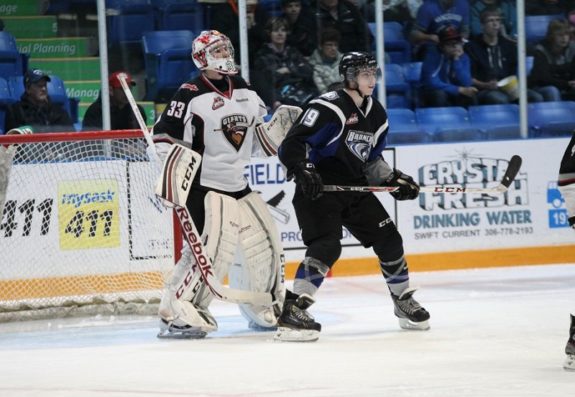 At just 20 years old, the future is bright for DeBrusk, whose knack for scoring has many believing that he could be a top-six winger for the Bruins down the road. At the very least, you should expect to see DeBrusk in a Bruins uniform at some point next season – and it's likely that he grabs a spot on the roster out of camp.
Peter Cehlarik
Another option the Bruins will have on the left side is Peter Cehlarik, whose success in the AHL this season earned him 11 appearances with the NHL squad. Cehalrik notched 20 goals and 18 assists with Providence in 49 games this season. He only appeared in two playoff games, tallying one assist.
The 21-year-old didn't stand out in his 11 NHL games this season, notching two assists, but he didn't look out of place either.
The Bruins will be eager to see how Cehlarik recovers from the shoulder surgery that kept him absent from most of Providence's playoff run. If his recovery goes as planned, then he could be a strong contender for a spot in the lineup next season.