The 2016-17 season looked like it would be a failure for Drew Stafford. Coming off of a 38-point season with the Winnipeg Jets, Stafford hoped to carry that success into this season, a contract year for the 31-year-old. However, 40 games into the season, the right winger had buried just four goals and tallied nine assists for a pedestrian 13 point total heading into the trade deadline.
But Don Sweeney saw something in Stafford that wasn't clicking and was willing to gamble on the veteran winger if he could get him at the right price. Sweeney negotiated a deal with the Jets' front office, sending a conditional sixth-round pick to Winnipeg in exchange for Stafford.
The gamble paid off — Stafford's deadline addition proved to be one of the best deadline deals the Boston Bruins have made in recent memory. In just 18 regular season games with the Bruins, Stafford matched his season goal total (four) while adding four assists. Meanwhile, he proved to be a responsible forward on both ends of the ice and finished the regular season with a plus-8 rating.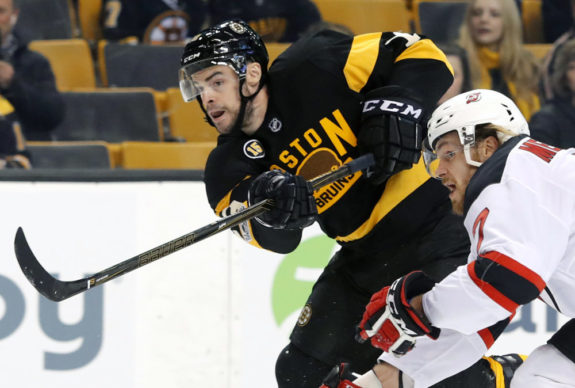 In the playoffs, he proved valuable yet again, notching two goals in six games against the Ottawa Senators before the Bruins were knocked out of playoff contention.
All things considered, Stafford's rebirth in Boston may lead to a longer tenure with the Bruins than either side had originally anticipated when they traded for him as a rental back in March.
To Sign, or Not to Sign?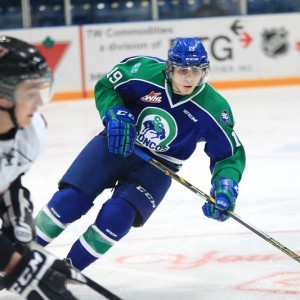 Boston's right wing will provide a lot of questions next season. Behind David Pastrnak and David Backes, the Bruins have two slots that need to be filled, and a boatload of contenders who will fight for a spot. Riley Nash will be in the final year of his two-year, $1.8 million contract, and Frank Vatrano will be eager to prove that he can overcome this season's struggles.
Behind them, the Bruins have a number of prospects who will contend for a spot on the right wing throughout the course of the season. Zachary Senyshyn and Jake DeBrusk are both guys who could slide into the right wing at some point next season.
So, with all of these options to fill what could be only one or two slots, why should the Bruins keep Stafford around?
Stafford a Proven Veteran
While the Bruins have many options on the right side, very few of them have enough experience and/or success to be considered trustworthy options. Vatrano struggled heavily at the end of this season, Nash is a solid depth player, but won't wow you with his stats, and Senyshyn and DeBrusk have yet to step foot on NHL ice.
Stafford, however, has a proven track record, and seems to be the most trustworthy player out of the bunch. It's likely that the Bruins will play around with the right wing over the course of next season, moving guys like Vatrano, Nash, and their younger prospects in and out of the lineup based on their performance.
So, a veteran such as Stafford who has been a pretty consistent producer throughout his NHL career can act as a stabilizing piece in what would otherwise be a very delicate bottom half to the right side. With Stafford, for the most part, you know what you're going to get. That can't be said about the rest of the players in the mix, but it's a quality that the Bruins could end up needing over the course of the season.
Stafford is versatile enough that he can be put on the third or fourth line and act as an offensive threat while being reliable in the defensive zone. If the Bruins let him walk, they may miss having a go-to guy when less-proven players struggle next season.
Finding the Right Price
Stafford says he "loved" his experience in Boston, and expressed interest in re-signing with the team this offseason.
"Absolutely. If there's any kind of a chance [to re-sign with the Bruins], I would definitely be into it," he said, per CSNNE. "I know my wife wasn't able to make it out here, but we had talked about it a little bit as a possibility.

"If they feel like it could be a good fit then we'll cross that bridge moving forward. The business side of it kind of works itself out, but personally I loved my experience here and it would be great. We'll see what happens."
Of course, if the Bruins are to resign Stafford, it needs to be at the right price. What exactly that price is, however, remains to be seen.
His contract that expired at the end of this season, which was signed two years ago with Winnipeg, was worth $8.7 million over the course of two seasons. That paycheck will undoubtedly drop this time around — it's just a matter of how much.
Drew Stafford on return to #Bruins: 'I would definitely be into it' –
@HackswithHaggs https://t.co/oSaJGkp1FZ

— CSN New England (@CSNNE) April 27, 2017
The Bruins need to see how much space they have for Stafford on the payroll later on in the offseason. The team is in the market for a winger to slide in on David Krejci's left side, and it remains to be seen how high the Bruins will shoot there.
With a number of prospects working their way up the pipeline, there's no reason to commit long term money to a player on the back end of his career (they may have already made that mistake with David Backes), but Stafford should be willing to work with a shorter deal.
Ultimately, if the Bruins can work out terms with Stafford's camp that fits into their salary scheme, then it would be smart to bring the veteran winger back to Boston next season.