The 2016-17 season was a bit of a disappointment for Frank Vatrano. The right-winger entered last offseason with optimistically high expectations, having torn apart the AHL in 2015-16 while making a decent name for himself with the NHL squad.
However, Vatrano was forced to watch from high above the ice for the first three months of the season after requiring foot surgery in late September, which put a hamper on the potential top-six role that he had eyed before the season.
Upon return, Vatrano made an immediate impact, scoring in his season debut against Florida on Dec. 22, and tallying points in three of his first five games.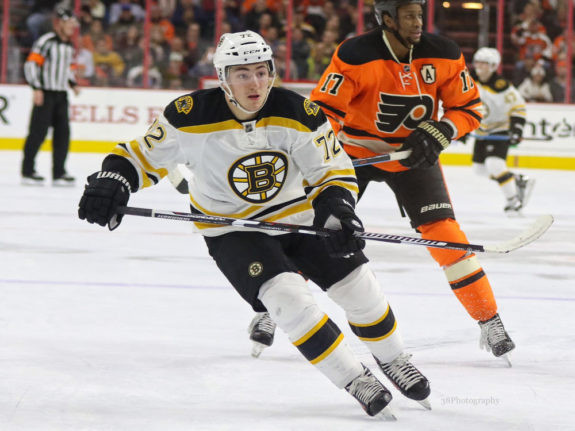 However, the winger ended the season with somewhat underwhelming numbers, notching 18 points in 44 games with the Bruins. He struggled heavily at the end of the season, earning just three points in his final 16 regular season games, and being held to a single goal in Boston's six playoff games against Ottawa.
Vatrano's Shot
Frank Vatrano's best asset is his shot. He has a very quick release, and pairs it with pinpoint accuracy to create a shot that is as good as anybody else's in black and gold. Just take a look at the first goal he scored in his hat trick from last season:
However, the 23-year-old had trouble getting himself in the position to make use of his best asset last season, which is why he struggled down the stretch. This was, for the most part, the result of two issues.
For starters, Vatrano bounced around in the lineup between ex-head coach Claude Julien (who he had an admittedly poor relationship with) and Bruce Cassidy, and seemed to have some issues establishing consistent chemistry with his ever-changing line mates. For a natural sniper such as Vatrano, having a consistent playmaker alongside you can be a difference-maker, and Vatrano was unable to establish that kind of relationship with a set linemate last season.
That being said, an NHL-caliber sniper can't rely on his linemates to provide all of his scoring opportunities. Vatrano struggled to create opportunities for himself this season as well, which kept him off the scoresheet plenty of times. He's a hard-working player who isn't afraid to get his nose dirty down low, but he had issues creating space for himself at the NHL level.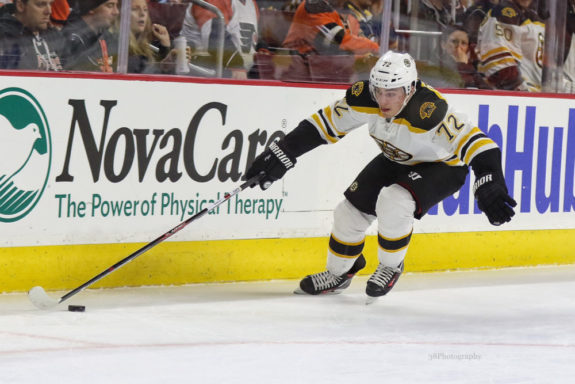 With Providence, this was a completely different story. At the AHL level, Vatrano was masterful at opening up lanes and creating scoring chances. The NHL, though, is a different beast.
Cassidy is hopeful that the young winger will be able to develop that ability next season, and pointed towards David Pastrnak as an example for Vatrano to model himself after.
"Vatrano is a kid that can really shoot it," Cassidy said, per Mass Live. "He just needs to round out his game where he's creating some of his own offense. (David) Pastrnak is a dynamic player and he enjoys that part of it, but sometimes Frank will only score when someone gets him the puck. I've seen him do it in Providence where he creates on his own with his foot speed. So that's something we'll look at for him."
Vatrano Due to Break Out
For Vatrano, the obvious key to success is creating scoring chances. He has the work ethic that the Bruins are looking for, and he's an aggressive player that fits in well with the Bruins' playing style. However, he needs to find ways to make use of his dangerous shot if he wants to step into the top-six role that is waiting for him.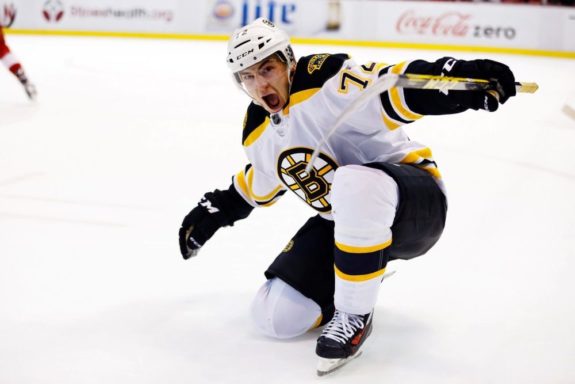 Bruins head coach Bruce Cassidy is confident that the 23-year-old will find his game this season. He sees Vatrano as an everyday player and producer for the Bruins — if he can create more scoring opportunities.
"I guess until we see which young kids are in the lineup every day, it's a little bit of a tough call right now," Cassidy said. "But the obvious one is Vatrano — simply because he has such a good shot. It's an NHL release and it's heavy and can beat goalies. We just have to get him to where he's seeing more pucks and better opportunities to score."
If Vatrano can develop his ability to create scoring opportunities, then it'll kill two birds with one stone. By doing so, Vatrano will work his way up the Bruins' lines. In a top six role, he'll have more consistent and more talented playmakers alongside him, which will only help his scoring ability.
But Vatrano needs to prove that he deserves the role, or else he'll never get the opportunity.