Any good team in the NHL is always looking to make moves to improve their roster. The Toronto Maple Leafs are no different. The Blue and White have now gotten their scouting on track and have come up with a few gems in recent years. First round picks have become the uber-talented trio of Auston Matthews, Mitch Marner and William Nylander.
They have also had some success in the later rounds, scoring Connor Brown in the sixth round of the 2012 NHL Entry Draft. Grabbing key forwards and defensemen is great, but the Leafs need a lot more depth in arguably the most important position in the sport of hockey.
The Leafs need to begin grooming their goaltender of the future. They have one potential prospect already in the system, but it's always worth exploring additional options, in case one doesn't pan out. In this spirit, the Leafs should use one of their upcoming draft picks and select Windsor Spitfires goalie, Michael DiPietro.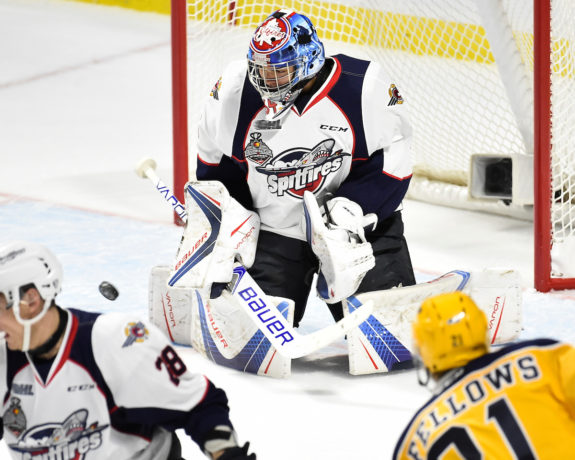 DiPietro Starring in Draft Year
The Windsor Spitfires are the talk of the Canadian Hockey League. They are the host nation for this year's Memorial Cup, a tournament that pits the best teams from every CHL league against each other. The Spitfires were eliminated in the playoffs by the powerhouse London Knights and have had a substantial amount of time off.
This gave the host team plenty of time to get themselves rested and prepared for the tournament. They have come flying out of the gate and will now play for the Cup itself, after going undefeated and ripping through the tournament.
A huge reason as to why the Spitfires have done so well is the play of goaltender DiPietro. The Amherstburg Ontario native has been an absolute force for his team thus far. His steady play and incredible saves under massive amounts of pressure have given the Spitfires a legitimate shot at winning the Memorial Cup in their own barn.
He was in net for all three of Windsor's wins and made 77 saves on 82 shots. This breaks down to an impressive .939 save percentage.
What an UNBELIEVABLE SAVE by Michael DiPietro! He reached back with his glove 😱👏🏻… #NoWords pic.twitter.com/Vg2fOeSQXP

— Bar South N Celly™ (@BarSouthNCelly) May 20, 2017
Dipietro was also stellar during the regular OHL season and put up some excellent numbers including being fifth in wins with 30, having a goal-against average of 2.35 and a save percentage of .917. These numbers ranked him second and third in the OHL respectively. He was also tied for first in league shutouts with six.
If there's a knock from scouts about Dipietro, it would be his size. He's listed at six feet tall and weighs in at 200 pounds. He's the smallest goalie available in the 2017 NHL Entry Draft so don't let his stature fool you.
He's got extremely quick reflexes and follows the play well. He's efficient moving from post to post and has excellent flexibility. The Spitfires netminder is the type of goalie that will battle every night to give his team a chance at winning. He's been compared to Los Angeles Kings' goalie Jonathan Quick, which is extremely high praise.
The Leafs Need Goalie Prospect Depth
The Leafs are extremely thin when it comes to having goaltender prospects in their system. Beyond Frederik Andersen, the team's pipeline rapidly dries up.
The Toronto Marlies have some intriguing options, with Antonie Bibeau and Garret Sparks as the two most prominent names. Both have limited NHL experience and it could be argued that neither has a future with the big club.
Another name is Kasimir Kaskisuo, the Finnish-born goalie who opted to play college hockey in the United States. He was noticed and signed by the Leafs and appeared as one of the Marlies' goaltenders this season, putting up a 5-1 record with a .934 save percentage.
He was also excellent in the Marlies playoff run and was a large reason that the Marlies made it to game seven of the second round against a very good Syracuse Crunch squad.
Big congrats to Joseph Woll and Scott Savage who won the Freshman and Senior Scholar-Athletes of the Year at the #GoldenEagles! pic.twitter.com/dK85rSxkBf

— BC Hockey (@BCHockey) May 6, 2017
The last prospect is Joseph Woll, who was drafted this past year. Woll spent his season with Boston College and went 17-13 with a 2.66 goals-against average and a .913 save percentage while recording a shutout. He also has a gold medal to his credit, as he was part of the American squad to win the most recent World Junior tournament.
For the Leafs, adding another top goaltending talent to the organization can only be considered a good move. The franchise wants to begin grooming the next successor to Frederik Andersen and having a player like DiPietro in the system, would be the next logical step on the road to future success.
My name is Anthony Fusco. Through school, I completed a joint degree involving an Honours B.A. in Journalism from Wilfrid Laurier University and a Videography and Broadcasting degree through Conestoga College.
I currently work for the University of Toronto as a Varsity Sports Announcer and for the Toronto Maple Leafs as part of their game presentation squad.
I'm also the play by play voice of the Kelowna Falcons, a baseball team located in British Columbia.
My goal is to one day be a hockey broadcaster.