The 2017 NHL offseason will treat hockey fans and challenge front offices with an uncommon aspect of modern-day professional sports: the expansion draft.
Expansion drafts in the NHL occurred more frequently two decades ago, as the league underwent six between 1991 and 2000. In total, the NHL has conducted 12 expansion drafts in its 100-year history. This year's draft for the Vegas Golden Knights will be the first since the Columbus Blue Jackets and Minnesota Wild joined the league 17 years ago.
For the Chicago Blackhawks, the expansion draft should prove to be an intriguing component of a busy offseason. After Chicago's lopsided loss to the Nashville Predators in the Western Conference quarterfinals, general manager Stan Bowman vowed that changes would be made.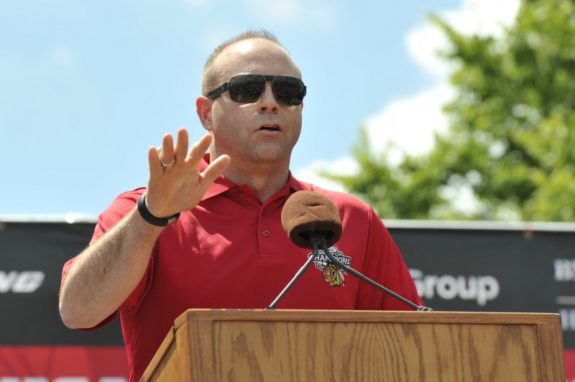 We've already seen the Blackhawks go in a different direction with the Rockford IceHogs' head coaching position as well as fire assistant coach Mike Kitchen. Neither of these changes, though, directly alters the team that takes the ice at least 82 times a year. Those roster moves should start to take shape as the expansion and entry drafts near.
With the clock ticking, let's contemplate Chicago's current options and discuss how Bowman may aim to position the Blackhawks for the expansion draft.
Draft Rules
Before discussing the Blackhawks' situation in detail, it's worth reviewing the expansion draft parameters.
First, any player that has, and declines to waive, a no-movement clause (NMC) must be protected by their current team. Second, each club will have two options regarding the players they wish to protect. Option one: protect seven forwards, three defensemen and one goaltender. Option two: protect eight skaters (forwards or defensemen) and one goaltender. Players with NMCs are included in the total for both options.
With regards to exposing players for selection by the Golden Knights, each club must expose a minimum of two forwards, one defenseman, and one goaltender. Exposed skaters must be under contract for the 2017-18 season and have played in at least 40 NHL games in the prior season or in at least 70 NHL games over the past two seasons.
Exposed goaltenders must either be under contract or a restricted free agent (RFA) for 2017-18. If an RFA goaltender is exposed, that goaltender must receive his qualifying offer prior to the team's submission of their protected list. That list is due to the NHL by 4:00 p.m. Central time on Saturday, June 17.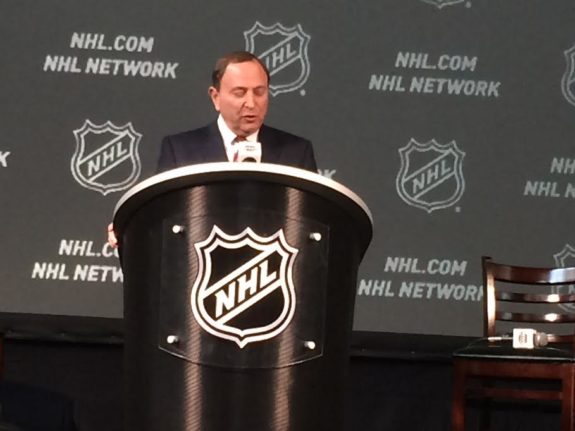 One last note: Any player that is a first- or second-year professional as well as all unsigned draft choices are exempt from exposure to the expansion draft and are not counted towards each team's aforementioned protection limits.
Current Protection/Exposure Eligibility
Now that we've laid the groundwork, let's get down to business. It's worth stating, as many in the Blackhawks' community have discussed, that Bowman has been liberal in issuing NMCs. Chicago has eight players with an NMC: four forwards (Jonathan Toews, Patrick Kane, Marian Hossa, and Artem Anisimov), three defensemen (Duncan Keith, Brent Seabrook, and Niklas Hjalmarsson) and goaltender Corey Crawford. To put that in perspective, Columbus and the Pittsburgh Penguins each have five players with NMCs, the highest amount for any club outside of Chicago.
Not only do these clauses impact the Blackhawks' ability to manage their salary cap position, but they also restrict Chicago's options related to the expansion draft. That is, of course, absent of any pre-draft roster transactions. More on that in a minute.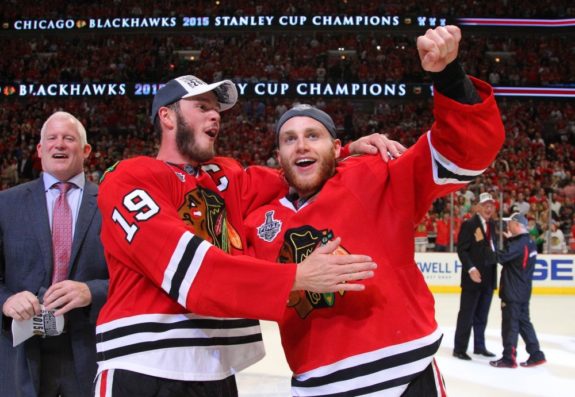 So, what are the Blackhawks' expansion draft options given the current construction of their roster? It comes down to protecting one player. Chicago has seven players that are eligible for exposure to the draft. These include four forwards (Marcus Kruger, Richard Panik, Ryan Hartman and Jordin Tootoo), two defensemen (Trevor van Riemsdyk and Michal Rozsival) and one goaltender (Jeff Glass).
Ideally, the Blackhawks would be able to protect three additional forwards using the 7 F/3 D /1 G strategy outlined above. But, without signing an additional expansion draft-eligible forward, Chicago cannot choose that option because it would only leave one forward exposed to the draft. Each club must expose a minimum of two.
Hartman vs. van Riemsdyk
That brings me to Hartman and van Riemsdyk. Given the option of protecting one of the six draft-eligible forwards or defensemen, my decision would come down to one of these two players. While both are restricted free agents after the 2017-18 season, both players have proven they can immediately contribute to a winning team and are young enough to certainly factor into the future of the club.
Hartman is probably the better of the two players. He is younger and brings good scoring ability, size, and some grit to the team. It is possible he could develop into a mainstay as a top-six forward.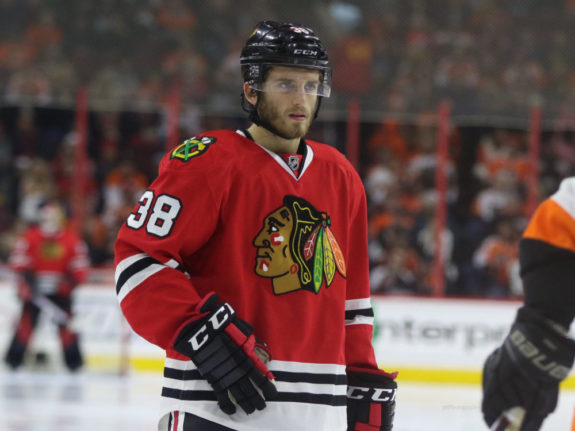 van Riemsdyk is a second-pairing defenseman at best, although I'd argue he may be a third-pairing defenseman on a championship-caliber team. The argument for protecting van Riemsdyk is simply that he is something, at 25 years old, the Blackhawks have very little of: young, NHL-ready defensemen.
Keith (age 33), Seabrook (32) and Hjalmarsson (29) are all in or past the primes of their careers. Rozsival is 38 and not likely to give the team consistent, quality minutes on a nightly basis. Michal Kempny (26), who just signed a one-year contract extension, and Gustav Forsling (20) have some NHL experience. Neither, though, has performed well enough to solidify himself as a top-six defenseman.
Losing van Riemsdyk to the expansion draft could create more questions on defense than the Blackhawks may be able to answer in one offseason.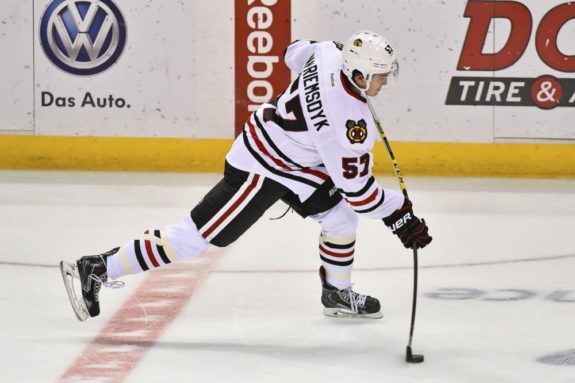 Flexibility Through Pre-Draft Transactions
Now that we've vetted the Blackhawks' expansion draft options given their current roster, I'm inclined to believe the team's front office may make some additional moves to give themselves more flexibility prior to the submission of their protected list.
Sign a Restricted Free Agent
The simplest move would be to sign at least one of either Tomas Jurco or Dennis Rasmussen to a contract extension. Both forwards are set to become restricted free agents on July 1. Signing either one of these players would give the Blackhawks five expansion draft-eligible forwards, meaning the team could opt to protect three additional forwards instead of just one skater. In addition to Hartman, that would give Chicago the opportunity to protect Panik, a player that the front office believes fits nicely alongside Toews.
"Richard made tremendous strides this past year and we were pleased with the consistency he showed throughout the season," said Bowman. "We are looking forward to having him in Chicago for the next two seasons." – via NHL.com on May 11, 2017
The club could also protect Kruger, although it's certainly possible he could remain exposed given that the absence of his $3.1 million cap hit could provide the team with some relief. Regardless, at least an RFA signing would give Bowman better optionality.
Enact a Trade
Chicago could also enter into a trade that could add draft-eligible players to their roster. While I do expect the Blackhawks to make some trades around the entry draft and start of free agency, it will be interesting to see if those trades happen prior to the deadline for submitting protected player lists.
Except for transactions involving the contractual rights to prospects and RFAs, it's often difficult to enact trades prior to the conclusion of the season because playoff teams have little incentive to do so (acquired players would not be eligible for the playoffs). Teams often wait for all potential trade partners to turn their focus towards next season before pulling the trigger.
Bowman said "we're still talking to some teams" leading up to expansion draft, expects player movement around the league prior to draft.

— Scott Powers (@ByScottPowers) May 17, 2017
If the team were to contemplate a trade for expansion draft flexibility, it would make the most sense to either a) convince a player to waive his NMC or b) trade an exempt player for an eligible player.
As I've mentioned previously and intend to discuss in a future article, I believe trading Hossa or Artemi Panarin makes the most sense. Additionally, Tanner Kero, Vinnie Hinostroza and Kempny are exempt players that could garner some trade value. By no means would that constitute a blockbuster, but it would be a small roster move that could give Chicago greater flexibility for player protection.
That flexibility, I believe, is just what Bowman needs.