Earlier this week it was reported that the St. Louis Blues have decided not to tender a qualifying offer to forward Nail Yakupov. This may not come as a surprise to anyone; Yakupov has not lived up to expectations since being drafted first overall by the Edmonton Oilers in 2012. It is also possible that his cap hit of $2.5 million last season played a small factor. As per the NHL's Collective Bargaining Agreement, players whose previous contracts exceeded $1 million must be offered 100 percent of that contract.
This means that the Blues would have had to offer him that same $2.5 million on his next contract in order to retain his services, and nobody will blame them for not doing so. Marc Bergevin, however, should be sending Blues GM Doug Armstrong a thank-you card because Yakupov could just be a perfect fit in Montreal.
Reunited & It Feels So Good
Yakupov and maligned Habs forward Alex Galchenyuk were linemates throughout their junior careers playing for the OHL's Sarnia Sting and displayed great chemistry together. Although Galchenyuk missed all but two games in their draft year, he and Yakupov had 83- and 101-point seasons respectively the year before in 2010-11. Yakupov would ultimately end up being drafted first overall by the Oilers while Galchenyuk would go two spots later to the Canadiens at third overall.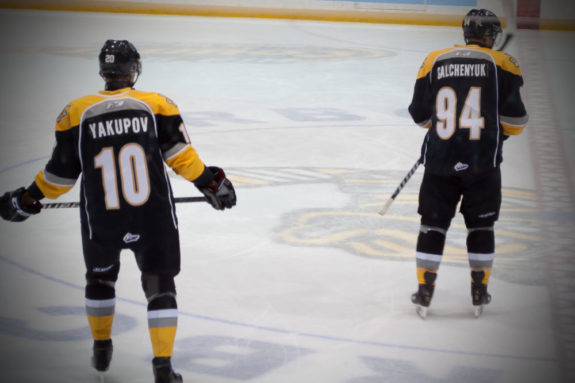 Despite being separated after being drafted, Yakupov and Galchenyuk are still close friends to this day and, if reunited, could rekindle that chemistry and rejuvenate their careers.
After a promising 2012-13 rookie campaign in which he scored 17 goals and 31 points in 48 games, Yakupov has struggled to be the offensive player in the NHL that he was in Sarnia. He started off the 2015-16 season fairly strong in Edmonton, putting up 12 points in 22 games while playing with phenom Connor McDavid. In November he suffered an ankle injury that kept him out of the lineup for 22 games. After that, it was pretty much all downhill from there.
After his rookie season, he bounced around the Oilers' lineup for the next three seasons, never surpassing 14 goals or 33 points. With more than enough opportunity to prove himself with the Oilers, Yakupov was traded to the Blues five days before the start of the 2016-17 season. He would dress in just 40 games for St. Louis, scoring only three goals and nine points.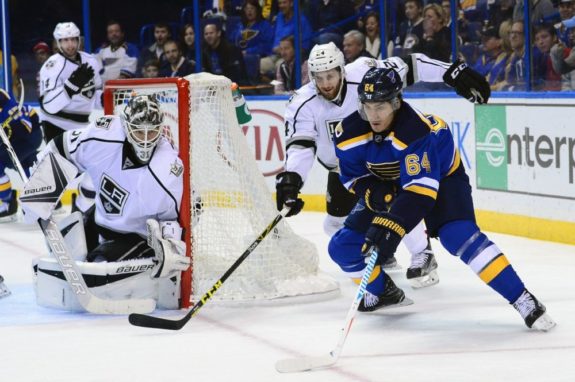 Galchenyuk, on the other hand, has had more success since turning pro. He has scored 89 goals and 204 points in 336 career games, including a 30-goal campaign in 2015-16. He was on a torrid pace this past season before he injured his knee and couldn't seem to find his game after returning. Galchenyuk would end up with 17 goals and 44 points in 61 games, which is still better than any season Yakupov has had.
Chucky on the Move?
Much discussion has been had over the past couple weeks about the Canadiens' efforts to trade Galchenyuk, and in all honesty, it's somewhat baffling. Much has been said about his inability to play the center position at an elite level, but he had 23 points in 25 games playing center before hurting his knee in December. He returned from injury too early, re-aggravating his knee, and struggled to find his game down the stretch. At one point, he was even playing on the fourth line with Steve Ott and Andreas Martinsen.
https://www.youtube.com/watch?v=Mm5cfF0ggws
The general consensus seems to be that the Canadiens are and should be actively shopping Galchenyuk for help on the back end, but I'm not so sure that's the best way to go. Do the Canadiens need to add a defenseman? Yes, but the Canadiens are at the point in their window to win where it's time to start trading draft picks and prospects to acquire established players to help them get over the hump.
Giving up Too Soon?
Galchenyuk has played five seasons in the NHL already and is still only 23 years old. The kid is an elite and dynamic player, and it seems far too early to give up on him because he has struggled at center thus far. Bringing in his old pal Yakupov could give him the morale boost and confidence he needs.
Bergevin is very actively looking to move Galchenyuk and Beaulieu. Nothing imminent with Minnesota, but lots of chatter between both teams.

— Eric Engels (@EricEngels) June 17, 2017
I believe that a full offseason to get healthy and a full summer and training camp with head coach Claude Julien will contribute mightily to Galchenyuk taking the next step toward being an elite center. Julien has worked with some of the best centermen in the game in Patrice Bergeron and David Krejci during his time with the Boston Bruins and surely knows what it will take for Galchenyuk to figure it out.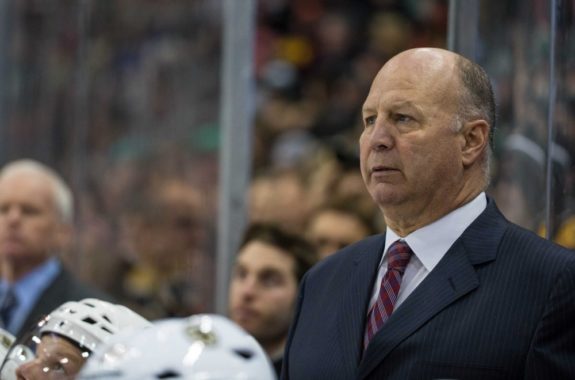 If Julien can get the best out of Galchenyuk this summer with Yakupov on his wing, the Canadiens would be one of the younger, more exciting teams to watch. Yakupov, Galchenyuk and recently-acquired Jonathan Drouin are all 23 years of age or younger and would add to a young top-nine forward group. That group also includes Brendan Gallagher, Arturri Lehkonen, and Phillip Danault, who are all 25 or younger.
There is no question that Montreal needs help putting the puck in the net, and while their most obvious need is at center, Yakupov would almost certainly come on the cheap. My guess would be one year and somewhere around $1 million. If that happens, he and Galchenyuk could form a very dynamic duo that would have the potential to bury a lot of rubber for years to come.