There's a reason Montreal Canadiens forward Alex Galchenyuk would reportedly be open to a one-year deal. And it's a good one… just not for the Habs.
Galchenyuk's Potential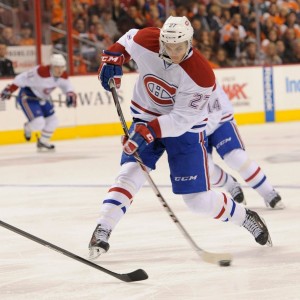 There's no denying Galchenyuk had a disappointing season. In spite of the fact that he ended it on pace for just under 60 points, at the time that he got injured in early December he had scored 23 in 25 games. After his 30 goals last season, the pro-rated 60 points and 17 total goals is kind of a letdown, as he is clearly capable of so much more. But that's the point.
Galchenyuk has No. 1-center potential. He has top-20 scoring potential (if not top 10). Max Pacioretty, for example, finished in 26th spot with 67 points. It's not that crazy of a thought.
So, giving Galchenyuk, whose .72 points per game this season was actually better than the .68 clip at which he produced in 2015-16, another crack at doing it right? It doesn't really benefit the team long term. One can argue that it doesn't really benefit them in the short term, either.
Burning Bridge Contracts
Normally speaking, with exception to bridge contracts, players sacrifice dollars for longer term (i.e., job security). A one-year deal theoretically should do more harm than good to Montreal's cap situation, especially seeing as Galchenyuk has already played through one bridge contract. This, his current two-year, $5.6 million deal was it. He shouldn't have to prove what he can do again.
That's what he will no doubt argue, and, if the Canadiens don't agree, arbitration doesn't exactly scare him either, and it shouldn't. Arbitrators don't necessarily subscribe to notions like bridge contracts. They may listen to arguments, but they primarily look at the numbers. Thirty-goal scorers cost money.
Remember, the Nashville Predators took defenseman Shea Weber went to arbitration as a 25-year-old. He was awarded $7.5 million for one year. Not only that, but the failure to sign him long-term led to him being signed to an offer sheet by the Philadelphia Flyers the following season. The financial repercussions of that deal arguably led to the Weber for P.K. Subban trade last summer.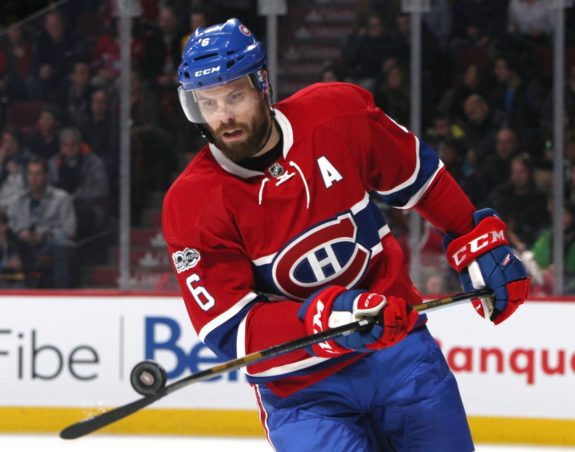 Even after Canadiens GM Marc Bergevin got burned badly by getting Subban to sign his bridge deal back in 2013, you could argue that it was imperative that the Canadiens not set the precedent that anyone is above a bridge contract.
Granted, signing Brendan Gallagher to a six-year, $22.5 million deal straight out of his entry-level contract kind of ran counter to that thought process. Getting a shift disturber like Gallagher, whose style of play will likely take a lasting toll on his body, for all of his prime is far from a bad idea, though.
Lock Him Up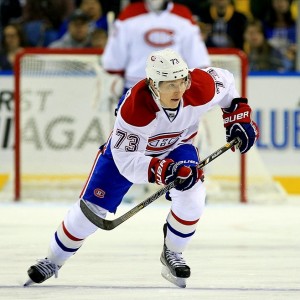 As talented and valuable as Gallagher is, he doesn't have the skill of Galchenyuk. He's not a superstar in other words. Galchenyuk, who produced at the same rate as Alexander Radulov, but was on pace for more goals and is eight years younger, does have that potential.  You want to lock him up now while you still can.
Bergevin isn't actually in that bad of a situation. He would be if Galchenyuk built upon his 30-goal season more significantly. Instead, the bridge deal worked almost to perfection in that the team got to see all of Galchenyuk's offensive upside, especially last season, but his production fizzled the closer negotiations came.
So, why on Earth, would you roll the dice again? You have a chance to not completely break the bank getting a 23-year-old, 30-goal scorer under a long-term contract and that's not good enough? Bergevin should be thanking his lucky stars right now.
It's already established that Galchenyuk is going to get paid. It's just a matter of how much. He may be a restricted free agent, but most relevant comparables indicate he's in line for around $5 million per year at the very least. In other words, he has the Habs right where he wants them. Another one-year contract would only play more into his hands.