The Boston Bruins offseason started a little earlier than they would have hoped. The team has already started making moves though with Anders Bjork leaving Notre Dame and signing his entry-level contract with the Bruins. Shortly after that signing though, it appears Bruins' general manager Don Sweeney is ready to continue a potentially busy offseason.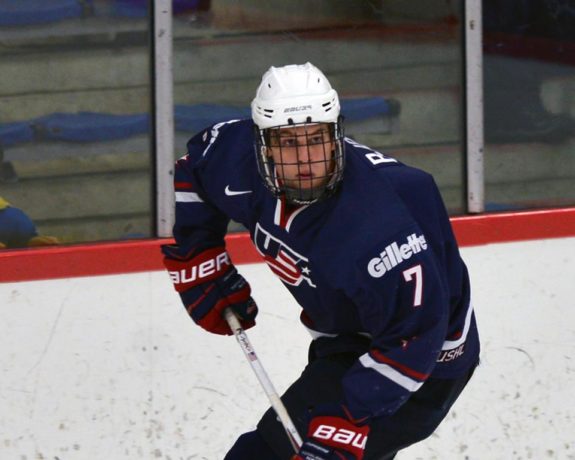 With the Bruins stockpiling draft picks and compiling one of the best prospect pools in all of hockey, Sweeney has proven that he knows how to evaluate talent. With so many prospects in the system, however, the Bruins are in an interesting situation. The team can either move prospects to acquire a position player that best fits their current needs, or they could move future picks as the prospect pool is already as deep as its ever been. The latter option appears to be the direction that Sweeney is leaning towards as Steve Conroy mentioned.
When talking to reporters at the NHL Draft Combine on Tuesday, Sweeney talked about the potential to move his first-round pick:
It's an effort to try and improve our hockey club. We have had a number of selections the last couple of years and we feel that they'll all materialize into very good players for the Boston Bruins and I wouldn't be doing my job if I didn't explore what could improve our hockey club now in the shorter term. I owe it to our players and the organization to continue to do that. Whether or not it happens, I don't know. Some people have looked at me sideways at times when holding three first rounders [in 2015] and not being able to do something at that point in time. The right deal didn't take place. I can't say that it's going to at this time as well, but it's certainly an area I've looked at that if we can improve, then we would move it.
Argument for Trading the First-Round Pick
When considering the value of a first-round pick in the NHL, it's hard to determine whether or not the Bruins should move the selection or not. Obviously, as Sweeney mentioned, the return for the pick would have to be worth it. Still, if any team has the luxury of potentially packaging first-round pick to get a roster player, it's the Bruins.
Moving the 18th overall pick to try and fill a current roster pick might seem short-sighted, but it's also something Sweeney prepared the Bruins to do in his first few years on the job. Since Sweeney has taken over as the general manager of the Bruins, the team has made a total of 16 picks in two years. Five of those picks have come in the first round and four have come in the second round. With that kind of drafting, the Bruins have some options heading into the draft.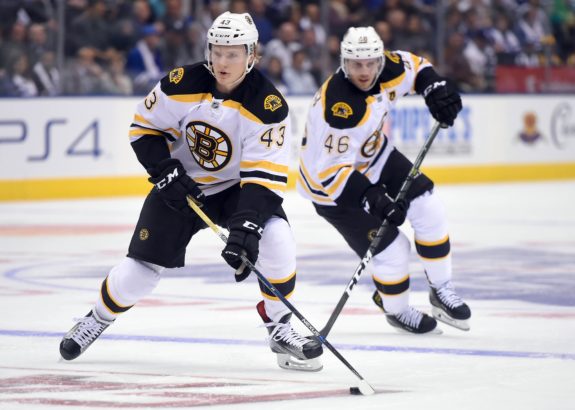 The Bruins need a top-six left winger to play alongside David Krejci. With players like Anders Bjork, Danton Heinen, Jake DeBrusk, Peter Cehlarik and Frank Vatrano all competing for a left wing spot next season, that position seems like it could be filled internally. The team is also looking for a left-shot defender to pair with Charlie McAvoy to allow Zdeno Chara to stay in his role mentoring Brandon Carlo. A top-four defender won't be easy to acquire given how demanded top-tier blueliners are in the NHL. While the team has some players who are developing who could eventually fill the role long-term in Jakub Zboril and Jeremy Lauzon, neither player appears to be ready to start the 2017-18 season in the NHL. That is why trading for a defender would make all the sense in the world if the deal is right.
Looking for a Left-Shot Defender
One thing that's interesting about the Bruins current blueline is the fact that it appears to feature four top-four players in Zdeno Chara, Brandon Carlo, Charlie McAvoy and Torey Krug. The team may not necessarily be looking for a top-four player to replace Krug in the long-term, but rather, a player that can push Krug to a bottom-pairing role for the 2017-18 season while allowing the Bruins to plan for a future without Chara in such a crucial role. At 40 years old, Chara's best days are very clearly behind him. That isn't to say that he wasn't still very good last season and in the playoffs because he was still arguably the teams' best defender. It's just being realistic and realizing that the team needs to start planning now, and not later.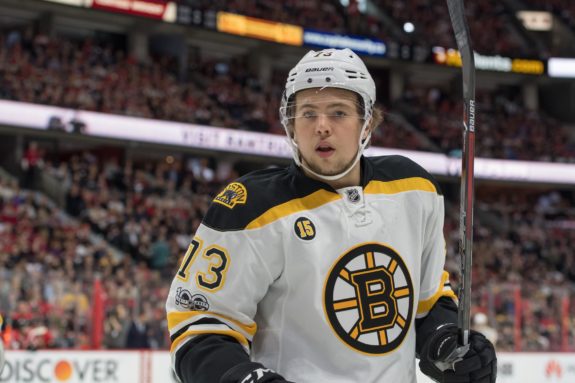 The market for defenders is crowded. While teams may be looking to unload players ahead of the upcoming Expansion Draft, the Bruins should keep their eyes peeled for potential value deals in the coming weeks. Though he's a right-handed defender, an interesting name apparently on the trade market is Sami Vatanen of the Anaheim Ducks. While he isn't a player the Bruins should focus their attention on, it's a clear example of a good, young defender being appraised and shopped ahead of expansion.
It'll be a busy offseason for the Bruins, and the busiest time could be coming in the weeks leading up to the Expansion Draft. Sweeney will have a chance to prove that his long-term plan will pay dividends. He has the trade chips and the opportunity, he'll just need to be active and beat his competition to the punch.