The Dallas Stars could be reunited with a familiar face next season. According to Joe McDonnell, the Stars' director of amateur scouting, Valeri Nichushkin could potentially rejoin the team next season after leaving to play in the KHL. According to McDonnell, the chances of the 10th overall draft pick from 2013 returning to the NHL with the Stars are about as good as him staying in Russia and playing another season in the KHL, Mike Morreale is reporting.
"He's in Russia now and it's 50-50 on whether we get him back next season," McDonnell said. "In the end it'll be up to him if he wants to come back."
Valeri Nichushkin '50-50' to return to @DallasStars next seasn. He played in the KHL last season after 3 yrs w/ DAL. https://t.co/sXtnFyxlN8

— Mike Morreale (@mikemorrealeNHL) June 3, 2017
Valeri Nichushkin Was at Odds with Lindy Ruff
Nichushkin left the NHL after he and then-Stars' head coach Lindy Ruff simply couldn't find common ground on the role that Nichushkin should be playing with the team. While both parties knew of the potential that Nichushkin has, Ruff was careful in how he utilized the young forward. It was a lack of minutes and a lack of trust that ultimately led to the young Russian forward to sign a two-year deal in the KHL, though the Stars did retain his rights.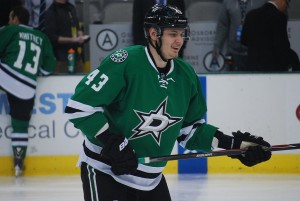 While playing in the KHL last season, Valeri Nichushkin scored 11 goals and 24 points in 36 games with CSKA Moscow. It was a good bounce-back year for the 6-foot-4, 205-pound winger who struggled in the NHL the previous year following missing almost the entire 2014-15 season with an injury. In his last season to date in the NHL, Nichushkin scored nine goals and 29 points in 79 games despite getting many opportunities to play alongside Tyler Seguin and Jamie Benn.
It isn't hard to see where the disconnect stemmed from. Debuting at just 18 years old in 2013-14 – immediately after being drafted out of Chelyabinsk Traktor of the KHL, Nichushkin played in 79 games with the Stars. He scored 14 goals and 34 points in 79 games and shined signs of brilliance in the process. Unfortunately, injuries cut his sophomore season down to just eight games where he posted just one assist. He also played in five AHL contests, however, recording four assists. After finding success in his rookie season, it was clear that Nichushkin wanted more, and quickly.
For a veteran coach like Ruff, the onus is on winning games and putting his team in the best situation to win sometimes doesn't always correlate with individual players' plans. Unfortunately, pleasing every player and developing every prospect at all times is impossible. This created a rift that wouldn't end until Ruff was fired or his contract expired.
Ruff Out, Hitchcock In
By signing a two-year deal, Nichushkin made it abundantly clear that Ruff was the issue. The former Stars' coach had two years remaining on his deal in Dallas and getting playing time in Russia while waiting for Ruff's contract to expire was obviously the game plan for the young winger. If that wasn't obvious enough, Igor Eronko reported that Nichushkin clearly said that he didn't want to play for Ruff and that he would reconsider joining the team once his contract was finished. The Stars fired Ruff and hired Ken Hitchcock to man the ship. In doing so, they opened the door for a potential reunion with Nichushkin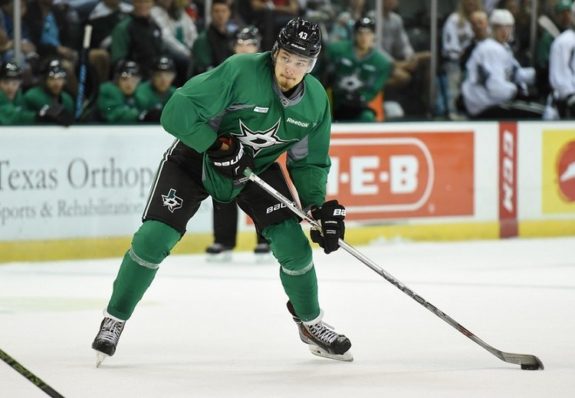 "[If he does return], coach Ken Hitchcock and him will have to forge a relationship," said McDonnell. "If you watch Pittsburgh Penguins center Evgeni Malkin during the Stanley Cup Playoffs, that's what a Val Nichushkin can be in the end. But it's whether he has it in his heart. If he wants to do it, he can do it. It'd be huge for our franchise if we can get him back.
There are no guarantees that Nichushkin will return to Dallas, but it's good for the franchise that the discussion has at least begun. If the Stars wants to keep the rights of the 22-year-old, however, they'll have to protect him in the upcoming NHL Expansion Draft.
Brandon Share-Cohen has covered the NHL and various professional sports for seven years. Working with The Hockey Writers, Brandon works extensively on covering the Boston Bruins in addition to his role as the News Team Lead.