The Montreal Canadiens are a very capable hockey club and have been for a handful of seasons, but that's all they've been, capable. Equipped with depth and a few All-Stars including goaltender, Carey Price, one might think the blue, blanc et rouge have what it takes to win their astonishing 25th Stanley Cup. However, There's been one particular issue with the Canadiens' roster and that is the lack of firepower – an issue that has been patched up but never truly fixed.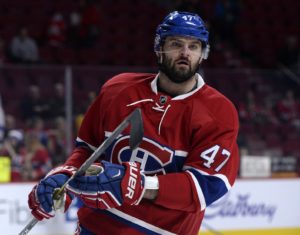 With the addition of Alexander Radulov on the wing last season, the Canadiens were very deep on the wing and had scoring throughout their lineup. However, at center they struggled to find a consistent first line player. They've been heavily invested in the development of 23-year-old Alex Galchenyuk who has been largely disappointing up to this point in his young career.
His inconsistencies have led to a constant rotation of centremen and made it difficult for the team to develop any sort of chemistry. The Canadiens have arguably one of the best bottom-sixes in the league and its fueled by their depth at center.
A consistent first line center would make the Habs a serious contender in the 2017-18 season. Either Galchenyuk needs to finally find his A-game or another piece needs to be brought into this constantly fluctuating puzzle.
Habs Centermen
Realizing just how deep the Canadiens are at center is the first step to solving this pivotal issue. Last season, the Habs had five centermen under contract that produced over 25 points – if that's not depth, then I don't know what is. With names like Byron, Shaw, Danault and Mitchell being able to be slotted in at center on the third and fourth lines, it really only leaves the top two positions to worry about.
Tomas Plekanec is, for the most part, a mainstay on the second line and has been a consistently reliable fixture. The problem is the top line position that had Galchenyuk and Phillip Danault filling in – neither of these players are capable of the first line yet.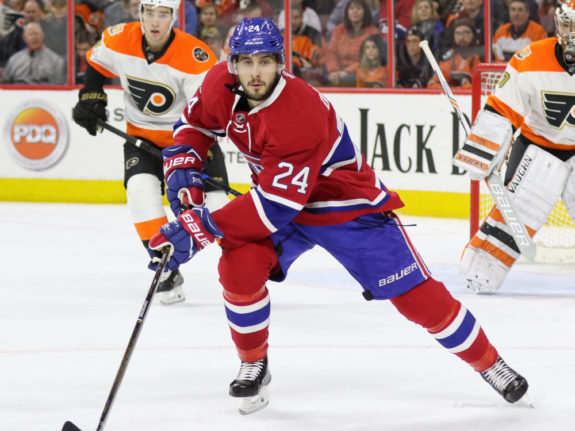 Paul Byron and Danault were pleasant surprises last season, playing their career-best hockey and both contributing over 40 points. Their elevated play has opened up a lot more options for the Canadiens in terms of line combinations and roster flexibility. Alongside their production, the duo's versatility also came into the spotlight – both are capable of playing down the middle or on the wing.
The top line was primarily centered by Galchenyuk, who was flanked by Radulov and captain Max Pacioretty, who all finished in the top-three of team scoring. Because of inconsistent play and some injury trouble, Galchenyuk saw his first line minutes drastically diminished. Then, with the coaching change from Michel Therrien to Claude Julien, Galchenyuk even saw some fourth line minutes. This opened the door for Danault on the top line who played pretty well with Pacioretty.
Looking to Galchenyuk
You can't help but look to Galchenyuk when you consider Montreal's inability to win a Stanley Cup. The Canadiens brass has a lot of chips invested in the young Russian-American and have had high hopes of him blossoming into a first line weapon. He has displayed flares of offensive dominance and an explosiveness that is extremely hard to contain. On the flip side, he has also shown inconsistencies and an inability to fulfill a first line requirement.
At 23, Galchenyuk certainly has room to grow and develop but Montreal's window of opportunity is dwindling. The Canadiens need him to play like he did during the 2015-16 season when he notched 30 goals and added 26 helpers – a career best. If he can re-elevate his play to that level or better, he could be the perfect centerman for Pacioretty to skate with. With his good size, speed and soft hands, there's no reason why Galchenyuk can't be among the elite of the NHL and help bring home another Stanley Cup.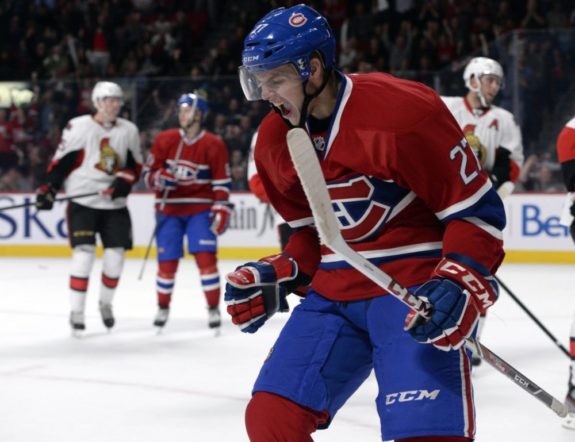 I, among others, firmly believe that Galchenyuk is the solution to Montreal's problems. He is capable of scoring upwards of 40 goals and giving Pacioretty the sidekick he's been waiting for. I don't necessarily like the idea of looking outside the organization for a first line center but it is an option that needs to be considered.
Habs Making Moves?
Heading into the 2017-18 season, Montreal's management has some big decisions to make regarding expired contracts, free agents and possible trades. The decision to re-sign Radulov is a big one and will factor into other decisions due to his potential cap hit, but management's focus needs to be on centermen. The way I see it, they can either stay where they are and hope for Galchenyuk to step up, make a big signing out of free agency or shake things up with a blockbuster trade.
If the Canadiens brass opts to make moves, this is probably the richest the market is going to be for the foreseeable future and the Canadiens have a lot of assets that can be moved. Names like John Tavares and Matt Duchene have been circling around the Canadiens since last season and both are realistic options.
John Tavares
The current captain of the New York Islanders, Tavares is one of the best centermen in the game. A three-time 30 goal scorer, Tavares has never dipped below 24 goals in his professional career and is consistently good for 60-80 points. If the Islanders decide not to renew Tavares' contract, the Canadiens should take a stab at the elite center. However, if the Islanders do elect to keep Tavares on their payroll, the Habs have the pieces necessary to trade for him – Galchenyuk, Nathan Beaulieu and Mikhail Sergachev are all tradeable assets.
If the Islanders don't extend John Tavares, the #Canadiens must pounce on the opportunity. (@EricEngels)https://t.co/wYSuYkju9H pic.twitter.com/sxIxjHInOI

— Sportsnet (@Sportsnet) April 27, 2017
Matt Duchene
Matt Duchene's name began being thrown around in Montreal talks at the 2016-17 trade deadline but nothing came of the rumours. Duchene is currently one of the top-guns of the young, up-and-coming but terrible Colorado Avalanche team. The Avs finished last in the NHL last season by a considerable amount and need to shake things up. His name, alongside captain, Gabriel Landeskog were rumoured to be on the block and Montreal was considered a landing spot for the 26-year-old, Duchene. The biggest facet of Duchene's game is his speed and he fits Montreal's philosophy and style of play perfectly.