Carl Hagelin hasn't yet stepped foot on the ice for the Pittsburgh Penguins this final series. After missing one round due to injury and producing only one point in the next two rounds played, he's now been sitting as a healthy scratch for the first two games of the Cup Final.
We've seen coach Mike Sullivan use being scratched as motivation for underperforming forwards before. He kept Conor Sheary out as a healthy scratch when his production was down; Sheary has been producing a point per game ever since he returned to the lineup. The time may have come to give Hagelin his second chance.
Unlike their defensive corps, the Penguins have a wealth of forwards— enough that someone has to become a scratch when everyone's healthy. Right now, one of those people should not be Hagelin, one of the Penguins' fastest players in a series becoming defined by speed.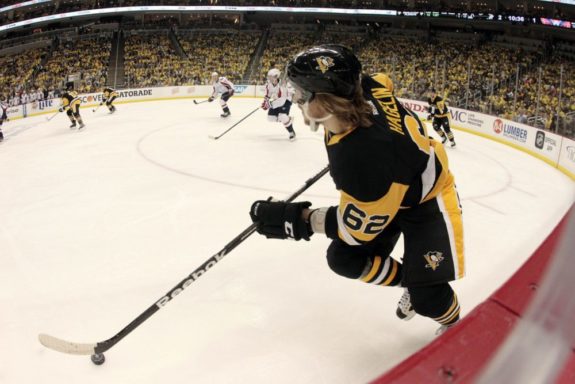 The Predators Are a Different Animal
This series against the Nashville Predators is fundamentally different from the ones against the Columbus Blue Jackets and the Ottawa Senators. In those series, the Penguins saw a lot of long, grinding games defined by hits and everyone's favorite intangible quality of "grit". These were series where players like Scott Wilson and Carter Rowney excelled. Neither of them is a standout on the team in terms of skill or puck handling, but both are tenacious players willing to deliver hits and make grinding plays. In gritty, deadlocked series, these two players earned their starting spots.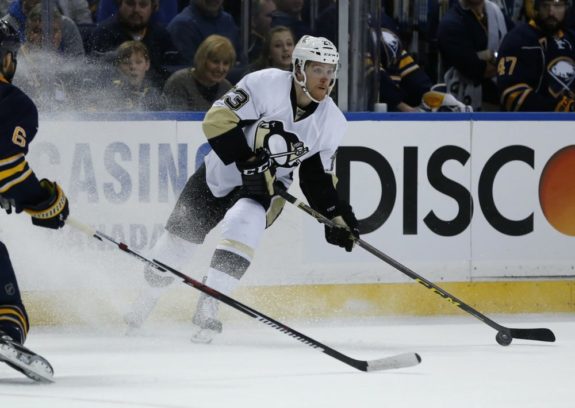 But should Wilson and Rowney both be starting in this Final? These games against the Nashville Predators are not being determined by hits or scraps. They're being defined by breakaways. The way the Penguins have won these first two games has been to grimly outlast Nashville's superior puck possession and defensive onslaughts, then burst past the defense at the blue line and snap one past a struggling Pekka Rinne.
So this is becoming a series defined by breakaways. And who better to break away than Carl Hagelin?
Hagelin has not been having a standout playoff run so far. He has just one point in 11 games, and he did not tally a single point in the series against the Senators. But Hagelin was still recovering from injury during the series against the Washington Capitals, and the Senators' stifling 1-3-1 trap shut down any chance of a speed game. The way the Penguins are beginning to style their play against the Predators—depending heavily on surges and odd-man rushes—could give him a chance to finally get himself on the board.
Hagelin's Greatest Strength
Hagelin was snatched up by the Penguins in the first place because of his impressive speed, which general manager Jim Rutherford noted would be important for the team. That quality is something the Penguins absolutely need in this series. The Predators' weak spot in these two games has been their goaltending. The speed of the Penguins' forwards can exploit that by getting past their stacked defense and facing down Rinne alone. Putting another fast player on the ice who can puck handle is nothing but a benefit for the Penguins.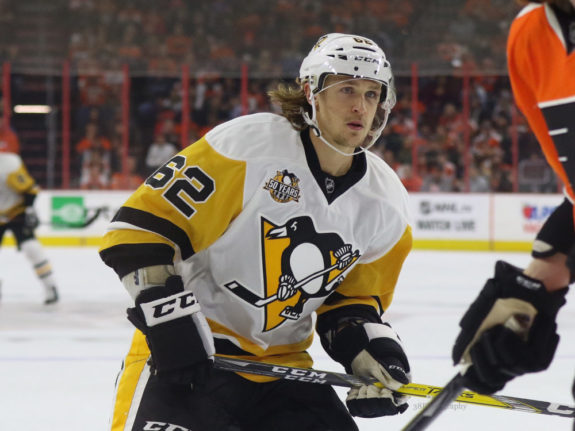 Nick Bonino was spotted today with a walking boot and crutches. That's not exactly a great sign for his injury, sustained from a P.K. Subban shot block, which Sullivan told the media was day-to-day. But it's the Final, which means we still can't count Bonino out for Game 3. After all, Erik Karlsson played the entire Eastern Conference Final on a broken foot.
If Bonino is unable to play on Saturday, Hagelin is the obvious player to join the lineup. But even if Bonino does return, the Penguins should try to slide Hagelin in anyway.
The Penguins need Hagelin's speed for this series. If he really is healthy, they should try putting him back in the lineup and scratching someone like Wilson. Wilson has been playing on a line with Phil Kessel and Evgeni Malkin; adding Hagelin's speed to the firepower on that line could be a dangerous combination.
The Penguins have seen success in this series when they've relied on their speed game, and after all, no one represents a speed game better than Hagelin himself.