Say what you want about Montreal Canadiens forward Alex Galchenyuk. He may have had a lackluster second half of the season, but, at the end of the day, he's a 23-year-old with a 30-goal season in the bank.
Bergevin vs. Galchenyuk Part Deux
The soon-to-be restricted free agent and his representation have no doubt taken stock of the going rate for such a hot commodity. It's safe to assume Canadiens general manager Marc Bergevin knows the score too and that he faces an uphill battle getting Galchenyuk under a cost-effective contract for a few reasons.
For starters, the mind games have arguably already begun from within the Canadiens camp, with Bergevin saying at his post-mortem press conference that Galchenyuk's short-term future is on the wing.
"Alex n'a pas eu une saison (conforme) à nos attentes" – Bergevin sur Galchenyuk

— Alexandre Gascon (@GasconAlexandre) April 24, 2017
You'll recall a similar situation played out the last time out, when Galchenyuk ultimately signed his two-year, $5.6 million bridge contract two years ago. Leading up to those negotiations, Bergevin had said: "Chucky might never be a centerman. Right now it doesn't look like he will, but he could be."
It's irrelevant that Bergevin turned out to be half-correct (Galchenyuk is not yet a full-time centerman). What's most important for the purposes of this argument is how just a few months later, prior to the start of the 2015-16 season, he announced just the opposite, that Galchenyuk would line up down the middle. As if he magically changed his mind.
Keep in mind that it was also the initial post-mortem press conference at which Bergevin steadfastly declared his support for then-head coach Michel Therrien, saying: "Just the idea that [he] isn't an established coach, a winner, a quality coach, is disappointing to hear… I have no reason to make a change."
The reasoning behind the about-face regarding Galchenyuk is not 100% clear (it is in regard to Therrien, but that's another story). Nevertheless, logic dictates it's all about perception entering negotiations. Bergevin can't let the other camp know just how valuable Galchenyuk is to his team's future. And, believe it or not, it's plenty, even as just a winger. If he's envisioned as the team's No. 1 center, it's plenty more on top of that.
Bergevin's Nightmares Come to Life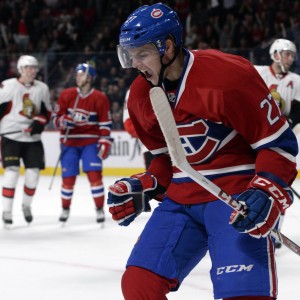 Unfortunately for Bergevin, even though Galchenyuk is just a restricted free agent, he holds a lot of the cards here. And it's also pretty clear around what figure Galchenyuk should be making. Here's the second reason from before: Bergevin doesn't need to look too far for a player who's as close to Galchenyuk's peer as there is out there.
Of course, it's a Nashville Predator and in his nightmares. Conveniently enough though, he can also flip on the television to watch the damage Filip Forsberg is doing on the scoreboard. He can also consult any number of websites to see what kind of damage he's doing to David Poile's cap situation, and it's not pretty: Six years at $6 million per season.
Think about it: Both Forsberg and Galchenyuk are the same age and were taken in the same draft year (2012). Both are centers who play the wing. Both had 30-goal seasons last year at the age of 22, and that's the point at which Forsberg signed his new deal, meaning Galchenyuk could legitimately argue he's worth around that much.
There's no denying that Galchenyuk had a disappointing season. He had been on a point-per-game pace early on, before a knee injury took him out of the lineup in early December. However, despite fading down the stretch, he still finished on pace for just shy of 60 points over an 82-game season. Forsberg had 58.
For the sake of comparison Winnipeg Jets center Mark Scheifele also signed his current contract as a 23-year-old after nearly scoring 30 back in 2015-16. He's now owed an average of $6.125 million per season for the next eight years.
Home Cooking the Books
If Bergevin wants to look closer to home, he might be inspired by the contract he signed Max Pacioretty to, immediately after he scored 30 goals as a 23-year–old. In the captain's case, it came in the form of an extension back in the summer of 2012. He still had a year left on his two-year, $3.25 million (total) bridge contract, when Bergevin got him to sign on the dotted line for six years and $27 million.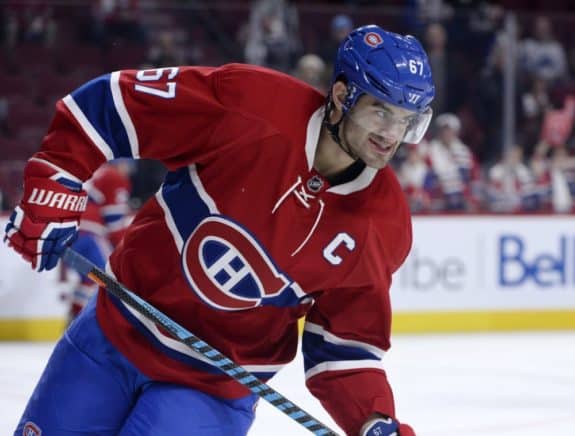 That deal, which averages out to $4.5 million a year, is the dream. It's also a dream in the sense that contracts like that don't exist anymore and it's probably something Pacioretty is regretting signing as we speak as he could be making much more as a perennial 30-goal scorer. If anything it would serve as a cautionary tale for Galchenyuk.
Realistically, due to a wide variety of factors, not the least of which is inflation, a deal like that is off the table. It's likely not going to happen. That's even taking into consideration how Bergevin probably signed Pacioretty to that deal making much the same argument, that he was still unproven at the time.
Aside from the Zdeno Chara-inflicted injury that predated Pacioretty's current contract by a year and likely played into his desire for job security (at the expense of dollars), the parallels are undeniable. The only difference is Pacioretty doesn't play center. Galchenyuk theoretically can. And, because he remains to this day the team's best hope to take that No. 1 spot down the middle, regardless of what Bergevin may have to say on the matter, he's more valuable.
Even if you would like to argue that the numbers are wrong and Galchenyuk has not proven anything at center, the Canadiens still need him there due to their renewed depth on the wings. It's down the middle where they're truly hurting these days. Galchenyuk is the theoretical cure, but he's not going to come cheap.