More than 100 players, including North American and international skaters and goaltenders are in Buffalo for the NHL Scouting Combine this week. The event began at KeyBank Center and HarborCenter on Monday and concludes Saturday.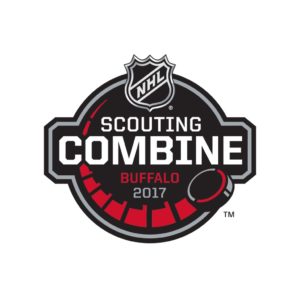 All 31 NHL clubs are on hand to both marvel at the players' athleticism and be thankful they're not the ones being treated like lab rats in an inhumane experiment. Scouts and team representatives will get to assess each player's ability to push themselves to the point of expelling contents of their stomachs.
The World's Best Players
Among the 84 North American prospects and 20 top international prospects are 58 forwards, 36 defensemen and 10 goaltenders.
While there's no obvious generational talent like Connor McDavid or Auston Matthews in this year's draft class, it does have depth. Forwards Nolan Patrick and Nico Hischier are potential superstars in the making who figure to come off the board with the first two picks.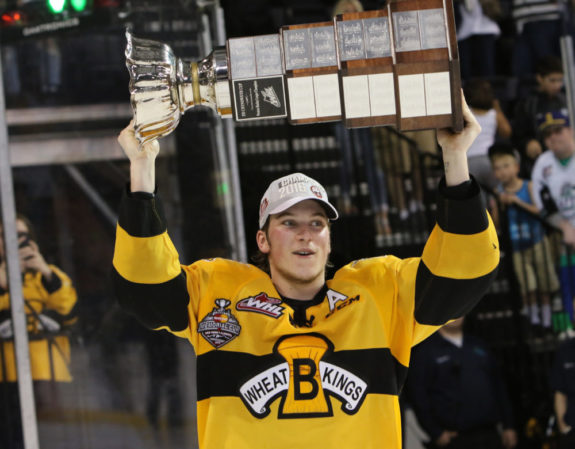 For many players, this will be their initial contact with many NHL teams so they have the chance to make that good initial impression.
"Some kids will shine. Others, by the end of the week will curl into a fetal position and suck their thumbs," said a veteran scout from Edmonton.
One-on-One Interviews
Each team will have the opportunity for 1-on-1 interviews with the prospects. They need to be ready for anything during the interview, as questioning is up to each team.
"We like to ask them questions that provide a window into who they are and how they think," said a New Jersey Devils scout. "We've all faced these questions at one time or another."
He then gave us a copy of questions. He asked us not to share them, so please don't show your friends.
New Jersey Devils Interview Questions
Would you rather fight one horse-sized duck, or 100 duck-sized horses?
How would you sell hot cocoa in Florida?
On average, how many times per week do you hurt yourself trying to dance in the shower?
On a scale of 1 to 10, how intolerable do you find baby pictures on Facebook?
Can you fit your whole fist in your mouth? How much time have you spent trying?
How many TimBits are you capable of eating in one sitting?
Did you cry when One Direction broke up?
Have many followers do you have on Twitter?
Have you ever found the image of a biblical figure on a piece of toast?
Joe McDonnell, Dallas Stars' Director of Amateur Scouting, will be using tools to get inside the players' heads.
"We'll poke and prod these guys," said McDonnell. "It's as much about their physical abilities as their mental character." He continued, "Yogi Berra's famous quote is: baseball is 90 percent mental, the other half is physical. He was half right."
After hearing his philosophy, many of the prospects demanded a chaperone while in a closed-door interview with McDonnell.
Matthews, last year's number one overall pick, still gets cold sweats remembering when he had to answer the 'scratch an itch' or 'itch a scratch' question.
Here's a look at last year's NHL Combine:
Medical Examinations
Each player must clear a medical examination before being permitted to challenge, and ultimately, humiliate themselves in the fitness tests.
"If a player fails his medical exam, he faces the indignity of playing for Arizona for his entire career," said Dan Marr, Director of NHL Central Scouting.
"We need to teach these kids that in the NHL, there's no room for weakness," continued Marr. "Just look at San Jose's Joe Thornton who played with a torn MCL and ACL. He never complained once."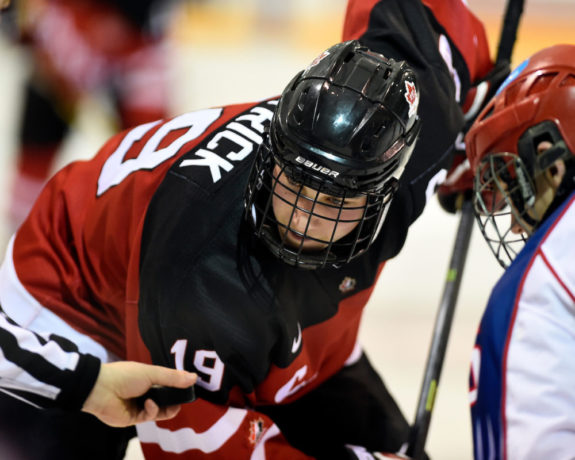 Nolan Patrick, who tops the NHL Central Scouting's final ranking of North American skaters eligible for the draft, missed 35 regular season games due to an upper-body injury and four games of the WHL playoffs because of a lower-body injury.
"I will be participating," Patrick said. "Trust me. I'll find a way."
A Battery of Fitness Tests
In total, there are 12 fitness tests.
Three tests are closed to the media. They are: BodPod (which measures body mass, and the ability to digest Cinnamon Toast Crunch), grip strength (which measures how tight a player will grip his stick during a goal-less drought), and the VO2 max bike test (which measures a player's ability to projectile vomit while riding a bike).
Nico Hischier, projected as the number two overall draftee, is looking forward to the VO2 max test.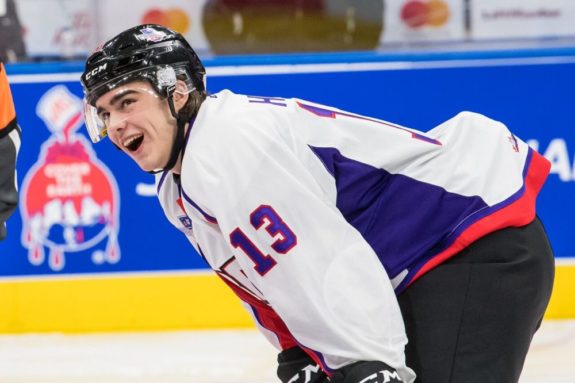 "I've been vomiting all year to get ready for this," said Hischier. "I'm ready to puke up a storm."
The prototypical center has size and playmaking ability and can vomit almost on demand.
The remaining nine tests are open to the media. They include standing height, wingspan, standing long jump, jump station, pro agility test, bench press, pull-ups, Y-balance test station, and Wingate Cycle Ergometer Test.
The Wingate Cycle Ergometer test measures the explosiveness of a skater. To help encourage participants to do their best, John Scott, the retired All-Star MVP is on hand to whisper sweet nothings in their ears.
Schedule of Events
Here is a rundown of the schedule for the week:
Monday, May 29: One-on-one interviews
Tuesday, May 30: One-on-one interviews
Wednesday, May 31: One-on-one interviews
Thursday, June 1: One-on-one interviews and medical testing
Friday, June 2: One-on-one interviews
Saturday, June 3: Fitness testing
Gracious Hosts
Terry and Kim Pegula, the billionaire owners of both the Buffalo Sabres and Buffalo Bills are gracious hosts for the week-long event. It marks the third consecutive year the combine is taking place in Buffalo.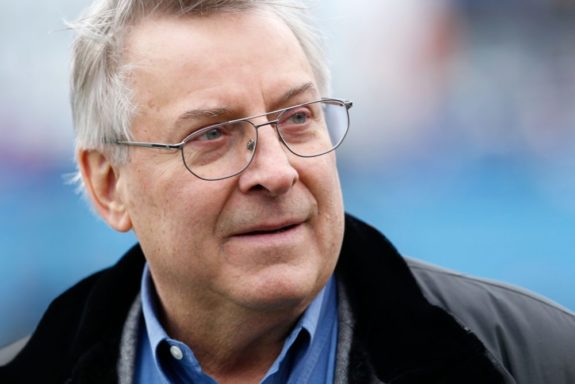 "It's a top notch event—the facilities are outstanding," said Marr. "The best part is Terry gives everyone a multi-million dollar severance package when we depart. It's his thing."
This year, the NHL Fan Centennial Arena will be there at the Tops Alumni Plaza outside KeyBank Center Friday and Saturday. There's a virtual reality Zamboni driving experience and a 'guess what century the Sabres will win the Cup' competition. The event is free and open to all ages.
Relax. It's satire.
Jeff has been covering the NHL for over a decade for various sites. He's been with The Hockey Writers as a lead Sabres writer three years, while also writing a satire column called "Off the Crossbar."