Another Rangers game, another Rangers loss. They did manage to go to overtime against the Pittsburgh Penguins and gain a point. But they are way past moral victories right now and three points through seven games is an awful start any way you slice it.
There has been a lot of clamoring by fans over the past week to fire head coach Alain Vigneault. Coaches are much more expendable than players and if the Rangers continue to lose, his time in New York will soon be over. The team played well as a whole against Pittsburgh and had a late lead before a couple of downright awful plays cost the team the game.
Turnovers Proving Costly, Again
The Rangers seemed destined to end their losing streak as they were up 4-3 heading into the final minutes of the game against the Penguins. This is when some mental lapses by some pretty darn good players did the Rangers in, leaving Vigneault on the thinnest ice possible.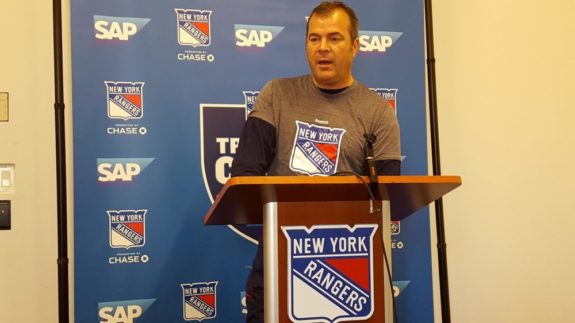 Let's start with the tying goal, which Sidney Crosby scored from behind the net by banking it off Henrik Lundqvist. First, the puck was played by the hand of Patric Hornqvist, so Crosby could not initially play it. Enter Kevin Shattenkirk, who is known more as an offensive defenseman, and this play clearly shows why.
Shattenkirk could have played it a few ways. First, just let the puck sit there. The Penguins cannot play it, so just let the referee blow the whistle and settle for a faceoff. Or, aggressively attempt to clear it, because, you know, the game is on the line. He opted for the third option: gently nudge the puck and allow Crosby to react quickly enough to get a shot on an unsuspecting Lundqvist. Smooth move.
One could claim "luck," but when you're dealing with Crosby, that argument just doesn't fly. He seemingly baits Shattenkirk and pounces on the puck the second it is touched. Heads-up play.
And as for Lundqvist: well, to allow a late goal from behind the net when your team is desperate for a win is not ideal. Lundqvist was repositioning himself as Crosby banked it off of him. It was a tough break on his end, but that is just how the Rangers' season is going.
Related: Rangers Slow Start Overshadowing Mika Zibanejad
Rare Mistakes from Ryan McDonagh
Seconds into the game, Ryan McDonagh forced a puck down the middle that was turned over and before the fans could settle into their seats, Phil Kessel gave the Penguins an early lead. Just 43 seconds in.
McDonagh was not finished with the turnovers. In overtime, his turnover that ended the game is as bad a hockey play as you'll ever see.
A four-point night capped with an OT winner – strong showing for @malkin71_. @EASPORTSNHL pic.twitter.com/htlPKZ2sZ1

— NHL (@NHL) October 18, 2017
Hard to put that one into words. McDonagh is a top defenseman, but that careless play is an indictment of a careless team. He could have just as easily played the puck off the boards, like he says to the press after the game, but he tried to force a play up the middle. As the captain, he feels the pressure of a slow start more than most guys and this game is one he would like to quickly forget.
Related: Rangers Early Season Improvements
Giveaways Have Always Been an Issue
If we are going to wrap back around to Vigneault, giveaways are one issue that has persisted during his time in New York. Over the last two years combined, the Rangers have the fourth-most giveaways in the league. In just seven games to start this season, they have committed the second-most giveaways with 105. That is 15 per game. To put that in perspective, the Columbus Blue Jackets only have 27 on the season in six games. It's easy to see why they are 5-1 to start the season.
But the Rangers' players are trying to stay positive after this slow start. Shattenkirk, in looking forward to Thursday night's tilt against the Islanders, talked about taking the positives from the game. Lundqvist, though disappointed in the end result, echoed similar sentiments and thought the team battled back.
Despite result, #NYR are focusing on the positives from Tuesday ahead of Thursday's meeting with the Islanders. https://t.co/RVbXR9xpqM pic.twitter.com/QBNPkVWzdI

— New York Rangers (@NYRangers) October 18, 2017
However, saying the right things is all good and well, but the Rangers need to start doing the right things if they want to start getting some wins. The Isles last played on Sunday night, so they will be well rested. But, they have struggled in this early part of the season as well. It is hard to call a game on Oct. 19 a must-win, but that is where we are with the Rangers. As confounding as it may sound, I do still believe they need to trust in the coach that has elevated much of the talent on the team, but another loss, at home no less, and that might be all she wrote for Vigneault.
I cover the Rangers for The Hockey Writers. I have written for the Rangers previously at Fansided and my school paper at Brooklyn College. I graduated with a BA in English at Stony Brook University in 2012 and an MA in Media Studies at Brooklyn College in 2015. For someone who is 50% Finnish, I sure do love Henrik Lundqvist.