In the 12-month period before the 2015 NHL Entry Draft, there was a heated discussion about two 'generational' talents: Connor McDavid and Jack Eichel. There was a fun and somewhat even argument over who had the better style of skating, the knack for making plays, the route they took to get to the NHL, and even their physical status and personal maturation. Whichever teams were to draft them, in whatever order, they were to be the next superstars and the faces of the NHL.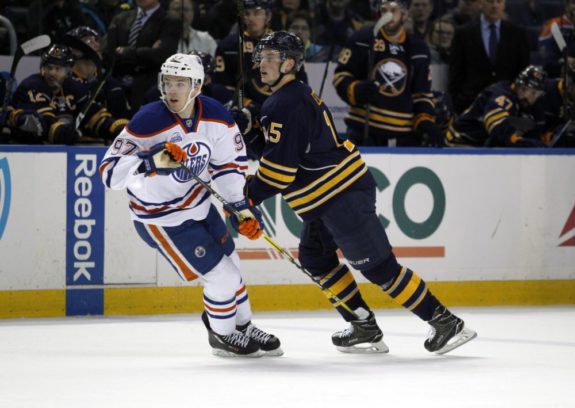 Generational Talents
Almost immediately, Eichel fell out of the conversation regarding the best players in the game. Despite helping the Sabres climb out of the league's basement while playing on a terrible team, the world expected more from Eichel. Pundits and reporters, even those on the Sabres' hometown beat, would recognize his skill yet start every sentence with, "He's no Connor McDavid, but…"
Then along came Auston Matthews in the 2016 NHL Entry Draft. He would be the third 'generational' player in just two years. Joining the Toronto lineup after playing in a Swiss men's league, he became the subject of the talk, not just about the best young players in the game, but talk about the best players, period. Eichel became the forgotten man, relegated to second-tier status; an afterthought with marginalized recognition. That shouldn't have happened.
The 2015 draft could have included all three phenoms. Matthews, whose birthday is Sept. 17, missed the arbitrary cutoff date of Sept. 15 (set years ago by the NHL's Collective Bargaining Agreement) by a mere two days.
Related – 2017 Calder Trophy Winner: Auston Matthews
First-Year Numbers
Eichel, McDavid, and Matthews all tremendously affected their team's finishing numbers in their first years.
After being injured for most of his first season, Connor McDavid had a fantastic first full season last year. He put up a whopping 30-goal, 70-assist, 100-point effort, helping his team improve by 33 points over the previous season. Auston Matthews, in a record-setting campaign for the Leafs, tallied 40 goals and 29 assists for 69 points, helping his team improve by an amazing 26 points over the previous year. Jack Eichel produced 24 goals, 32 assists for 56 points in his first professional season, pushing the Sabres to a 27-point improvement over the previous year.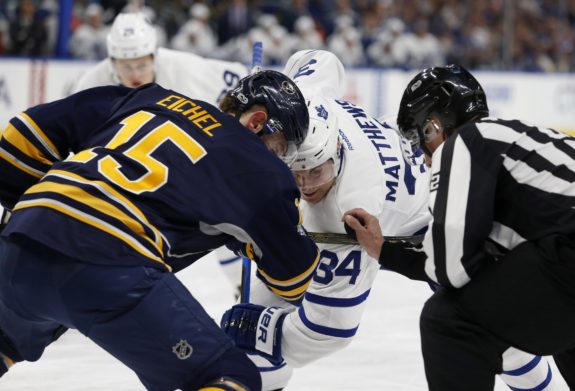 By any appreciable standard, each player made an enormous impact on his respective team. Improvements of 26, 27 and 33 points in successive seasons are infrequent and unusual.
2016-17 Comparisons
Last year, the NHL celebrated the year of Connor McDavid. His 100 points were 11 better than the second-highest total (Sidney Crosby, 89). While averaging a league-leading 1.22 points per game, he took home the Hart, Lindsay and Ross trophies as the highest scorer and best player. His performance led his team into the second round of the playoffs and earned him an unprecedented contract extension worth $100 million over eight years.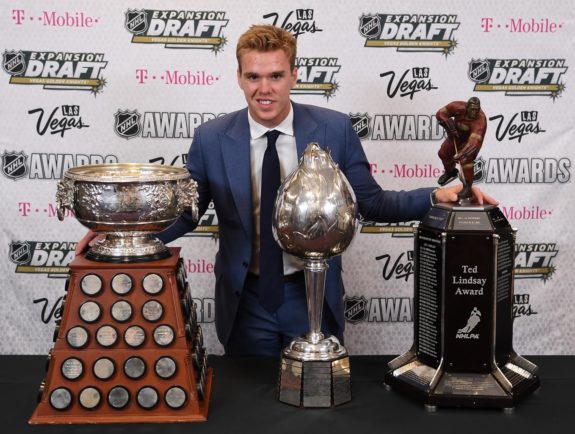 Auston Matthews led the Leaf Nation to their first playoff berth in four years and second in the last 12. His Calder Trophy as Rookie of the Year represented the first Toronto player to win such an honor in the 50 years since Brit Selby in 1965-66.
In Buffalo, Jack Eichel went down with a high ankle sprain on the eve of opening night. Despite coming back weeks before fully healing, he managed to best his point total from his first season by one point, even while playing 20 fewer games. Without a full season from Eichel, the Sabres had no chance of making the playoffs.
Taking a Closer Look
All the accolades and trophies last year went to McDavid and Matthews. As did the playoff berths for their teams. Eichel faded from the mentions on national broadcasts and in syndicated columns. A frustrated Eichel packed his gear and headed for another long summer.
The interesting thing is that Eichel may have been more important to his team this past year than either McDavid or Matthews. Arguably, he is the most impactful of the three players.
The Front Office
McDavid and Matthews play for teams that each have a stable and professional front office and coaching staff. The Sabres may have found a winning combination in general manager Jason Botterill and head coach Phil Housley, but they are not only in their first seasons in Buffalo, they are in their first seasons ever with those titles.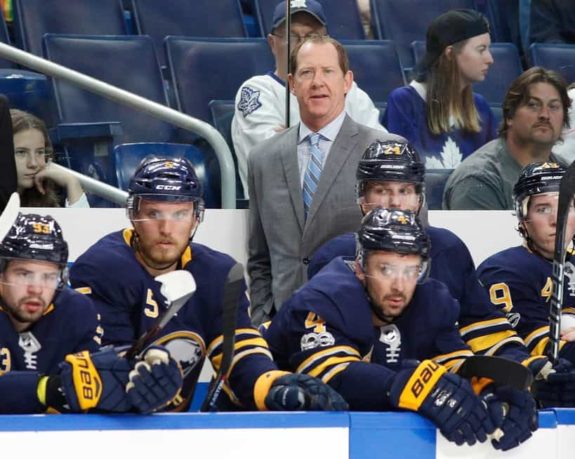 Related: Sabres: Love Them, Hate Them or Both
The Rosters
The Oilers and the Leafs have far superior teams than the one in Western New York. In fact, this season's opening night lineup featured ELEVEN Sabres who were not on the roster in 2016. Many are cast-offs from other teams and journeymen who have never filled their potential (Seth Griffith, Matt Tennyson, Jordan Nolan, Benoit Pouliot, Nathan Beaulieu).
Of the holdover players, many are aging veterans with bloated contracts (Matt Moulson at $5 million per year, Zach Bogosian at $5.14 million, and Josh Gorges at $3.9 million). The Leafs are the youngest team in the league and although their defense isn't rock solid, they have an embarrassment of riches in terms of scoring threats. The Oilers field a team that includes two of the top point producers in the league.
Supporting Talent
Of all the players who finished in the top 15 in points per game last season (and played at least 15 games), all but one played on teams with at least FOUR players that scored 50 or more points. The only exception: Jack Eichel's Sabres had just two. Auston Matthews finished 29th in points-per-game at .84; his Leafs had an astonishing SIX players with at least 50 points.
2016-17 Top 15 Point-Per-Game Players
1. Connor McDavid (1.22) / EDM had 5 players who scored at least 50 points

2. Sidney Crosby (1.19) / PIT had 5 players who scored at least 50 points

3. Steven Stamkos (1.18) / TB had 5 players who scored at least 50 points
4. Evgeni Malkin (1.16) / PIT had 5 players who scored at least 50 points
5. Nikita Kucherov (1.15) / TB had 5 players who scored at least 50 points
6. Patrick Kane (1.09) / CHI had 4 players who scored at least 50 points
7. Brad Marchand (1.06) / BOS had 5 players who scored at least 50 points
8. Nicklas Backstrom (1.05) / WAS had 5 players who scored at least 50 points
9. Mark Scheifele (1.04) / WIN had 5 players who scored at least 50 points
10. Ryan Getzlaf (.99) / ANA had 4 players who scored at least 50 points
11. Leon Draisaitl (.94) / EDM had 5 players who scored at least 50 points
12. Jack Eichel (.93) / BUF had 2 players who scored at least 50 points
13. David Pastrnak (.93) / BOS had 5 players who scored at least 50 points
14. Brent Burns (.93) / SJS had 4 players who scored at least 50 points
15. Erik Karlsson (.92) / OTT had 4 players who scored at least 50 points
29. Auston Matthews (.84 P/GP) / TOR had 6 players who scored at least 50 points
Power Play
The Sabres led the NHL in power-play efficiency at 24.5 percent. The Leafs were second (23.8 percent) and the Oilers were fifth (22.9 percent). The fact that the Sabres had considerable difficulty scoring at even strength and yet were first on the power play had the experts scratching their heads in utter bafflement. It was no puzzle to the fans of the blue and gold; when combined with the Sabres' best four players, Eichel drove the effort. The Sabres' offense ran entirely through number 15. If skating with higher-level talent and on a consistent line at equal strength, who knows what gaudy numbers Eichel may produce.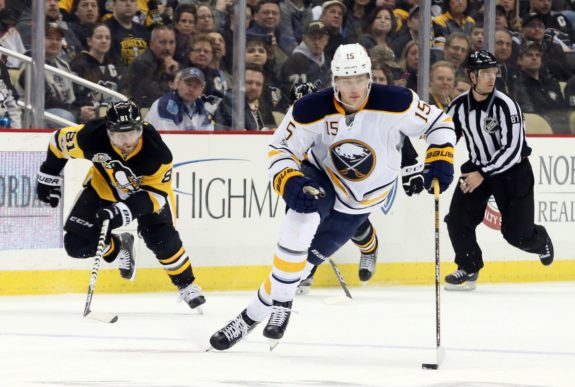 This Season
Again, this season has Buffalo asking Eichel to do it all himself. He has stepped up on and off the ice. But he cannot do it alone. The Sabres don't have enough experience, skill and effort on and from the blue line to get the team into the playoffs. With the exception of Evander Kane, and all the horrible forechecking penalties and selfish play he comes with, the organization only has six healthy left wingers—and that counts the three on the farm team in Rochester.
The Sabres have a total of only two goals from Ryan O'Reilly, Kyle Okposo, and Rasmus Ristolainen. To scratch their way into a playoff berth will take a Herculean effort, a consistent execution of Housley's system and a few trades. And they'll have to take advantage of the scheduling quirk that has them playing almost two-thirds of the second half of the season at home.
Interesting Start
Through Wednesday night's games, the small data sample is not surprising to diehard fans in Buffalo. In seven games, Jack Eichel has tallied nine points. He was labeled the game's first star against the Ducks even though it was one of the rare occasions that he was kept off the scoresheet. Despite Eichel's efforts, the Sabres have won but one of their games.
In Edmonton, the Oilers are off to a similarly rough start; they have won only one of their five games. Connor McDavid has been called out by his coach, although not by name. The reigning league MVP has six points to date.
Fans are happy in the GTA as the Leafs sit atop of the league standings. Auston Matthews has 10 points in Toronto's first seven games.
Who's THE Man?
A closer look at the numbers shows a much more defined picture. Of the three, Buffalo, a team that not only started 11 players who were not in last year's opening lineup but started seven new faces last year and 10 the year before that, is characteristically having trouble scoring—except for Eichel (and Evander Kane). Eichel has points on nine of the team's 18 goals. He's been on the ice for 13 of the 18. It is fair to say that he IS the Sabres' offense.
https://twitter.com/MikeKellyNHL/status/839542409558179841
Connor McDavid's Oilers are, atypically, also having trouble finding the back of the net. To date, Edmonton has scored 11 goals. McDavid has points on six of them. Curiously, he's only been on the ice for those six, meaning that he is not helping to create much offense. McDavid has too much skill and blinding acceleration for this circumstance not to change soon.
The Leafs' offensive juggernaut ironically reminds one, at times, of the Oilers of the '80s. They have no problem allowing five goals in a game because they have enough talent to outscore their opposition. In their first seven games, they have scored 34 goals. Auston Matthews has points on 10 of the 34 and has been on the ice for 16.
Related: Maple Leafs Winning by Outscoring Their Problems
The Argument
There is no question that Eichel belongs in the superstar category with Matthews and McDavid. Who is best? Conventional wisdom says that McDavid is not only head and shoulders above these two, but the rest of the league. And conventional wisdom is often wrong. But the numbers don't lie.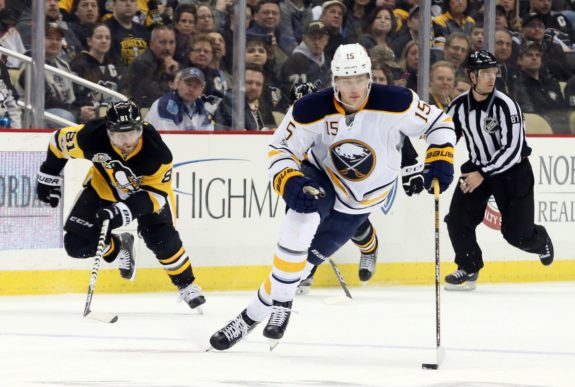 Imagine if there was a mandatory trade that meant McDavid went to Buffalo, Matthews became an Oiler and Eichel donned the blue and white. Would McDavid's production numbers be anywhere near the century mark? Could he single-handedly be able to drag the rag-tag Sabres into the playoffs? Would Matthews change the outcome of the Oilers' playoffs results? Would Leafs play-by-play announcer Joe Bowen cry out anything but "Holy Mackinaw, Eichel scores again" over and over through June?
The rest of this season will add fuel to the fire and fun to the discussion. Arguments and discussions like these are why we love hockey.