What's $2 million among friends? Just ask Jack Eichel of the Buffalo Sabres and Leon Draisaitl of the Edmonton Oilers.
Despite missing the first two months of the campaign with a high ankle sprain, Eichel concluded the 2016-17 season with a team-leading 57 points. He brought an electrifying presence with 24 goals in 61 games and finished eleventh in scoring per game (0.934 points per game) in the NHL.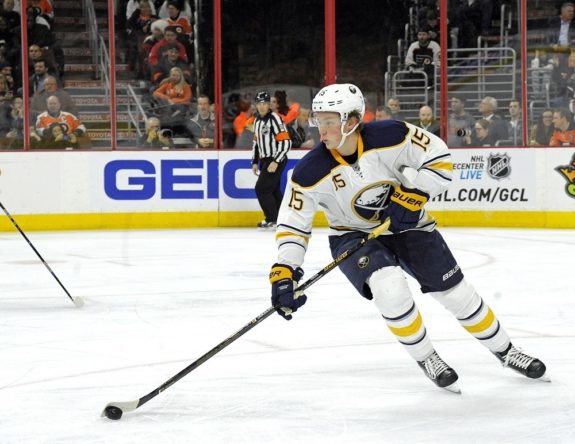 Over in the Western Conference, Draisaitl put up 77 points in 82 games, finished tenth overall with a 0.939 points-per-game average.
The thousandth of a point difference between the two players may seem insignificant, but not to them. It cost Eichel as he lost out on a $2 million performance bonus for not finishing among the NHL's top 10 in points-per-game production. Instead, Draisaitl took home the hefty check.
Leon Draisaitl's 2 pts last night knocked #Sabres Jack Eichel out of the top 10 in league Pts/Gm. Eichel misses out on a $2M bonus by 0.01 pic.twitter.com/5ZLqxtHwdO

— CapFriendly (@CapFriendly) April 10, 2017
Postseason Plans
Draisaitl passed Eichel with a goal and assist in the Oilers' 5-2 season-ending win. He then packed his bags for a first round playoff matchup with the San Jose Sharks.
After going pointless in the last two games of the 2016-17 season (both losses), Eichel packed his bags and delivered a salty performance for the media at locker cleanout day.
"Season's over. That's all you're thinking about," Eichel said. "It's tough, yeah. You're not where you want to be."
And he had a quick, terse response when reminded he was nearly a point-a-game player: "I wasn't though."
"You can't be satisfied with the fact you're in the NHL.. I'm here to win."

Jack Eichel's full comments today – pic.twitter.com/xhTkssyAJl

— Buffalo Sabres (@BuffaloSabres) April 10, 2017
Two Years in the Books
The Hobey Baker Award winner and number two overall pick at the 2015 NHL Entry Draft, has had some personal success in his young professional career.
As a 19-year-old, he finished his first NHL season with 24 goals and 56 assists in 81 games. It was a pretty impressive year considering his age and his cast of misfit teammates. After missing the first 21 games of last season with a high ankle sprain suffered in practice a day before the Sabre's season opener, the center came back with renewed determination. Though admittedly not fully healthy and still bothered by the injury, he returned and bested his previous season by a point in 20 fewer games. He closed the season with 16 goals and 26 assists for 42 points in his final 40 games, while playing a complete 200-foot game.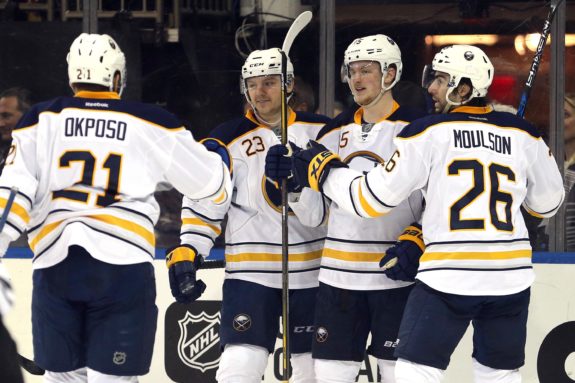 Eichel believes he can be much better. "I think that I haven't scratched the surface of where I can be," he said.
If Eichel progresses in his third year like he progressed in his second, and stays healthy, it's hard to imagine him not putting up at least 90 points in 2017-18. This Sabres team has a much-improved defense and a head coach that suits Eichel's style. 100 points is not out of the question.
Eichel's Accomplishments
As dynamic as he's been, Eichel describes his play as mediocre in his first two seasons with the Sabres. "If you look at what I've done, it hasn't been a whole lot–two mediocre seasons on a losing team," he said matter-of-factly.
Eichel hates to lose and it hits him hard. As each loss piled up last season, his frustration grew more visible.
Eichel has high expectations for himself and the team which hasn't made the playoffs since 2011. "It's a huge year for me personally and as a team. We want to take the next step as a team, and I think for us to do that we need some guys to take the next step as players, and I need to be one of them." He added, "I just need to step up around the room, on the ice, big situations for our team, do more, prove that I could be our go-to guy."
Eichel believes he needs to show that he can be a leader on and off the ice, making plays in key situations and helping lead the Sabres to their first playoff appearance in six years.
"For me, it's more along the lines of being prepared every day to be the best player I can be and try to help this team be a better team, and be a good teammate in the locker room," Eichel added.
New Leadership Tailor-Made for Eichel
Bylsma's chances of returning as the Sabres' coach this year were not helped by the fact that he and Eichel didn't get along well."
Eichel sees a fresh start with new GM Jason Botterill and coach Phil Housley. "It's an opportunity to hit the ground running."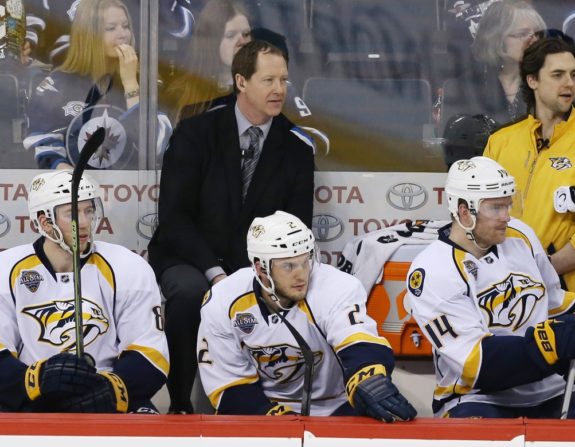 "We've talked about playing aggressive offensively but we need to talk about playing aggressive defensively. I think defense gives you a chance to win every night. They [players] will understand but we want to be fast and aggressive," said Housley.
'The days are gone when a guy makes a breakout pass and the defense just watches the rush go up in the play. They have to get up in the play, not only to maybe join the rush and add to the attack but to be in the offensive zone, being able to keep pucks in or else you're going to start playing defense. But when the puck gets turned over our mindset and our back pressure is going to be aggressive. We're going to try and take time and space away so teams can't make plays. That requires playing without the puck. We've got to be accountable that we're just not going to think offense. I'm not saying playing reckless hockey because you have to take what's given, but when we're playing defense we want to be aggressive in that area too and that's one of the things that come when you talk about aggressive style.' –Phil Housley
The up-tempo, five-man rush Housley wants to play is music to Eichel's ears.
"That's my game," said Eichel. "Obviously, the way that Phil wants to play is right up my alley, so I'm excited for it. 'D' down the walls, 'D' in the rush, that's me. It all sounds good."
With an overhauled blue line and a Hall of Fame offensive defenseman in charge, the 2017-18 Sabres should be a much different squad.
It's About Winning
When an athlete is upset and says 'it's not about the money,' it's a safe bet that it is absolutely, positively about the money.
However, Eichel never once brought up the missed $2 million bonus. He knows he has a long career ahead of him and will make his fair share of money. What was grinding his gears though, was the fact that Draisaitl was playing in the postseason and he wasn't. The cash, while nice to have, doesn't mean much if you're not winning and having success.
Eichel still thinks he's every bit the player that Edmonton's Connor McDavid is. And that's what drives him. Deep down, he thinks he's just as good as every player in the game. Even, on a lackluster Sabres team last year, he was the NHL's top player or among its top three for about four straight weeks.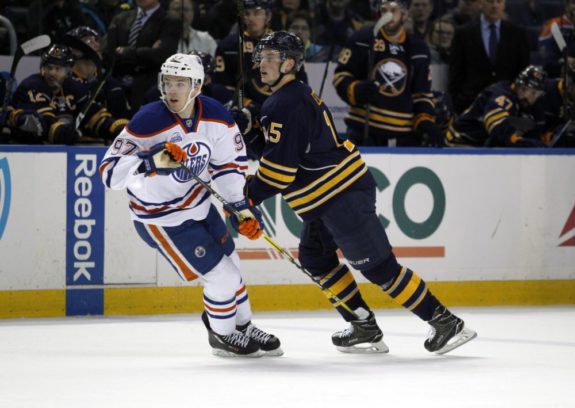 Signing A New Contract
Eichel and the Sabres both say they are close to putting together a deal. The Sabres have already said that they'd like to get something done this summer, but they can still take care of business during the season, as the franchise center still has one year remaining on his entry-level contract.
"I want to be here for a long time," said the budding superstar. "That's the way I look at it. I don't want to go anywhere else. I don't want anybody to think that I want to be somewhere else. I want to be here, and I want to help this team win in any way that I can do that. I just want all the people there to know that."
"The Sabres recognize that he's an iconic player," said TSN's Darren Dreger of Eichel. "Buffalo would be real lucky to get Jack signed" at anything less than $9.5 million per year. He's a cornerstone piece for the Buffalo organization, so maybe that number creeps up closer to 10 or just over 10 (million)."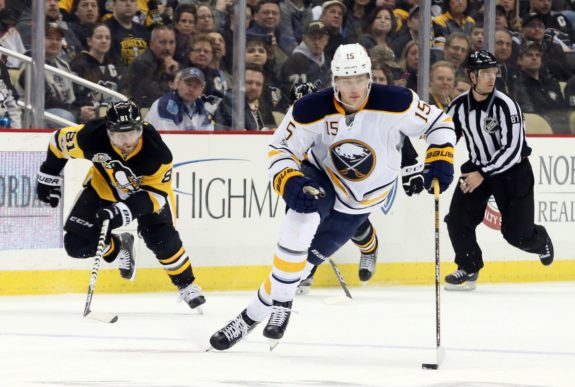 In August, Draisaitl inked an eight-year, $68 million contract. The deal runs through the 2024-25 season with an annual cap hit of $8.5 million.
It'd be ironic if Eichel's new deal was $10.5 million, exactly $2 million more than Draisaitl's deal per year.
Jeff has been covering the NHL for over a decade for various sites. He's been with The Hockey Writers as a lead Sabres writer three years, while also writing a satire column called "Off the Crossbar."