One of the most memorable phrases in the 1996 romantic comedy Jerry Maguire is now coming to life between phenom Jack Eichel and the Buffalo Sabres: "Show me the money!"
Eichel's entry-level contract is set to expire after the 2017-18 season. With Sabres general manager Jason Botterill in early talks with Eichel's agent about a contract extension, what can one expect to sign him for long term?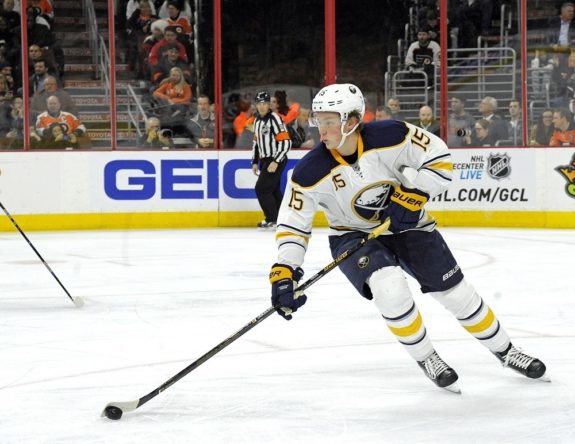 According to Botterill, "the discussions have gone extremely well," and Eichel and his representatives are looking to get an extension in place before the start of the coming season. He added, "From our standpoint we certainly want to get something done and the only thing we've heard from Jack and his agents is they want to get something done too."
McDavid Money
Make no mistake about it, Eichel is the Sabres' cornerstone. He's the face of the franchise and the one that fans pay to see. That said, his next contract isn't likely to compete with Connor McDavid's recent eight-year, $100-million contract extension — the largest cap hit of any NHL player. The cool $12.5 million McDavid will pull in annually will be the league's highest cap hit once it kicks in.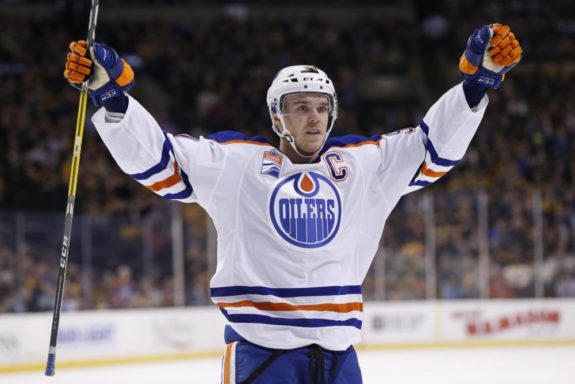 Many believe McMoney went easy on the Edmonton Oilers. The 20-year-old multi-talented center who took home the Art Ross trophy for leading the league in scoring and was voted league MVP, could've named his price up to a maximum of $15 million per the NHL's Collective Bargaining Agreement.
While really good, Eichel is no generational talent like McDavid. At least not yet. McDavid and his 100 points almost single-handedly led the Oilers to the postseason, with their best year-over-year point improvement (33 points) of any franchise. McDavid took on the 'C' for Edmonton and dominated the league with speed and playmaking skills the league hasn't seen since Sidney Crosby and Alex Ovechkin came into the league.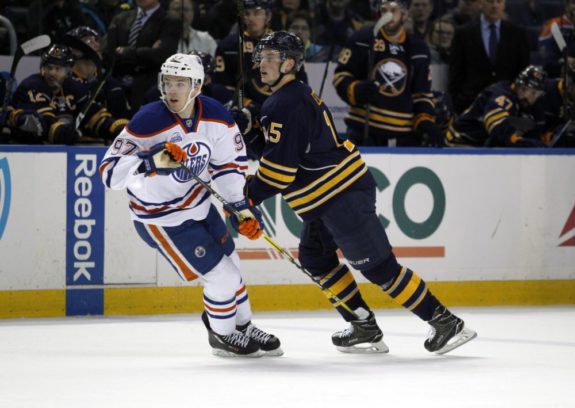 Eichel, while missing 21 games, still put up a team-high 57 points. However, looking at the record, Eichel failed to make much of an impact on the Sabres. Last year, with him in the lineup, they were 26-28-7 (.42 winning percentage). With him out of the lineup, they were 7-9-5 (.33 winning percentage).
Goal Output
During the regular season, the Oilers scored 247 goals last year. McDavid, who appeared in all 82 games, either scored or assisted 40 percent of them. In other words, there were 147 non-McDavid-involved goals.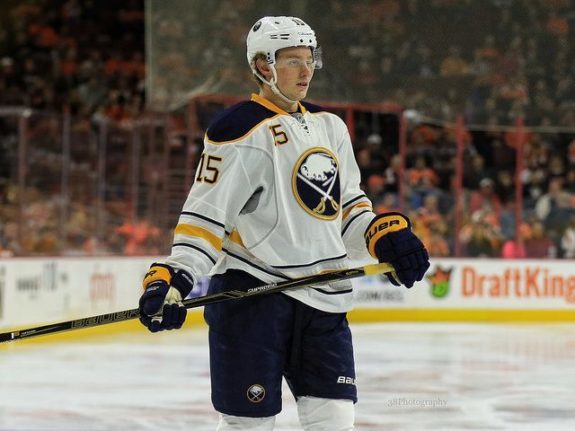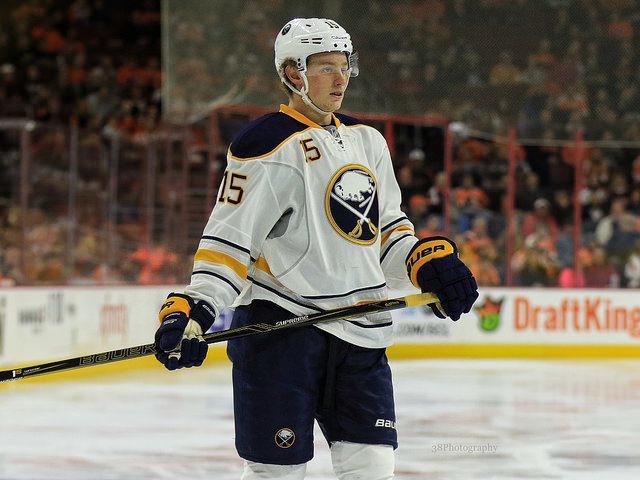 Looking at the Sabres, they put up a total of 201 goals last year. Subtracting the 21 games that Eichel missed, the team scored 163 times. Eichel was involved in 35 percent of them. There were only 106 he didn't statistically speaking have a hand in.
Eichel Comparables
In order to help define a comparable contract, it's only fitting to look at contracts of statistically comparable players. Both Botterill and Eichel's camp will likely highlight players with similar skill levels, point production and franchise-leading capabilities. Within this group, they'll look at players' second contracts in the salary cap era.
The graphic below highlights several elite players and their production in their first two full years of their three-year entry level contract. The contract listed is the first one (some have signed a second) after that three-year deal. One of the most important numbers to note is the player's contract as a percent of the team's salary cap at the time it was signed. Crosby's 17.30 percent tops that list.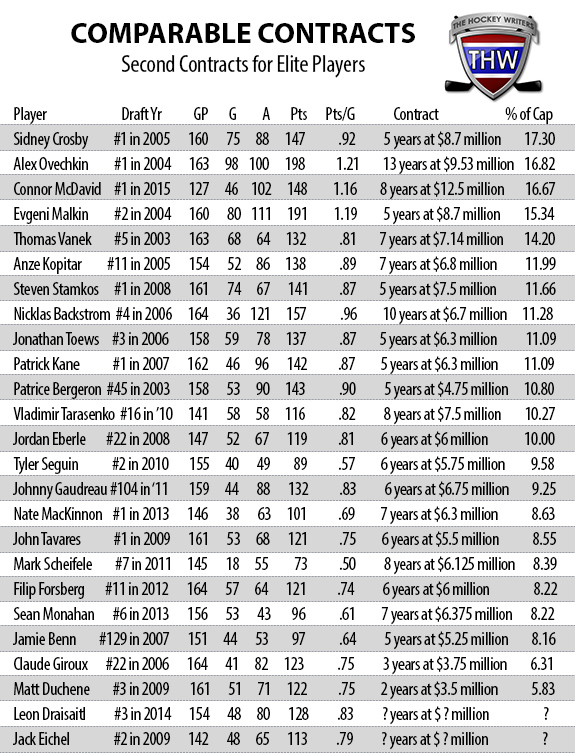 Each player's contract has its own unique set of circumstances. The pair of Patrick Kane and Jonathan Toews contracts were signed back in 2009, when the salary cap was $56.8 million. Their percentage of the salary cap pie was 11.09 percent. With the 2017-18 salary cap set at $75.0 million, their contracts would've likely commanded a much higher dollar amount today.
Thomas Vanek's monster $7.143-million contract signed in July 2007 ate up a whopping 14.2 percent of the cap. On the other hand, John Tavares and Matt Duchene's deals look like bargains at 8.55 and 5.83 percent, respectively.
Eichel's Argument
Last year, among all skaters appearing in at least 40 NHL games, Eichel's .93 points per game average ranked him 11th overall. He did this despite being on a sub-par team; no other team scored less without their top scorer than the Sabres. Everything they do offensively goes through Eichel.
https://twitter.com/MikeKellyNHL/status/839542409558179841
Eichel is worth much more than the majority of players on this list. His incredible skill and amazing vision are clear to see; he hasn't even begun to reach his potential. Aside from Connor McDavid, no players drafted since 2007 have reached 100 points faster than Eichel.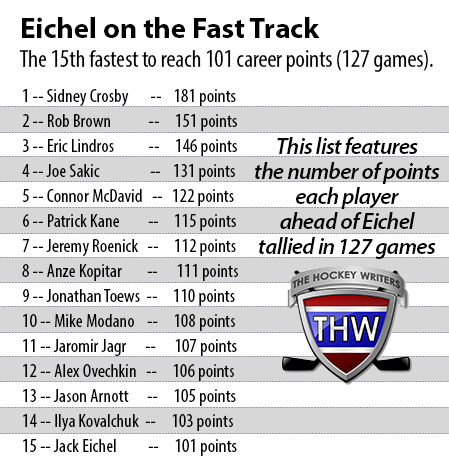 Furthermore, Eichel has succeeded despite unfortunate circumstances. He returned to the lineup and contributed while admittedly not 100 percent healthy. He was also forced to play Dan Bylsma's paralyzingly complicated schemes. And he did so with mediocre linemates that frequently changed from week to week.
The Sabres' Argument
Unlike McDavid who went to a team who missed the playoffs for 11 straight years and took them into the second round, Eichel hasn't proven anything yet.
The reality is almost all of Eichel's peers on this list of comparables have led their team to the playoffs, despite their share of injuries and problems. They've found a way to make everyone on their team better and win. That success deserves a reward, unlike finishing 23rd and 26th place in the league in each of Eichel's first two years.
Eichel hasn't yet earned his way into the 16 percent-plus salary cap category that McDavid has pioneered. But given his ceiling, he's certainly worth more than the roughly $6 million per season that many young players, such as Filip Forsberg or Sean Monahan, have inked on their second deals.
Term Is also Important
Eichel may want a shorter "bridge deal" that allows him to showcase himself and really cash in the next time his contract is up. He has four years left before he can become an unrestricted free agent, as a seven-year NHL veteran.
Playing under new head coach Phil Housley could benefit his scoring and speed. The team could improve as well, with an overhauled defense and maturing linemates. It's a gamble Eichel would likely win, giving him a position of tremendous leverage and allowing him to really cash on his next time his contract.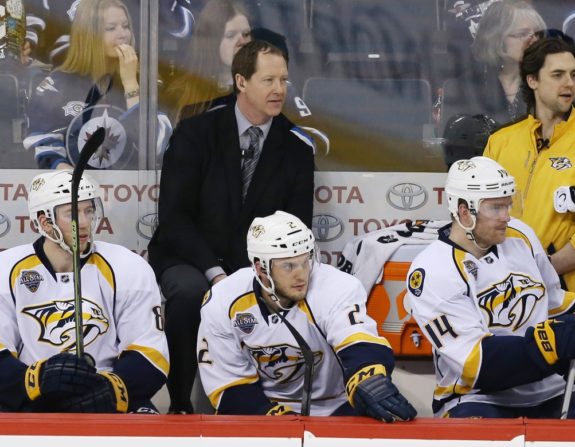 We've all seen enough of Eichel to know he won't be dead weight contracts the likes of Matt Moulson ($5 million) and Zach Bogosian ($5.1 million). Eichel is a showman who will undoubtedly produce.
Meeting in the Middle
Like it or not, McDavid's new contract has set a new standard for compensation.
For an eight-year deal, Eichel will likely want around $10 million per year (13.3 percent of the cap). The Sabres are probably thinking of more for $8 million (ten percent) to $8.5 million (11.3 percent) per season.
Sabres owner Terry Pegula and his "I'll drill a well if I need more money" mentality doesn't play so much in a salary cap-enforced league. He can hire and fire as many coaches as he wants but he has to play within the sandbox of the league player payroll limits.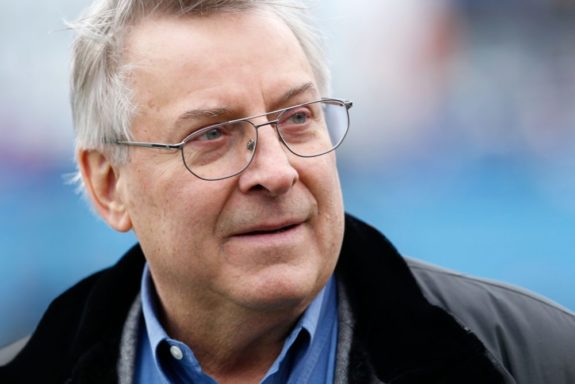 By any measurable standard, Eichel is more than two-thirds the player that McDavid is right now. If Eichel takes less than he wants, he'll demand a shorter deal. Should he and the team find success, he'll be in the driver's seat for his next contract.
The Rest of the Team
In addition to Eichel, the Botterill will need to make some tough decisions ahead. After this season, Sam Reinhart will be a restricted free agent and Evander Kane will be an unrestricted free agent.
Botterill is in wait-and-see mode with regard to Reinhart. "It's a scenario where we're excited with Sam, but I don't think something from a contract standpoint will happen this summer. We have him under contract during the year and we'll see how things play out and go from there."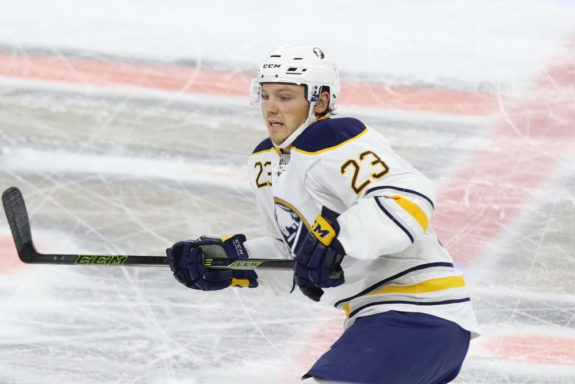 It's a clear message to the 2014 second overall draft pick to raise his game. If Reinhart does so, he could begin to make a case for himself to be paid elite money–more than he'd likely get if he signed this offseason. Most players are extra motivated in the final year of their contract; Botterill's words only add fuel to that fire.
What to do with Evander Kane is another complicated subject for Botterill. His five-on-five goal scoring, speed and willingness to go into battle are all tremendous qualities. Though quiet for almost an entire year, his off-ice issues have followed him throughout his entire career. The Sabres will need to look at how he fits into their plans as many teams would jump to add a player of his skill set.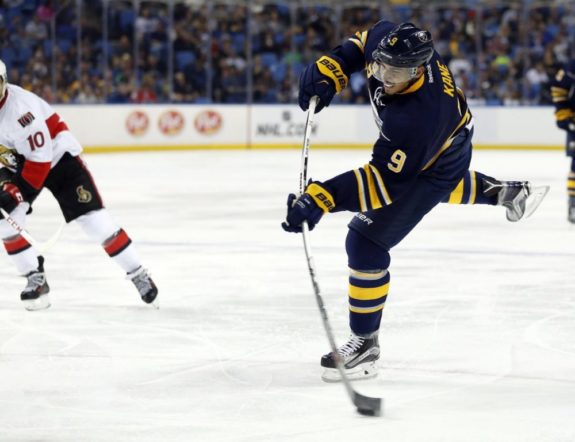 Jack's Pay Day
With a huge contract comes increased expectations as well as greater scrutiny. Eichel says he's ready.
"I said it all year, if you want to be a leader and be vocal, you've got to play well yourself. For me, I don't think I was good enough this year, so I need to be better. The onus is on me," said Eichel. "I myself, I need to become a better player. I need to become a better player. I need to become a better teammate, a better leader. I think that's all in the works. You can't do anything but try to improve yourself, to improve a team. That's the way I look at it."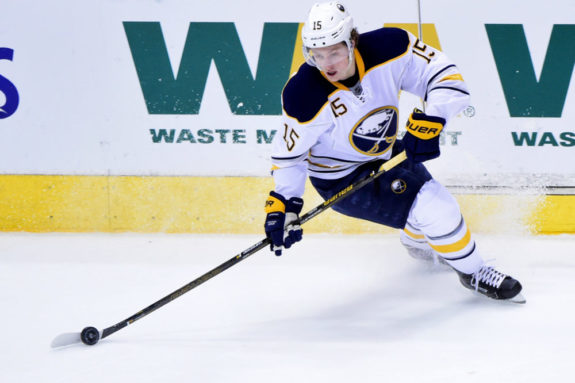 The Sabres haven't made the playoffs since 2011. The 20-year-old from Massachusetts will be a big part of changing that.
There's a lot to consider and despite the nuance of argument, one thing can be agreed upon: Eichel, despite only two years into his professional career is the young face of the Sabres' franchise for the foreseeable future. He should be locked up in a long-term deal.
The next time Botterill and Pegula see Eichel, it's time they put a deal together quickly and announce: "You had me at hello."
Jeff has been covering the NHL for over a decade for various sites. He's been with The Hockey Writers as a lead Sabres writer three years, while also writing a satire column called "Off the Crossbar."