Now that development camp, as well as both the expansion draft and the NHL Entry Draft, are in the rear-view mirror, one of the remaining decisions to make for the 2017-18 edition of the Buffalo Sabres is who will be the captain.
It's an interesting decision to make for new head coach Phil Housley and general manager Jason Botterill. The odds-on favorites are Ryan O'Reilly and Jack Eichel. One will likely get the 'C' sewn on his sweater, although it's possible that they are both selected, alternating home and road games. It's a tough call and a strong argument could be made for both sides.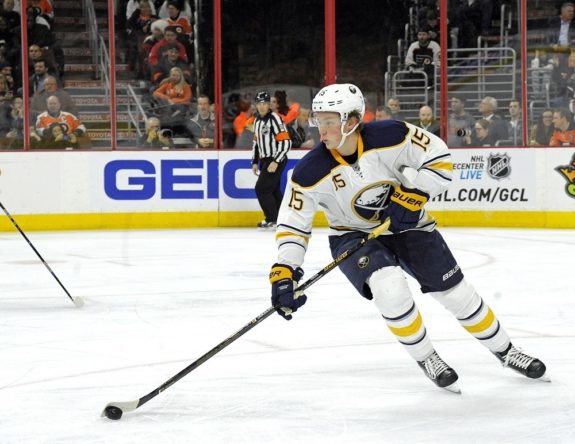 O'Reilly and Eichel are both popular, passionate, highly skilled players who should be in Buffalo for a long time. They're both natural leaders, but in very different ways. Both are fan favorites who contribute significantly on and off the ice in different ways.
A Captain's Role
Being a captain requires more than playing by example. A true leader is going to be a captain regardless of whether he has a letter on his chest. The letter carries weight and has meaning, but it's not the end all be all. In some respect, the letter is more for the press and fans than the players.
"You're a buddy, a coach, a therapist, a sounding board and a relationship counselor. You're a liason. A representative, a public relations expert. You can be a talker, but listening is a more important trait. First and foremost, of course, you've got to be a player, a worker," – Jeff Johnson.
Spokesman
The captain is the voice of the team. He's the one who will talk to the media, in good times as well as bad. The captain is usually the one to speak up for his team and defend their actions. It requires a level of confidence that most other players just don't have.
On Ice Rules Interpretations
A captain is the only player allowed to speak with referees for rule interpretations. He is also the defender of not just his team but his teammates as well. If a bad call is made, the captain has to be the one to get inside the referee's head and let him know exactly why it was a bad call. He's also the one who gets the explanation of a call.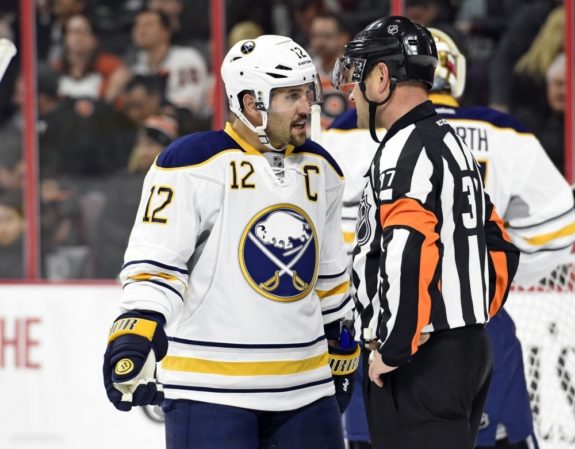 The Case for Ryan O'Reilly
While Brian Gionta wore the 'C' for the last three years, many fans thought of O'Reilly as the de-facto captain of the team. Since being acquired at the 2015 draft, O'Reilly has played in every scenario; even strength, power play and penalty kill. He's shown himself to be a 200-foot player who can log big minutes–he led all forwards in average time on ice in both 2015-16 (21 minutes, 44 seconds) and 2016-17 (21 minutes, 27 seconds), put up almost a point-per-game pace (.8o points per game), and won 57.3 percent of his draws in the faceoff circle which ranked third in the league in 2015-16 (1024 wins) and second in the league in 2016-17 (1039 wins).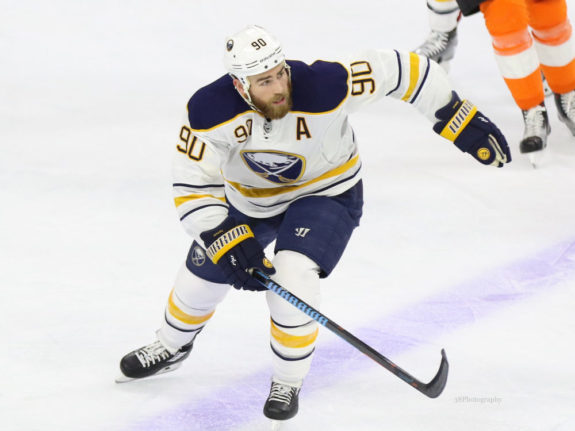 The 25-year-old center led the team in scoring in 2015-16 with 60 points in 71 games played. In 2016-17, O'Reilly finished second on the team to Eichel, putting up 55 points in 72 games. He possesses incredible discipline on the ice (only 18 penalty minutes in 143 games) and has been influential in the progression of his peers: Eichel, Sam Reinhart and Rasmus Ristolainen with his mini practices.
In 2016, O'Reilly was the Sabres' Masterson Trophy nominee for his dedication and leadership. Though he had an off-ice incident after signing his massive contract with the Sabres, he took responsibility for his actions and made no excuses. Since then he has been an exemplary leader on the team.
While the team may have looked to Eichel to score a goal, they looked to O'Reilly to set a tone. The 2016 All-Star's effort and work ethic are second-to-none. He shows up every shift of every game, he's a hard worker, and he's productive. He plays the game 'the right way' and is responsible at both ends of the ice, making him one of the best two-way players in the NHL.
O'Reilly's dedication to the game is immense. His mini "O'Reilly Practices" are well known throughout the league, helping younger players even after practice has ended. Using sticks, pylons and other barriers that fill the ice, he creates drills that focus on stick-handling, shooting and improving reaction time for another 30-45 minutes.
On Team Canada, O'Reilly has been a relied-on contributor. His performance stands out even when surrounded by exceptional teammates.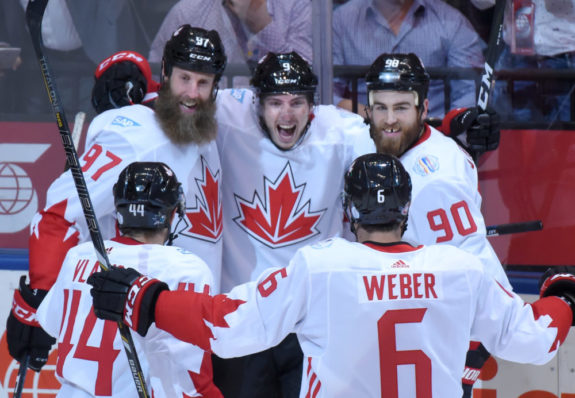 The Case for Jack Eichel
Eichel is the most impactful player on the team. He is the face of the franchise and its future. Soon he will sign an extension to his entry level contract that will make him the highest paid player in the history of the organization. He is the face of the Sabres' future.
The 20-year-old budding superstar wants the spotlight. He welcomes the pressure. He isn't afraid to call out himself or his teammates if they're not showing 100 percent commitment. He has the competitive fire to push everyone to be their best. That's part of what makes a great captain. Eichel averages .79 points per game, 19 minutes and 28 seconds of ice time per game, and wins 40.1 percent of his draws.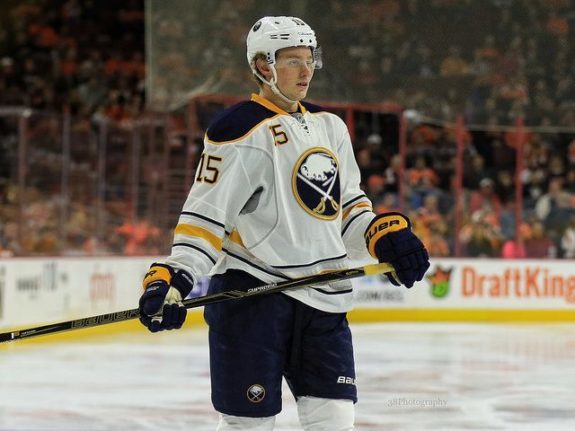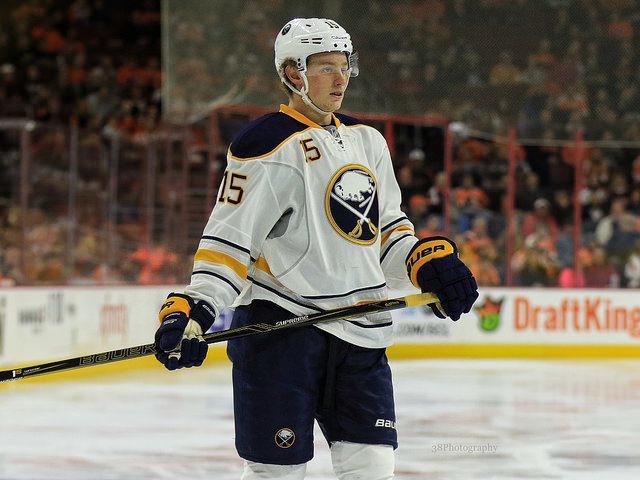 Eichel has winning on his mind 24/7 and absolutely despises losing, as expressed with his emotions several times last season with the media, especially at the end-of-year locker cleanout day. They claimed he brooded like a teenager, which at 19 years old, Eichel was for most of the season. His frustration and emotion were clearly noticeable especially when juxtaposed against practically everyone else on the team, including those who were supposed 'leaders' but instead were relatively passive, while wearing a look of defeat.
Eichel and goalie Robin Lehner were the most vocal in showing their disdain with losing and the failures of the season. He often shouldered the lack of effort by his teammates. Now, he's ready to take on the responsibility of setting a new standard for everyone in blue and gold.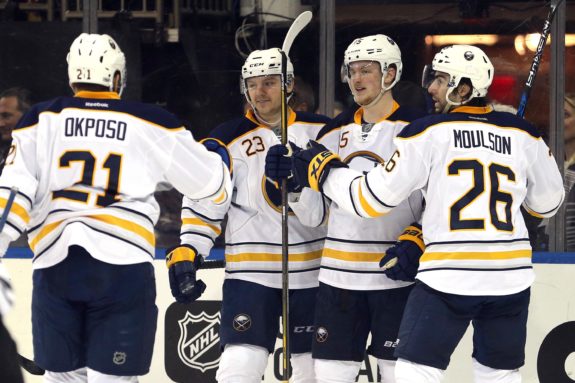 Eichel makes the team marginally better in the standings but way better in goals per game, with a big uptick on the man advantage as well.
With Jack in the lineup:
26-28-7 (.482 points per game)
2.64 goals per game
26.4 power play conversion percentage
Without Jack in the lineup:
7-9-5 (.452 points per game)
1.81 goals per game
20.40 power play conversion percentage
As Eichel gains experience and maturity, the team will become more poised and competitive. In order for the Sabres to become a championship caliber team in the next several years, Eichel must be the best player on those teams. Maturity comes quick when one is tasked with responsibility.
Young Guns
It's not uncommon to anoint the captaincy to a superstar at a young age. Connor McDavid of the Edmonton Oilers, Gabriel Landeskog of the Colorado Avalanche, and Sidney Crosby of the Pittsburgh Penguins all wore 'C' at the age of 19. Jonathan Toews was 20 when he became the captain of the Chicago Blackhawks.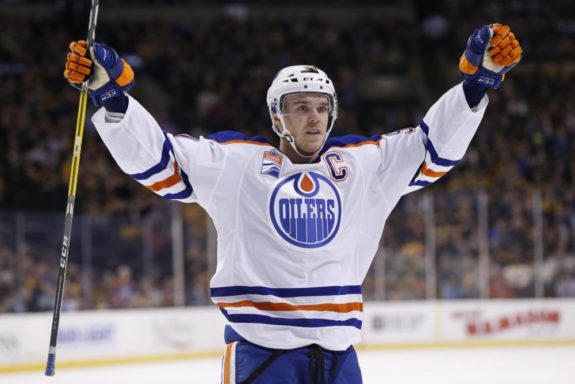 Eichel has shown Buffalo that he has the abilities of both a franchise player and a leader. He has already captained Team USA at the 2014 IIHF U-18's and lead the Americans to Gold. The 2015 second overall pick will one day be the captain of the Buffalo Sabres. Now is the time to name him captain to provide continuity in leadership for years to come.
A Tough Decision
The Sabres have two very good options from which to choose their next captain. Eichel is used to having a spotlight on him and as a captain, there would be even more pressure on the youngster. This, along with his competitive nature, could very well push him to raise the team to new levels.
Poll: Who should be the Sabres' next captain?

— John Vogl (@BuffaloVogl) May 24, 2017
If O'Reilly is selected to be the captain for the 2017-18 season, it could get very complicated and highly political should Eichel further establish himself as a leader both on the scoresheet and in the locker room. Transferring the 'C' from O'Reilly to Eichel could be a disaster waiting to happen. No matter how humble these athletes may come across, they have wickedly strong egos. Crucial to their confidence is the way that they are perceived and appreciated by their peers.
It's also possible that the player not selected will be happy for and supportive of the other. Their skills and strengths compliment each other. It's possible that the one who doesn't get the 'C' will surely get an 'A' and be completely satisfied with it.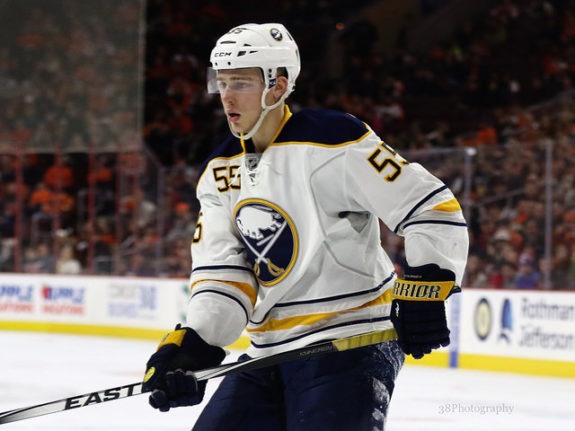 Botterill and Housley will likely tag Eichel with the 'C' in 2017-18. O'Reilly will be an 'A' along with Rasmus Ristolainen and Kyle Okposo. All four players command respect without asking for it.
Jeff has been covering the NHL for over a decade for various sites. He's been with The Hockey Writers as a lead Sabres writer three years, while also writing a satire column called "Off the Crossbar."