It was late April at the War Memorial Arena in Syracuse, New York. There sat Montreal Canadiens general manager Marc Bergevin wearing a zip-up hoodie. He went virtually unrecognized as he sat next to his head coach, Claude Julien, who signed autographs for fans in attendance.
Alongside the Habs' then-head of scouting, Trevor Timmins, Montreal's front office trio was in town for American Hockey League playoff hockey. The Canadiens' then-affiliated St. John's IceCaps played the Syracuse Crunch in the Calder Cup North Division Semifinals. The IceCaps, Bergevin, and Co., only lasted two games at the War Memorial, losing Games 3 and 4, and ultimately the best-of-five series. It would prove to be the IceCaps' final series as a franchise as they'll officially begin play as the Laval Rocket this coming October. Syracuse went all the way to the Calder Cup Finals, only to lose to the Grand Rapids Griffins.
A series was lost, but Bergevin had a front row seat for two future Laval Rocket players who played a huge role in the IceCaps' exit from the playoffs: Syracuse Crunch All-Star defenceman Matt Taormina and forward Byron Froese.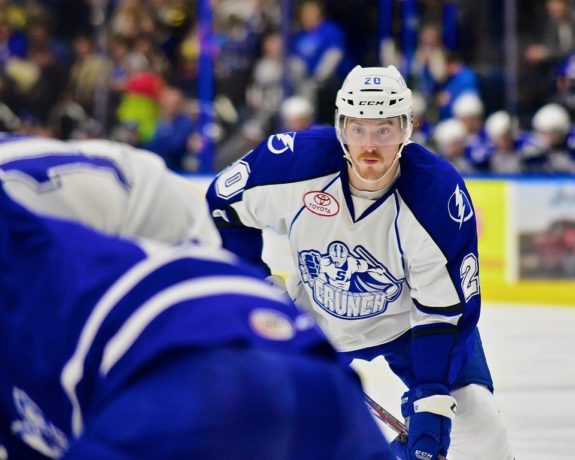 If You Can't Beat Them, Sign Them
The signings of Froese and Taormina took place on July 1, almost three months after the IceCaps melted from the playoffs, and from the AHL. Ironically, their signings came a year to the day where the Tampa Bay Lightning organization, affiliated with the Crunch, signed two ex-Habs forwards: Gabriel Dumont and Michael Bournival.
Taormina, 30, had his best season as a professional in 2016-17. He was named a league All-Star for the third straight year as well as a first-team All-Star. He had a career high 60 points (15 goals, 45 assists), tied with Lehigh Valley's T.J. Brennan for most points by a defenceman that year. He also shared the team's lead in points with teammate Cory Conacher. The last Crunch rearguard to lead his team in points was Brendan Bell back in 2009-10. Taormina's efforts earned him the Eddie Shore Award for the AHL's best defenceman.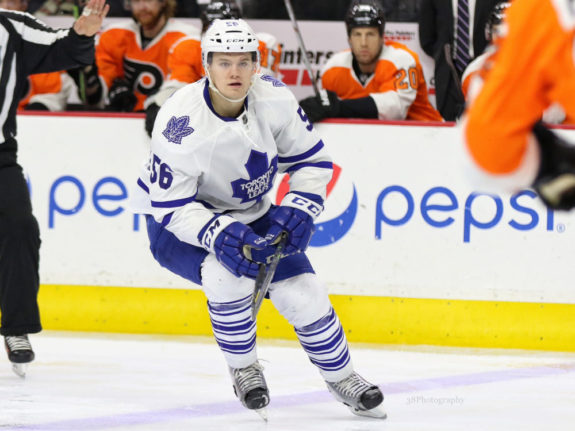 Tampa Bay acquired Froese, 26, at the trade deadline from the Toronto Maple Leafs. As a member of the Crunch, he scored seven points in six regular season games. Froese ended the season with 27 goals and 46 points, also resulting his most successful season as a professional. The Winkler, Manitoba native also provided help in the playoffs, picking up six goals and 13 points in 22 playoff games.
Ice Picks Against the IceCaps
Taormina had four points in the four-game series against St. John's, including a three point effort (one goal, two assists) in Game 2. The 30-year-old Michigan native had the primary assist on a double overtime winning goal from teammate Tye McGinn, the first of three straight Crunch wins en route to a series victory.
Shake the Sunday scaries by reliving @TyeMcGinn's double overtime game-winner that evened the #SYRvsSTJ series, 1-1, last night. #FIN15H pic.twitter.com/AfnFH9zE6v

— Syracuse Crunch (@SyracuseCrunch) April 24, 2017
Froese had two points in four games but his biggest contribution was the assist on the series clinching goal, a wraparound pass through the crease that found Dumont's stick and into the IceCaps' net.
Gabriel Dumont with the overtime goal to send the @SyracuseCrunch to the North Division Finals. #CalderCup pic.twitter.com/iFuQJulLUP

— American Hockey League (@TheAHL) April 29, 2017
Both players also found the score sheet against St. John's during the regular season. Taormina had 10 points in eight encounters against Syracuse while Froese had five points in eight (split between Syracuse and Toronto).
Special Teams Assets
Both Taormina and Froese can easily step in as special teams contributors with Laval.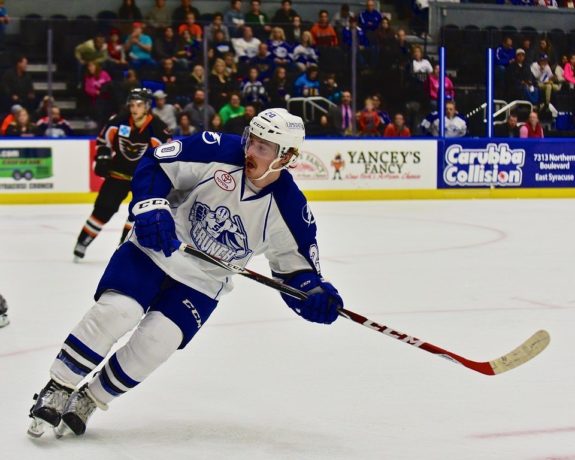 The IceCaps had the league's 10th-best power play last season converting at a rate of 19.2 percent. Taormina led his team with 32 points (eight goals, 24 assists) with the man-advantage, ranking fourth-best among AHLers in power play assists. Thirty-six of his 70 career AHL goals have come on the power play. Froese had 10 goals and 17 points on the man-advantage with both Toronto and Syracuse last season.
Taormina should have no problem being a top-pairing defenceman for the Rocket once the AHL season begins. Froese can be leaned on as a goal scorer and could be a great complement to Laval's young core. If their stats against St. John's are any indication, the Rocket will be pleased to have both players play for them and not against.
Journalist. Broadcaster. Podcaster.
Contributor to The Hockey Writers.