The Detroit Red Wings locked up an important piece when they avoided arbitration with Tomas Tatar, signing him to a four-year deal worth an AAV of $5.3 million. For a team that struggled to produce offensively last season (26th in GF/GP), signing one of their top offensive weapons was of great importance. It does not come without its complications, however, as general manager Ken Holland is in tight to the salary cap.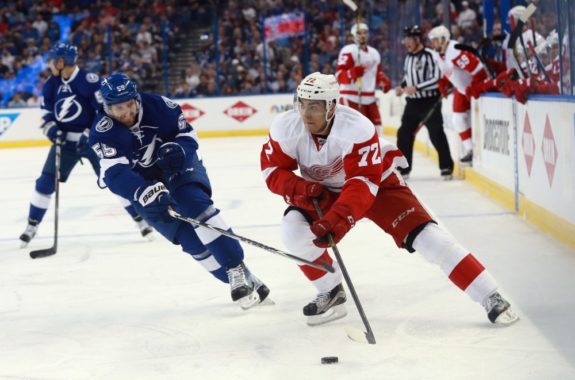 Andreas Athanasiou is a rising star for the Red Wings, due for a raise, and worth more than the Red Wings will have left over once they place Johan Franzen on LTIR. Not to mention, after the way head coach Jeff Blashill utilized the speedy forward last season, more eyes will be focused on him this season. In this week's edition of The Grind Line, Tony Wolak and I discuss Athanasiou's next contract with the Red Wings, how Blashill should use him and how Holland might handle the cap situation.
Tony Wolak
The topic of Athanasiou's next contract is an interesting one. He has 101 NHL games to his name but has shown flashes of brilliance during that time. Holland and Athanasiou's representation will need to find that sweet spot in between what the speedster has accomplished and what he's capable of doing, and pay the man accordingly.
As far as comparables go, there are a few players who have signed contract extensions this offseason who stick out:
| | | | |
| --- | --- | --- | --- |
| Player | Contract AAV | Contract Term | Career PPG |
| Andreas Athanasiou | ??? | ??? | 0.43 |
| Ryan Dzingel | $1.8 million | 2 years | 0.37 |
| Radek Faksa | $2.2 million | 3 years | 0.36 |
| Tobias Rieder | $2.25 million | 2 years | 0.35 |
When all the "T"s are crossed and the "I"s dotted, Athanasiou will likely come away with a three-year contract with about $2 million as the AAV. This contract would come as a nice raise from the entry-level deal signed by the former 4th round pick back in 2013.
When he gets to training camp, he'll need to prove his worth now that he's making big boy bucks. As witnessed with Riley Sheahan, $2 million is a lot to pay someone if they're not producing. Where Athanasiou plays in the lineup will affect this and, is in itself, a big question.
Athanasiou had terrific five-on-five numbers last season (1.27 goals/60) and meshed with Frans Nielsen and Thomas Vanek while the latter was still on the team. His goals-per-60 rate was impressive enough to rank 12th in the League among forwards playing more than 500 minutes last year, topping Patrik Laine, Vladimir Tarasenko and Filip Forsberg. If Athanasiou can continue to produce offensively and be reliable on the defensive side of the puck, he will stay in Blashill's good graces and play in the top-six every night. He certainly has the talent to do so.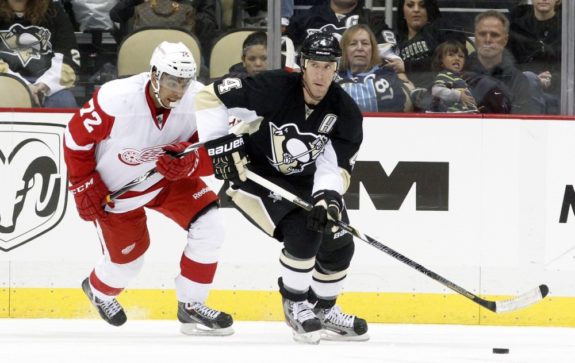 Staying out of the doghouse will benefit his power play time as well. Last year, he only played 75 minutes of power play hockey, ranking ninth among Detroit forwards. His 3.19 power play points-per-60 ranked third among Red Wings forwards, so when given the opportunity, Athanasiou can produce. He'll just need to earn the ice time and be put in a position on the power play formation where his skill set can thrive.
Salary data from capfriendly.com
Statistics from stats.hockeyanalysis.com
Brandon Peleshok
With Tatar signed to a four-year deal worth an AAV of $5.3 million, Holland will now have to turn his attention to filling the remaining spots up front. He has anywhere from 2-3 spots to fill, depending on how the team decides to utilize the newly signed Luke Witkowski. The biggest name left for the team to lock up is Athanasiou.
The speedy forward is due for a raise from his $628K million cap hit from the 2016-17 season. Much like Tatar, Athanasiou has the potential to become one of the team's top offensive players. While he finished with just 29 points through 64 games last season, it's likely that his numbers would increase with greater usage. Athanasiou's 13:27 TOI/GP ranked 11th amongst Red Wings forwards who played in 40+ games last season. As Tony noted above, during five-on-five play the speedy winger posted 1.27 goals/60, so he made the most of the ice time he was given.
Blashill's handling of Athanasiou last year came down to a perceived lack of competitiveness, which limited his opportunities at even strength and on the power play. Even if the Wings' head coach is unwilling to deploy Athanasiou in a top-six role, he should use him more often with the man advantage.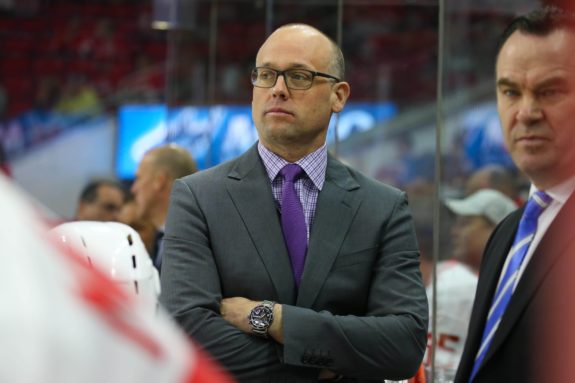 Overall, I expect him to sign a contract worth somewhere between an AAV of $1.8-2.2 million. The problem lies in the mess that Detroit management has on their hands with the current cap situation. Even after removing the entirety of Franzen's $3.95 million from the books, the Red Wings only have roughly $933K to work with, according to CapFriendly.
That's not enough to sign Athanasiou, and it's not enough to add another forward or two to ice a roster of 22 to 23 players. It's possible that both Luke Glendening and Ryan Sproul will start the season on LTIR, but those are just temporary fixes. It's also possible that Niklas Kronwall's knee problems will give Holland an "out" to start the season, but at some point, he will have to come up with a more permanent solution to the Wings' cap woes.
I am a writer from Windsor, Ontario who has covered the Detroit Red Wings for The Hockey Writers. I have had the pleasure of doing so since February of 2015. Previously, I have written about Red Wings prospects for Hockey's Future. I am always up for chatting about the Red Wings and hockey in general, so leave me your comment and/or tweets. Follow me on Twitter at @BrandonPeleshok.