The Montreal Canadiens and veteran defenseman Mark Streit have agreed to terms on a one-year contract worth $700,000. The 39-year-old Streit is set to enter his 12th NHL season coming fresh off of a Stanley Cup victory with the Pittsburgh Penguins in 2016-17. This will be Streit's second stint with the Canadiens after being drafted by the team in the ninth-round (262nd overall) in the 2004 NHL Entry Draft.
The Canadiens agree to terms on a one-year, one-way contract with defenseman Mark Streit. DETAILS -> https://t.co/W0kOSqDGeM.

— Canadiens Montréal (@CanadiensMTL) July 25, 2017
Streit played in 68 games last season split between the Philadelphia Flyers and Pittsburgh Penguins. A deadline addition for the Penguins – who were sorely missing blueliners with multiple injuries hitting them at the same time, saw Streit get an opportunity to win his first Stanley Cup of his career. Though playing in his age-39 season, Streit still made an impact for the Flyers and the Penguins with his 12 power play points, two game-winning goals, 18:45 of average ice time per game and above all else, his veteran presence on and off the ice. On a team full of young talent like the Penguins, that experience is invaluable.
Long Career With Good Success
Throughout his career, Streit has been known as an offensive specialist, scoring at least 40 points in six consecutive seasons, not including the 2012-13 lockout-shortened season. The two best years of his career undoubtedly came in 2007-08 and 2008-09, his last year with the Canadiens and first year with the New York Islanders. In his final season in Montreal, Streit scored 13 goals and a career-high 62 points. Following his breakout season, Streit signed a five-year, $20.5-million contract with the Islanders, exploding for a career-high 16 goals in 74 games while also scoring 56 points – his second-most points to date.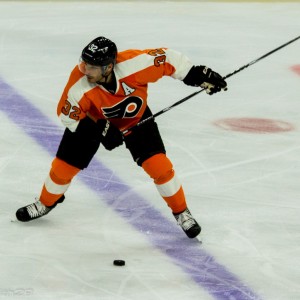 Returning to the Montreal Canadiens almost a decade later, Streit joins a blue line that has seen multiple pieces either traded away or taken in the expansion draft. Veteran Alexei Emelin was taken by the Golden Knights before being flipped to the Nashville Predators and Nathan Beaulieu was traded to the Buffalo Sabres for a third-round draft pick in 2017. Another big loss for the Canadiens came in the form of Mikhail Sergachev, a blue-chip defensive prospect who could have cracked the lineup in 2017-18, but was instead traded for budding superstar forward Jonathan Drouin.
Streit Insurance for Markov
With the Canadiens still uncertain about Andrei Markov's future with the team given his current contract demands, Streit is an insurance policy who adds veteran experience to the team and who can still fill a top-four role if absolutely necessary, barring any unforeseen circumstances. It's been an interesting offseason for the Canadiens, but defensive depth is certainly one of the areas the team needed to address. Though Streit signing is far from a long-term solution, it helps the team in the short-run and comes with virtually no risk.
A one-year deal means the Canadiens will be done with Streit by July 1 of next season at the latest, should they be looking to head in a different direction. Additionally, his $700,000 cap hit doesn't hurt the team in any way moving forward. If he happens to fall off of a cliff due to his age, the Canadiens won't be tasked with eating any substantial salary while looking for a replacement.
Brandon Share-Cohen has covered the NHL and various professional sports for seven years. Working with The Hockey Writers, Brandon works extensively on covering the Boston Bruins in addition to his role as the News Team Lead.