The time for calm reassurances is over. Now is not the moment for sober second thoughts, deep breathing, or mediation. Holding whatever Yoga pose is in fashion for 20 minutes is not going to solve what is wrong. This is not a time for mild concern, nor for slight worry.
Don't tell fans that "it will all be OK." It won't. I am tired of hearing about unsustainably low shooting percentage. Sick of the term "bad puck luck." I can no longer convince myself that the Habs' transition to a new defensive system is just a game away from cohering. Absent some major shifts in the personnel and approach of this team, we are looking at a return to the team of the late 1990s.
The Habs are off to the worst start in franchise history. There are three problems: Goaltending, defense, and scoring. The failure of any one of these will keep this team out of playoff contention. The problem is that seven games in, all three are failing. It is not immediately clear how to turn it all around.
Related: How Long Is Canadiens GM Bergevin's Leash?
The Price is Wrong
Carey Price is struggling. There is no point in denying it. This is a team based on goaltending. Price is in his final season before an eight-year, $84-million contract kicks in next year. After his loss in San Jose on Tuesday, he dropped to 1-4-1 with a 3.56 goals-against average and .885 save percentage. Price took the blame for last week's loss to the Leafs. In the Canadiens' home opener, he surrendered three goals on 25 shots in Tuesday's 3-1 loss to the Blackhawks. Of course, he was yanked after giving up four goals in the first period of a 6-1 loss to the Washington Capitals.
If you are tired of hearing everyone saying Carey Price is the best goalie in the league, the world, the universe, you aren't alone. He might be. He can't do it alone.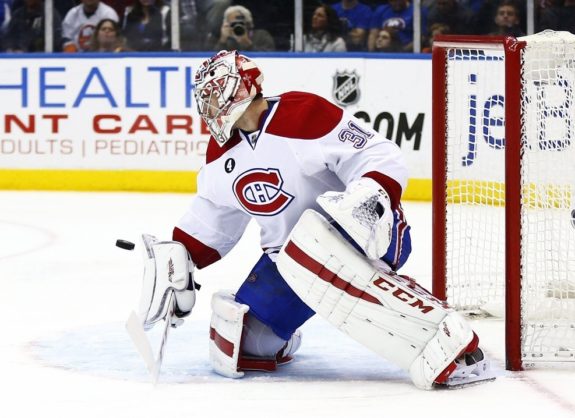 Defensive Deficits
As I have previously observed, the Canadiens, as yet, have not found their feet defensively. Claude Julien bases his formula for success on his players understanding their role and performing it. Forwards are expected to backcheck hard, collapse in the slot, and support the defensemen. Defensemen are supposed to stay within the dots in the defensive zone and avoid challenging the puck carrier high in the defensive zone.
One challenge is a lack of top-four talent at the position. Sure, Victor Mete has emerged as an exciting prospect. Shea Weber remains Shea Weber. But overall, Claude Julien does not have the talent to deploy his defensive system. In game after game, Price has been victimized by defensive breakdowns. With nearly $9 million in cap space, every day the Canadiens go without a solid and consistent top-four on defense is one less day Bergevin has left in his controversial time in Montreal.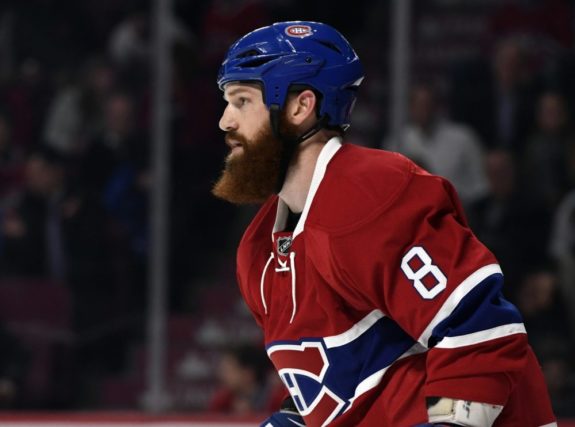 The problem may be the system itself. A positional approach to prioritizing defense has problematic implications for the forwards. A demanding defense-first structure may lead forwards to hold in check their offensive intuition and imagination. That seemed to be the case in Boston, where the B's were among the worst in the league at creating offense. The Habs are missing puck-moving defenseman who can transition from defense to offense and get the puck to the forwards quickly. Canadiens fans are tired of their team being unable to score goals.
Related: Rumor Rundown: Canadiens, Rangers, Golden Knights, More
Scarcity of Scoring
The Canadiens can't score.  They struggle off the rush and lack the ability to finish up front. While they might not be much below the league average, they don't score at key moments and will be lucky to finish any better than last year.
Jonathan Drouin leads the team with five points (two goals, three assists) in six games. Max Pacioretty, their leading sniper, has only one goal this season. Until last night, Alex Galchenyuk, the team's most dynamic scorer, has languished on the fourth line as part of some weird masochistic power move to try to make him someone he is not. The rest of Montreal's offense has been almost non-existent. Scoring was a struggle for the Habs last season and certainly appears to be the case again this year.
Nathan Ni has suggested the shift from Michel Therrien to Claude Julien can be observed in terms of where the Habs are shooting from in the offensive zone. The Canadiens, under Therrien, shot from the periphery. Instead, Julien demands his team shoot from the slot. While shots from the slot are more likely to result in goals, waiting to shoot when you have a shot from outside may be counterproductive.
A lot of blame has been placed on the shoulders of Captain Max Pacioretty. This isn't quite fair. As Marc Dumont notes, over the last three years Pacioretty scored 102 goals. Sixty-four of them were assisted by former players Andrei Markov (30), P.K. Subban (25) or Nathan Beaulieu (9). Until Bergevin finds a puck-moving defenceman who can reach Pacioretty with a high volume of quality outlet passes, Habs fans are in for a long winter.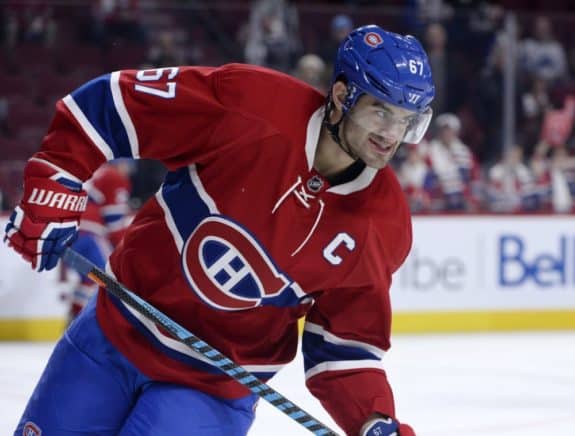 A Crisis of Identity
As I wrote last week ahead of the Toronto and Montreal game, no one is clear about the identity of this iteration of the Montreal Canadiens. With the acquisition of Jonathan Drouin, the promotion of Charles Hudon, and the debut of the Laval Rocket, perhaps the French identity of the Canadiens is re-emerging. Maybe.
In the meantime, fans wait and worry. The Habs can't seem to win and more importantly are rudderless, unsure of who they are, and what they are doing on the ice. Fans don't understand why six years into the tenure of the Montreal Canadiens, this team is still without a number-one center. In a league getting faster, the Habs fans don't understand why this team is slower. In a league where goals matter more than ever, why are the Habs struggling to turn good possession numbers into goals?
Yes, Habs fans, it is time to panic. The problem is that panicking won't help. Marc Bergevin needs to make some moves to salvage this season. Habs fans are waiting.
Criminologist by training. Hab fan for life. Aspiring Beer League hockey star.