While the Montreal Canadiens are making progress, it may not be fast or significant enough to save general manager Marc Bergevin his job.
Canadiens vs. Maple Leafs
The Canadiens' offense did show improvement on Saturday night, scoring three times, which nearly doubled their output on the season thus far (now eight goals in five games). Unfortunately for Bergevin, the Canadiens still managed to lose, in overtime, to the rival Toronto Maple Leafs to add insult to injury.
What's worse is the Leafs' win was their first against the Canadiens since January 18, 2014. Since that point, they had gone 0-9-5 against the Habs, with Saturday's game perhaps signifying a changing of the guard in Northeastern Canada.
Not only may the Habs' mastery over the Leafs be slipping, with the two teams likely headed in different directions over the next few seasons, but Bergevin's hold on his job may be as well.
Julien vs. Therrien
Generally speaking, general managers outlive their head coaches and are given several mulligans in that department. However, ever since Bergevin fired Michel Therrien, hired Claude Julien to replace him and played that card, he must understand that his job security is now at risk.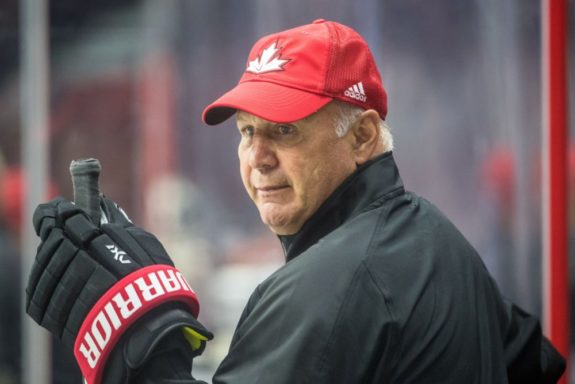 The Julien hire may have logically prevented Bergevin from being fired with Therrien by owner Geoff Molson after last spring's disappointing first-round loss to the New York Rangers. Consider it a pre-emptive strike in a lot of ways. However, Bergevin had to have known he was granted just a temporary reprieve. All coaches and general managers are hired to be fired in a sense, and, with every loss to start this season, however undeserved, Bergevin's stay of execution looks to be coming to an end.
GMs Fired by Quick Trigger Fingers
GM firings are rare to start a season, but they're not unheard of. For example, the Chicago Blackhawks went through a series of three early GM changes, with then-senior vice president Bob Pulford filling in on a semi-interim basis after each switch.
Following a power struggle Mike Keenan "resigned" on November 6, 1992. Bob Murray took over the next summer only to be fired on December 2, 1999. Mike Smith was brought aboard before the 2000-01 season, and was let go on October 24, 2003. That last firing is perhaps the most significant for this piece's purposes considering the timing, with the Blackhawks having gone 2-4-1 to start the season. The Canadiens are now 1-3-1.
As another example, Greg Sherman was officially demoted from the position on September 19, before the start of the 2014-15 season with the Colorado Avalanche.
He was replaced by Joe Sakic, but, with Sakic having served as executive vice president of hockey operations, Sherman wasn't so much fired or demoted as Sakic's role as shot-caller and his boss was made clearer. If anything, Sherman had been demoted unofficially once Sakic had come aboard in the aforementioned capacity (and Patrick Roy as head coach and vice-president of hockey operations) in May of the previous year.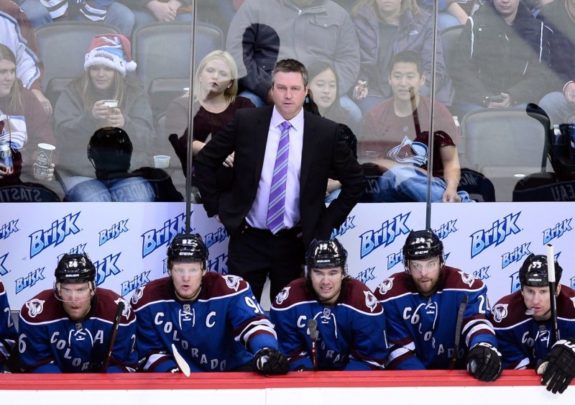 There was meanwhile no confusion over what happened to NHL legend Phil Esposito, who was relieved of his duties as the first GM in Tampa Bay Lightning history on October 13, 1998. He was fired for not respecting then-owner Art Williams' budget and not winning all the while, with the Lightning at the time being a league laughingstock.
Bergevin as Canadiens GM
The argument that, if it could happen to Esposito, it could happen to anybody may ring true, but it's ironic that Bergevin could be facing the firing squad for just the opposite transgression. With over $8 million in cap space after letting the severely missed Andrei Markov leave for the Kontinental Hockey League, Bergevin has consistently done a sub-par job managing his assets for the last few seasons.
It's arguably inexcusable, as the team had been primed to contend right now, before goalie Carey Price's $10.5 million cap hit kicks in starting next season. At least it will be considered as much and as one on a long list of mistakes once the trigger is pulled. It will happen eventually, the question is when.
Back to Esposito, he was coincidentally replaced by the Lightning's head coach at the time, Jacques Demers, who obviously has his own history with the Canadiens. He was the last Canadiens coach to win the Stanley Cup in 1993, but was fired early on in the 1995-96 season, on October 17. That's significant here, because the GM at the time, Serge Savard, was fired with him after an 0-4-0 start to the season, marking the earliest departure of a GM in the team's modern era.
The Rejean Houle Era
Demers and Savard were soon replaced by Mario Tremblay and Rejean Houle, respectively. Neither had previous experience in their new roles, and Tremblay's stint as coach was defined by an ill-advised power move to leave Patrick Roy in net for nine goals against the Detroit Red Wings soon after being hired.
That marked Roy's last game as a Hab. After he was eventually pulled in the 11-1 loss, he infamously told team president Ronald Corey that he would not play another game for the team. Tremblay eventually resigned at the end of the following season, ultimately being allowed to outlast Roy for some reason.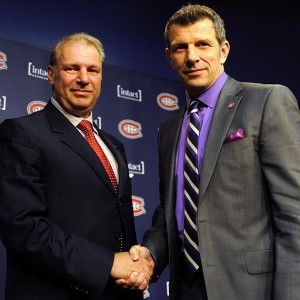 There are undeniable parallels here between the Roy-Tremblay situation and P.K. Subban's somewhat-acrimonious divorce from Therrien and the Habs. After all, Therrien didn't last a full season without Subban, getting fired the February after the trade. And, while Roy was the one to request a trade, the optics have always been such that it amounts to another example of this franchise inexplicably choosing the head coach over the star player, when coaches have the relative life span of a carton of milk in this league. Those of GMs are admittedly longer, but not by much.
For his part, Houle was fired just two months into the 2000-01 season after what has been popularly recognized as the worst tenure of any Habs GM. Bergevin's has been better in that the team has consistently made the playoffs under his watch (Houle's teams missed them from 1998-2001, with him being fired early on during that last campaign).
Year No. 6 for Bergevin
Still, there has been significant regression since Bergevin took over in 2012. The Habs did climb out of the Northeast Division cellar to win the division in his first season on the job and managed to reach the Eastern Conference Final in 2013-14. Since then though, the Habs have gone from a second-round finish to a non-playoff finish the following season, and, finally, this past spring's lethargic first-round exit.
Now in the sixth year of his presumed five-year plan, Bergevin finds himself at the bottom of many lists ranking the best GMs in the league. Even one of his best finishes at No. 12 points to a lack of direction as being his hallmark. For the record, that ranking listed his player development as his strong suit, and it, well, isn't, just looking at how the farm team has performed under his watch (one single playoff game victory in five seasons).
The expectation may be that the Habs will rebound. In fact, the team's underlying statistics indicate it will happen and they've just been unlucky up to now. However, patience may be wearing thin on ownership, and, ultimately, even with a playoff berth, this specific team, with Shea Weber and Carey Price signed long-term and on the wrong side of 30, is likely headed for tough times next year and beyond.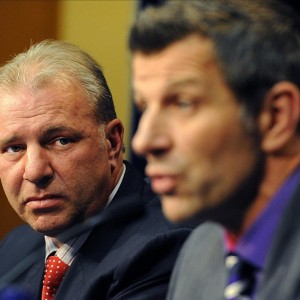 Firing Bergevin won't solve that issue. Both those players are core members of the team and aren't going anywhere, regardless of who's in charge. By the same token, keeping Bergevin on clearly won't fix the situation either, as this is the team he has built on the backs of those players.
In other words, he's most definitely keeping them around through thick and thin, even if it will most definitely be more thin than thick from here on out. Think a receding hairline. It can be argued that, because of the nature of their contracts, they wouldn't be able to be dealt even if Bergevin wanted to. Therein lies the problem.
It's clear the Habs need to turn it around now for Bergevin to stand a chance at just surviving the season. Not only is history not on his side, but many fans don't seem to be either. And that number will be growing with each subsequent loss.
Saturday's to the Maple Leafs was almost to be expected, but that's part of the problem. Sure, the Leafs are on the upswing and were picked by many to contend this coming season, but the Habs should have been based on how they were constructed. They're obviously not going to and something needs to happen soon to save the season. There's no guarantee what that something could be, but ask enough fans and you may get a consensus answer.
In a hockey-mad city as polarized as Montreal? That's a sign the end is nigh.