The New Jersey Devils are 11-4-2 to start the season and are currently atop the Metropolitan Divison. No one, not even myself, predicted the Devils would start the season this well. What is more impressive, is this has all been accomplished with some key personnel missing extended time.
Travis Zajac, the team's first line center, has not yet suited up for the Devils this season. Veteran center Brian Boyle has only played in seven games while dealing with leukemia. Side note, he recently scored his first goal since the diagnosis and I implore everyone who has not seen it, check it out.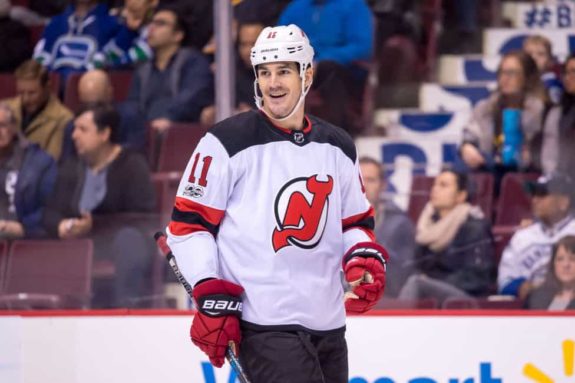 Marcus Johansson and Kyle Palmieri have both missed seven games so far, with Johansson expected to miss more time with a concussion. However, Palmieri and Boyle are playing again and Zajac and Johansson are not far behind. Let's see what this means for the Devils moving forward.
Travis Zajac's Impact
The value of Zajac cannot be stated enough. He the best defensive center on the Devils and can shut down opposing team's best players when he's on his game. The 11-year veteran can also put up solid offensive numbers if he is put with skilled wingers. With the talent New Jersey has on the wings this year, you can expect Zajac to put up some good offensive numbers when he returns.
One aspect of his game the Devils desperately need is his face-off prowess. Boyle is the only Devils' center to have a face-off percentage above 50%. Adam Henrique, Nico Hischier, Blake Coleman, and Pavel Zacha all sit below 48%. New Jersey is getting crushed in the face-off circle on a nightly basis and that will come back to bite them sooner or later. Zajac has a 53.8% career winning percentage on the dot, so expect the Devils to even out in that regard when he comes back.
Originally, Zajac was supposed to be out until at least the end of December. Alas, the Hockey Gods have looked down favorably on him and quickened his healing process. He is expected to make his return on Thursday when the Devils take on the Toronto Maple Leafs. With all the firepower the Leafs possess, it would be great for New Jersey if Zajac could return for that game, even on a limited basis. Simply put, the 32-year-old is one of the most important players on the Devils and his return should help immensely.
Who Plays and Who Sits?
Boyle is back, Zajac is about to be back, and Johansson should be back in the coming weeks, so what will head coach John Hynes do with all of these forwards? Simple — play whoever gives you the most on the ice. That may sound straightforward and cliched but it's what Hynes has done all season. He has proven that he has no qualms benching anyone he believes is struggling. The only tough part is, as of right now, the Devils have gotten solid contributions from every forward that has been given time.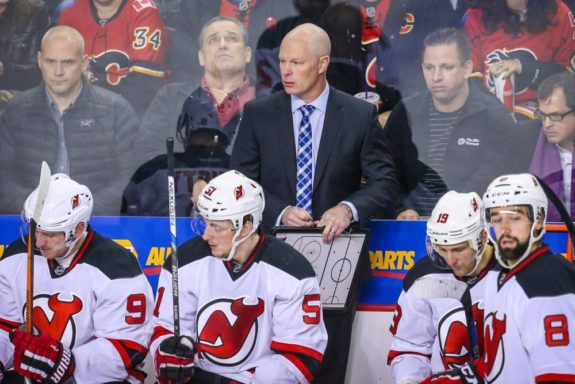 The top-six has been incredible, with players like Hall, Hischier, and Jesper Bratt stealing the show in the first 17 games. The bottom-six has been a bright surprise, with players like Brian Gibbons and Blake Coleman proving they belong. Miles Wood is coming off of the best game in his career thus far!
Bottom line — the forward core is well-balanced and does not need too much tinkering. The rotating door of healthy scratches will likely involve Stefan Noesen, Jimmy Hayes and Zacha if he continues to struggle. Depth is one of the signs of a good team and the Devils finally have it on offense.
Devils Can Be Even Better
It is an exciting prospect to think about if you are a New Jersey fan but it is true — the Devils have not hit their full potential yet. They have missed several key personnel for every game this season and appear to finally be coming out of it. Zajac is inches away from returning while Johansson should be back sooner rather than later. The Devils are tied for fourth in the NHL for goals per game, coming in at 3.47 per 60 minutes. It would be hard for them to get much better but having all of their starters healthy and playing could increase that average.
The surplus of forwards the Devils currently have could also help down the road. General manager Ray Shero could try and swing one of them for some defensive help for a playoff run. If that were to happen it would be a clear message that the Devils are ready to be playoff contenders. Ultimately, we will have to wait and see how these returning players will impact the Devils. However, it is hard to envision they will not have positive impacts.
I am a graduating senior at Marist College where I majored in sports communication. I played hockey for 13 years and have been an avid fan all of my life. I am honored and excited to write for the hockey writers!