It seems hard to believe now, but it wasn't that long ago Patrik Laine was lamenting how tough hockey was for him. That self-pity, thankfully, hasn't lasted long.
Laine recently had a five-game goal streak snapped, but he added an assist against the Arizona Coyotes to push his point streak to six games. This brings his totals up to nine goals and 13 points in 17 games.
Oddly enough, it was the longest goal streak of Laine's career. And if you picture a Laine goal in your mind, that's exactly how he scored in those games.
Laine is seemingly out of the doldrums and back to his old sniping self. He's scoring classic Laine goals (it feels odd to say that given his short NHL tenure so far) and bringing life back to the Jets' power play. This is Laine at his best.
Or at least, his best yet. Because there's still another gear for the 19-year-old to hit. Just ask Jets head coach Paul Maurice, who believes Laine still has more goals in him.
At the start of the season, I predicted a monster season for Laine after a tremendous preseason, so it was a little hard to watch him having troubles in the early part of the season. He was a small point of concern in an otherwise great start for Winnipeg.
Winnipeg is still humming along, and now Laine is humming along with them. That can only bring good things for the Jets.
Laine Uses His Best Weapon
While there are many underrated aspects to Laine's game (his passing, his physicality, etc.), there's no debate about what his biggest asset is: his shot. It wasn't really on display early in the year, but his goal-scoring streak does coincide with a greatly increased shot total.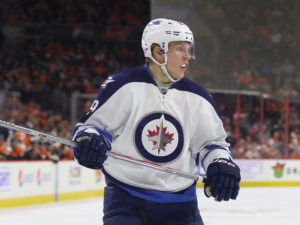 It's so obvious it's almost a truism. Laine is at his best when he's using his best asset. Also, water is wet and Mount Everest is tall and Saskatchewan is windy. Obvious, but true nonetheless.
Yet, as obvious as it is, Laine was ignoring it early in the year. Through the first 11 games of the year, he was averaging fewer than three shots per game and had at least one game with zero. During the five-game goal streak, he was averaging 4.2 shots per game.
It might not sound like a huge difference (about 1.5 extra shots per game), but that's been the difference between a frustrated Laine being held scoreless and Laine scoring and having fun while he's at it. He needs to shoot the puck more and has done so.
Laine's linemates were also having a rough go during his slump. Bryan Little's goal against Arizona was his first since Oct. 14, and Nikolaj Ehlers was on a goal drought of his own. Laine starting to score again can only elevate them, too.
And then there's the Jets' power play. When Laine is shooting the puck, that first unit is terrifying. Teams have to devote someone to covering Laine or he'll do to them what he did to the Vegas Golden Knights (see above). Focusing on him too heavily, however, leaves them vulnerable to Blake Wheeler and Mark Scheifele, who are still the Jets' leading scorers.
The Jets have everything to gain from their young sniper shooting more. The odd part is, he's still not shooting enough for some people's tastes, and they've got a point.
Related: Jets Struggling With Secondary Scoring
Laine Needs Some Selfishness
Numerous Jets commentators and observers from beat writers to play-by-play and colour commentators have said they wouldn't mind it if Laine shot the puck from just about everywhere. Not every player could get away with it, but Laine's shot is special.
Watch the goal below by Laine against Dallas. So few players could even get that shot through to the net, never mind put it top corner with such blazing speed as Laine did. Yet another piece of evidence his shot is in a league of its own.
With a shot like that, scoring with a wrister from a place on the ice most players couldn't in their wildest dreams, it would be perfectly understandable for Laine to shoot from anywhere and everywhere. It's also all the more frustrating when he chooses to pass on a 2-on-1 as he did against Arizona on Nov. 14. If he'd have shot that puck, there's a good chance we'd be talking about a six-game goal streak.
So on the off-chance he ever reads this, here is a plea for Laine, not just from me but from Jets observers, commentators and fans everywhere: Shoot more. If you think you're shooting enough, shoot more. If you think you're being selfish, still shoot more.
Your teammates will forgive your selfishness, trust me. Your selfishness will result in goals. The fans will love it. The rest of the league will be mortified by it.
Related: Jets off to Strong 10-Game Start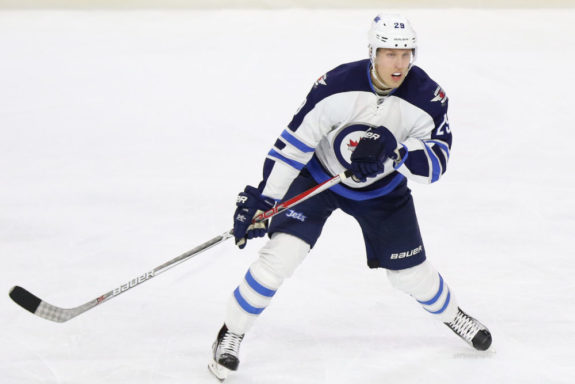 I would love to see Laine shoot from everywhere, and I mean everywhere. Heck, kid, shoot from center if you like. If you don't see a lane for a clean entry to the zone, blast one at the goalie. I guarantee you'll drive the goalies nuts. You'll create tough saves and rebounds, and every now and then you'll catch one of them napping.
If you've ever seen the movie "42", you'll recall a scene where the Dodgers' Branch Rickey tells Jackie Robinson, "Run as you see fit. Worry those pitchers until they come apart." Perhaps Maurice should consider taking Laine aside and giving him a similar message.
Shoot as you see fit, Mr. Laine. Worry those goalies until they come apart. Every time they see you so much as come over the red line with the puck, they should start to sweat.
Because if Laine decides to really let his shot off the leash, there's no telling how high he can climb, and how far he can carry the Jets with him.