Entering this season, the primary concern for the Winnipeg Jets was discipline, which has been their kryptonite year after year. It seemed whenever things were going right for the Jets, undisciplined plays would be their undoing and cost them valuable points.
Now, almost a month into the season, the Jets find themselves in a very unfamiliar position ranking 30th overall in total penalty minutes and 29th in minor penalties, two areas in which they have found themselves inside the top-ten of during each of the last four seasons.
The season is early, but with the team's realization that it is either now or never for this group to take a step forward, there is reason to believe that this trend should continue.
The Jets' still harbour a number of intimidating individuals including Dustin Byfuglien, Tyler Myers, and captain Blake Wheeler, who certainly won't shy away from the rough stuff.
An extremely intelligent move was to bring in former NHL referee Paul Devorski to work in-depth with the team in training camp on what would and wouldn't be penalties with the new rule changes that put an emphasis on stick infractions.
1/ Retired NHL referee Paul Devorski will be at Jets training camp after Paul Maurice reached out to the league for help curbing penalties.

— Sean Reynolds (@snseanreynolds) September 21, 2017
The Jets' penalties have decreased each of the last four games. As a result, they now have a three-game winning streak to build off of in their next contest against the two-time defending Stanley Cup Champion Pittsburgh Penguins.
The most recent issue to surface for the Jets isn't about sitting in the penalty box, but, rather sitting near the bottom of the league in goals. This isn't a problem of their big guns not producing, instead, it's been their depth forwards coming up short.
Disappointing Depth
The Jets' top-six is, quite literally, their top six, as they lead the charge statistically combining for 37 points through seven games. While it is important that a team's best players are exactly that, it is the secondary contributions that win championships.
Their bottom-six is a mystery. They have only combined for a total of three points and are collectively minus-11 so far this season. These stats beg the question – what is their identity?
Some teams pride themselves on the energy their depth forwards provide through grittiness and physicality while others prefer a quick, forechecking group. The Jets' truly don't have either.
Adam Lowry is an extremely polarizing figure. His size and flashes of brilliance have led many to believe he's on the cusp of becoming a key power-forward for this group, but he isn't a kid anymore.
At 24-years-old and in a contract year, Lowry must prove his worth this season. While his effort is constant, his inconsistencies with the puck are a concern. As the net-front presence on the second-unit power play for the past two seasons, he only has five career power play goals to show for it.
Joel Armia, acquired in the trade that sent Evander Kane to the Buffalo Sabres, has shown he is strong on the penalty kill and uses his size effectively. It's believed he's only getting better with each game.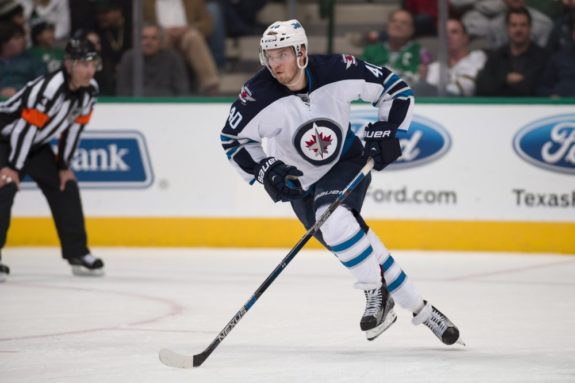 Andrew Copp and Brandon Tanev are useful players in different ways. Copp uses his offensive instincts to earn his ice-time while Tanev's energy and forechecking earn him increasing minutes.
Nic Petan and Marko Dano are in similar dilemmas. They are both skilled players but have a rough time contributing in a bottom-six position. Unfortunately, those are the only spots the Jets have to offer with a loaded top-six.
When in the lineup, Petan plays on the second unit powerplay, where almost half of his career points have come. With veteran Matt Hendricks set to make his Jets debut, Petan will join their AHL affiliate, Manitoba Moose.
For a 29-year-old and veteran of over 500 NHL games, Shawn Matthias' play has been unacceptable. With zero points so far on the year and a minus-4 rating, worst among Jets' forwards, they're lucky he is an expiring contract.
While many of the forwards offer a unique skillset individually, together they are not functioning to the level acceptable for a bottom-six in the best league in the world.
You Are the Weakest Link
With youngsters like Kyle Connor and Brendan Lemieux pushing from below, this group better find their groove quickly or changes will be made.
Lowry is deserving of another opportunity. He has shown enough to be one of the better options in the Jets' bottom-six, however, his duties would perhaps be better served on the fourth line rather than the third.
Armia and Copp continue to show signs of development but will need to be slotted in the proper roles in order to succeed. If both are on the third line, that is a problem.
Tanev's work ethic and energy have earned him a spot moving forward to stay with the big club. Hendricks is recently signed and provides a voice in the locker room needed for a young team like the Jets.
This leaves out a trio of depth players in Dano, Matthias, and Petan that haven't provided enough to be given an opportunity to stick around.
I certainly hold a different opinion than most when it comes to Petan, the Jets' most popular fringe forward. Whenever head coach Paul Maurice opts to keep Petan out of the lineup, fans lose it.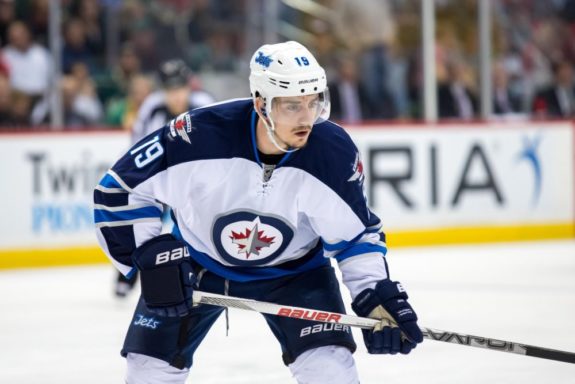 While dressing Chris Thorburn over Petan was excusable for the outrage last season, Petan really hasn't worked for his ice at all either. He can move the puck efficiently and plays power play minutes but that is about it.
Petan doesn't change the pace at 5-on-5 nor does he make his teammates around him better. I believe time spent in the AHL or perhaps a change of scenery would benefit Petan and the Jets organization.
Dano finds himself in the same situation. He has tried to become an energy guy and accept his role as a depth player but has had little to no success. Dano could be used as a trade chip as the season progresses.
Matthias, as stated above, provides very little to the fold. It is unlikely that his contract, earning him a shade over $2 million, can be moved, but a seat in the press box to watch a handful of games is a start.
With a winning record to begin the season, it's difficult to already contemplate roster moves. Nevertheless, adding a proven scorer on the third line could be a massive addition for a Jets' team that will be pushing for a playoff spot all season.