Henrik Zetterberg and Anthony Mantha are arguably the top two offensive players for the Detroit Red Wings. Dylan Larkin is certainly up there, but Mantha and Zetterberg appear to be the best at driving play in the offensive zone. The two are presently paired on Detroit's top line but should be split up as soon as possible.
After starting the season on separate lines, coach Jeff Blashill put Mantha on Zetterberg's wing during the team's west-coast road trip. In their first game together against the Golden Knights, the line of Zetterberg, Mantha, and Gustav Nyquist combined for two third-period goals and dominated play against the upstart franchise.
Now, the honeymoon is over for the two. Zetterberg and Mantha should be split up to better position the Red Wings' top-six moving forward. Here's why.
Lack of Production
Since the Vegas game, Zetterberg and Mantha have only scored a goal apiece for Detroit's top line. The team has only scored nine goals in those five games, compared to 17 tallies in the previous five games.
Though Tomas Tatar and Justin Abdelkader have found their stride, the Red Wings need Zetterberg and Mantha to get back on track. Two goals from the top forward trio (adding in Nyquist and his zero goals during the five-game losing streak) is simply not enough and has been a major reason why Detroit has been dropping these games. Team defense has also been brutal, but that's another story.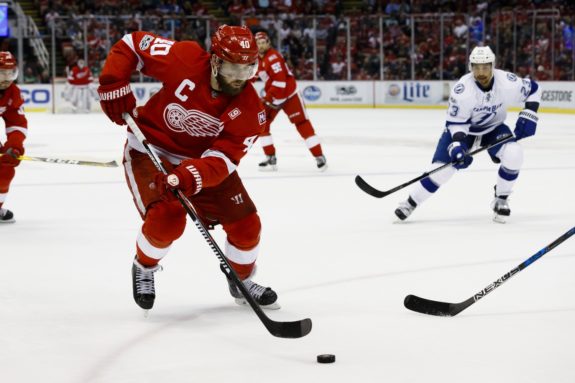 On separate lines, Zetterberg and Mantha could develop chemistry with other forwards and reignite their offensive touch. Both players are self-sufficient and can open up ice for players around them. In addition, both are strong along the boards and can help separate lines win battles – something the team as a whole has not been able to do.
Related: Sheahan Trade a Win for Both Red Wings, Penguins
Dispersal of Talent
Another reason to split the two up would be to spread out Detroit's talent. Teams like Pittsburgh, Washington, and Chicago disperse their skill players throughout the lineup rather than stacking one line. This is done to keep opponents on their toes every shift and get better defensive matchups.
While the Red Wings cannot trot out Sidney Crosby and Evgeni Malkin or Jonathan Toews and Patrick Kane, they can make life harder on opposing blueliners. Zetterberg would likely draw opponents' top defensemen when he's on the ice. Detroit can follow that up with a Mantha-led line against the second and lesser pairing. "Z" has been able to hold his own against top competition so far, and Mantha will benefit from the better matchups as he continues to progress as an NHL player.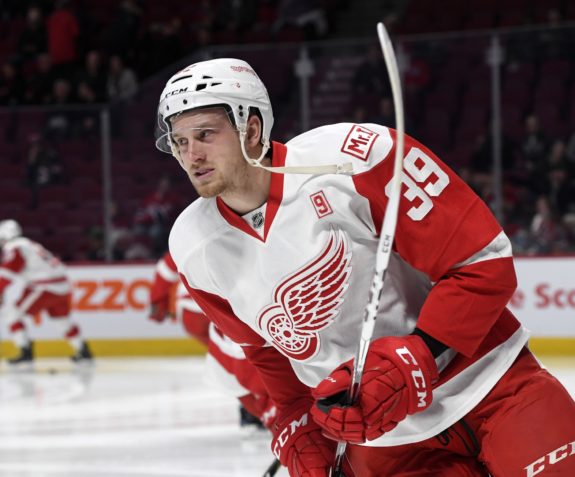 Another aspect to consider is that the Red Wings really haven't had much production from their bottom-six over the past five games. In fact, the lone point—yes, point—that the bottom-six has been able to contribute lately was an unassisted shorthanded goal by Darren Helm. Having Andreas Athanasiou back in the lineup will help, but shuffling players around could resolve their woes.
So What Do the Red Wings Do?
With Zetterberg and Mantha apart, the Red Wings have some options to consider as they try to find their offensive game again. Here's one way the forwards could be deployed to maximize Zetterberg and Mantha's reach.
| | | |
| --- | --- | --- |
| LW | C | RW |
| Frans Nielsen | Henrik Zetterberg | Gustav Nyquist |
| Anthony Mantha | Dylan Larkin | Tomas Tatar |
| Andreas Athanasiou | Darren Helm | Justin Abdelkader |
| Scott Wilson | Luke Glendening | Martin Frk |
Surely, Frans Nielsen stands out as the first-line left wing. Why place him here? It's simple – he's talented offensively and can't win faceoffs. Nielsen has only won 38.7 percent of his draws (per NHL.com) this season and has been on a cold streak. Temporarily putting him on Zetterberg's wing could revitalize the 33-year-old Dane.
Replacing him as the third-line center would be Darren Helm, who has been equally as bad on faceoffs this year (37.5 percent). He could serve in Nielsen's old role until offense is restored in Hockeytown. Helm's best hockey has been while he's playing center and his paltry faceoff percentage comes with a small sample size (24 draws).
With these lines, the Red Wings have the opportunity to rediscover their offensive touch. Zetterberg and Mantha's forward units would match up well against the opposition's top forwards and defensemen.
Do you think the Detroit Red Wings should break up Henrik Zetterberg and Anthony Mantha? Comment below with your take.