It may be far-fetched to think that the Detroit Red Wings could qualify for the 2018 NHL Playoffs, but if you ask anyone on the team, it's their goal.
Queue the Jim Mora sound-byte.
Regardless of what may or may not be best for the organization, the Red Wings want to win. It's the inherent competitive spirit that exists within all hockey players. It's also the mindset when you have warriors like Henrik Zetterberg and Niklas Kronwall leading, even if that skews more toward the verbal kind of leadership these days.
With that being said, here's how the Red Wings can make the playoffs once they sign sought-after Andreas Athanasiou and resolve their salary cap woes.
Top 10 Special Teams
It's no secret that the Red Wings had a paltry power play last season. However, they were able to right the ship in the last two months of the season by converting on 22.6 percent of their power plays. If Detroit can continue this man advantage success and learn from their mistakes, they'll score more goals and win a few more games.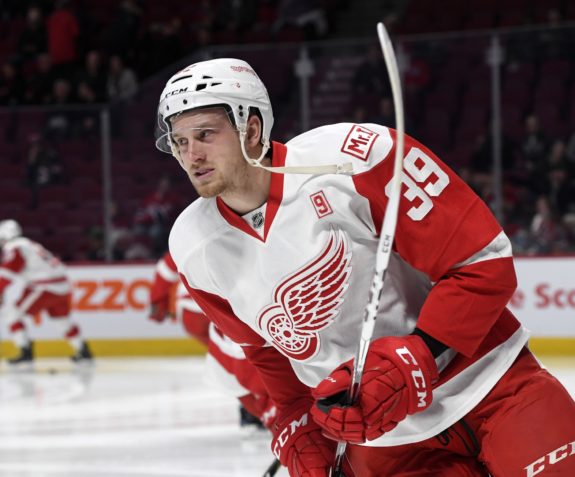 Because of the historically bad power play, the Red Wings' porous penalty kill did not receive the attention it normally would. Though they ranked middle-of-the-pack last year (16th), there is certainly room for improvement. Ranking within the top ten is entirely possible and is key to sustained success. Breaking up more cross-ice passes and clearing sight lanes for the goalies would be a good start.
Win in Regulation
Last year, the Red Wings only won 17 games in regulation. You read that right — 17. Only the Colorado Avalanche (14) won less games in regulation. Having great results in overtime and the shootout doesn't matter much if your record in regulation is 17-36. To reach the playoffs, those 17 regulation wins need to be doubled in 2017-18.
Mantha & Tatar Score 30
Goals were hard to come by during the 2016-17 campaign. Averaging 2.4 goals per game is not representative of traditional Red Wings hockey. Having underperforming players pick up their game is a start, but getting more from top-six snipers Tomas Tatar and Anthony Mantha will pay dividends.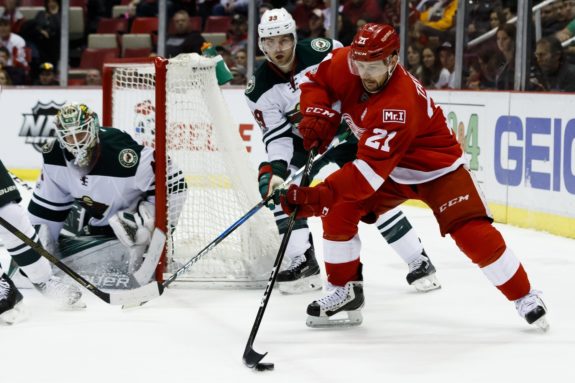 If the two can score 30 apiece — which is entirely possible given their likely deployment and skill set — Detroit will be in a better position to make the playoffs. Tatar and Mantha are vital to Hockeytown's future and strong performances from the duo will help the team now and down the road.
Mrazek Finds His Game
Jimmy Howard will likely start the lion's share at the beginning of the season, but the Red Wings need Petr Mrazek to rediscover his talent and push the veteran. Goaltending controversies are not fun, but if both are playing well, Detroit will benefit from the battle.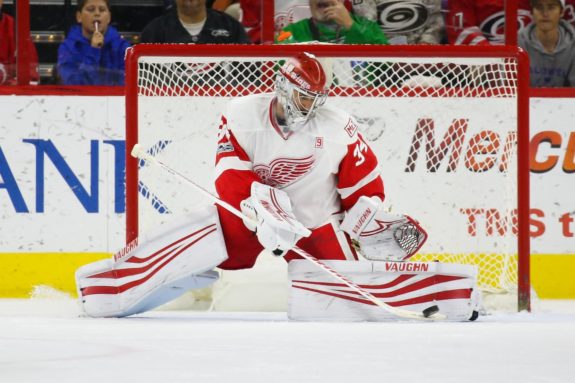 Jeff Blashill has shown a tendency to ride who's hot in the past. If Mrazek can find his game and come in with the right mental approach — as Howard did last season — he'll earn starts to build off of. As we saw during the 2015-16 campaign, Mrazek has the talent to lead a team. In order to make the playoffs, Detroit needs the Czech goaltender to rightfully earn playing time, take advantage of the opportunity, and not look back. Howard can be solid, but Mrazek has the ability to be phenomenal in the right environment.
Fourth Line Contributions
Last season, Luke Glendening, Drew Miller, Steve Ott and Riley Sheahan played on Detroit's bottom line at varying points and combined to score a grand total of 13 goals. If the Red Wings want to progress, this minimal effort from the fourth line cannot be repeated.
Often, the goal of the fourth line is to shut down opponents' top players, so a lack of scoring could be understood as long as the opposition is also stymied. This wasn't the case last season, as Glendening and company mostly played against other bottom lines. Blashill opted to match his top two lines with those of Detroit's opponents.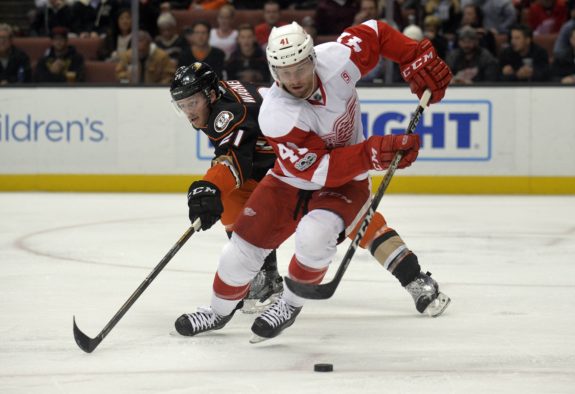 With Tyler Bertuzzi likely joining Glendening and Sheahan on the fourth line when he's healthy, Detroit will boast a unit with a little more offensive touch than in years past. Plus, both Sheahan and Glendening scored at a rate well below their career shooting percentage, so it's certainly possible they rebound to a degree. Having the fourth line score more than 13 goals shouldn't be hard to do — the trio should want to obliterate last year's low contribution total.
Better Performance from DeKeyser
In his first year as Detroit's go-to defenseman, Danny DeKeyser underwhelmed. And "underwhelmed" is putting it nicely. For the Red Wings to have any success, DeKeyser needs to learn how to play against highly skilled forwards. He doesn't need to be flashy, he just has to make smart plays.
Having Trevor Daley as his projected defensive partner should be calming influence on the blueliner. Daley is more reliable in his own end than Mike Green and has a compatible skill set. This should bode well for DeKeyser, who now needs to take a step forward. The Michigan-native has skated well during the preseason, so hopefully that will translate into early season success.
Stay Healthy!
At times last year, Detroit's injury list resembled the phone book in terms of length. Howard missed time, as did Kronwall, Bertuzzi, Mantha, Justin Abdelkader, Darren Helm, Jonathan Ericsson and others. Because of this, the healthy players could not find much consistency with their linemates often changing.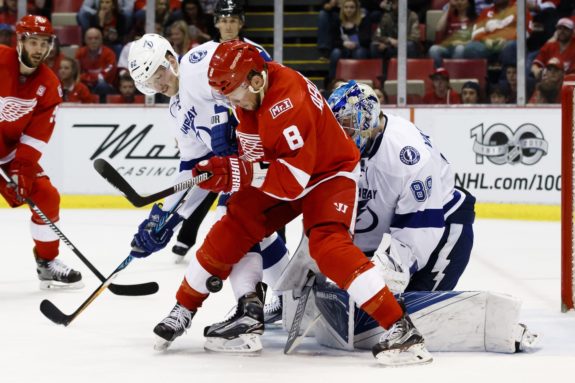 While complete health is nearly impossible, having better luck with the injury bug will pay dividends. Abdelkader, Zetterberg, Bertuzzi and Kronwall have all had preseason maladies, but none that are serious and all but Bertuzzi are expected to be available opening night. If those players can get and stay healthy, the Red Wings will be able to compete each night by playing their roster in roles that best suit each player.
Start Games On Time
It was a common occurrence last season for the Red Wings to start games late, especially on the second half of back-to-back contests. Often, opponents would have a goal on the board before Detroit had registered a shot.
This cannot continue into the 2017-18 season. Team leadership and the coaching staff need to make sure the Red Wings are ready to compete when the puck is dropped. With a young lineup devoid of superstar talent, the team simply cannot afford to fall behind early and claw their way back.
Do you think the Detroit Red Wings have what it takes to make the playoffs? Comment below with your thoughts.