It's becoming a yearly tradition at Vancouver Canucks training camp.
For the last three years, one of the Canucks prospects on defence has entered the fray and made himself noticeable. Ben Hutton came out of relative obscurity to make the Canucks roster in 2015. Troy Stecher ended up playing 71 games last year.
Now, it's Jalen Chatfield's turn.
In a Canucks training camp with notable names like Olli Juolevi, Jordan Subban and Guillaume Brisebois, Chatfield has emerged as the most impressive prospect on defence. The 21-year-old undrafted defenceman has asserted himself as the best Canucks d-man not currently on the team.
Chatfield's Rise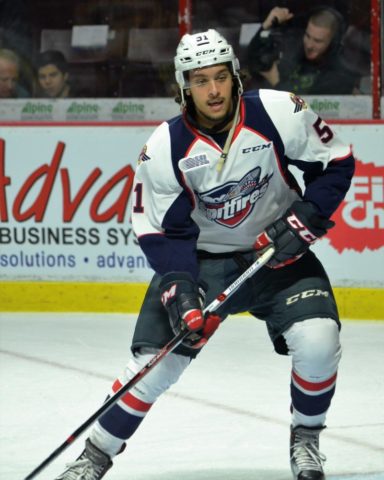 Chatfield didn't break into the CHL until he was 18 years old, playing previously in the Tier 1 Elite Hockey League, based out of the American Midwest. When the native of Ypsilanti, Michigan made the jump to the CHL, he contributed right away with 21 points in 61 games.
He continued to round out his game in two more seasons with the Windsor Spitfires. Although not a natural goal scorer, he found the net 18 times over his last two seasons.
More importantly, he was an integral part of the Spitfires team that won the Memorial Cup last season. He was on the team's top defensive pairing along with Winnipeg Jets prospect Logan Stanley. The duo was part of a defnese that allowed only nine goals in four Memorial Cup games; pretty impressive considering the Saint John Sea Dogs allowed 12 goals in one game.
Canucks 2017-18 Standout Prospect
At Canucks camp, Chatfield has elevated his game once again. The standout defenseman has two goals and three assists in two preseason games. Granted, those numbers need to be taken with a grain of salt, as his shooting percentage is 66.7%, while all of his assists are secondary.
He's still managed to make himself noticeable in each game. His goal against the Calgary Flames was a thing of beauty. He jumped on a loose puck and roofed a backhand shot over the shoulder of Flames netminder Tyler Parsons.
In Junior, Chatfield was not known to be an offensive presence. In fact, his numbers in the CHL were below average for a top pairing defenceman.
Still, he has all the signs of being a late bloomer. He didn't break into the CHL until two years after most NHL prospects and went from playing in a little-known hockey league in 2013-14 to making himself a household name in the Canucks organization.
Prospect Outlook
Before training camp, there wasn't much fanfare outside of some vague intrigue. Now, Chatfield is part of a legitimate debate about his ceiling as an NHL player. However, we won't find out his effectiveness as an NHLer this season since, despite his interesting skillset, he's not a mirror image of Hutton or Stecher.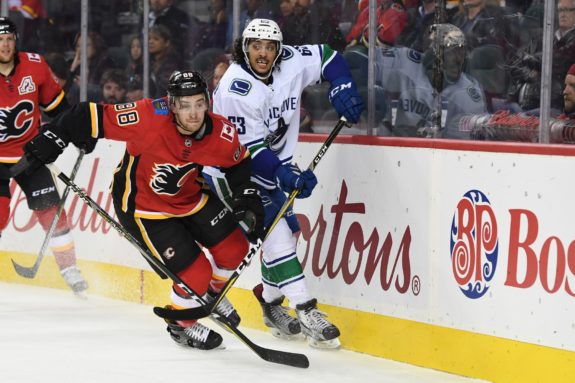 Even down in the AHL, there will be tough competition to earn a spot in Utica's top six. More established defencemen such as Evan McEneny, Subban, Andrey Pedan and Ashton Sautner already have roster spots. Other players such as Philip Holm and Brisebois should also compete for a spot.
If and when Chatfield grabs a spot with the Comets, he will be working with AHL Utica head coach Trent Cull, a defensive guru. He already played in front of Cull for both of his preseason games and put forth some strong performances and the coach had some positive things to say about Chatfield's performance after his three-point effort against the Flames last Friday.
"A lot of energy and every time I see [Chatfield] play, he scores," said Cull, who was running the bench in the absence of Travis Green. "He seems like a kid, if I get a chance to coach him, I'll be excited to have him."
Based on Chatfield's performance, Cull should see plenty of him in 2017-18.
KPU Journalism Graduate. Trevor has been writing for The Hockey Writers since October 2014. He has contributed articles related to the Ottawa Senators, Vancouver Canucks, and other issues/stories regarding the game of hockey. Trevor currently lives in White Rock, B.C.