Competition is healthy for any sports club. That's why Jim Benning brought in veterans during free agency. While some want to see Jordan Subban or Olli Juolevi get their shot with the big club this season, they shouldn't make their debut before they are ready.
Benning addressed the lack of depth by signing free agents Michael Del Zotto and Patrick Wiercioch on July 1st. He also added Philip Holm earlier in the offseason to strengthen competition on the blue line. What's evident through the first few preseason games is that Benning was right in adding veteran depth.
Just because the Vancouver Canucks aren't among the NHL's best, doesn't mean that young guys should be gifted roster spots without earning it. That's especially true on defence, where it takes players longer to develop.
Jordan Subban
On Saturday, Subban was one of 10 players cut from the Canucks roster. Subban came into this season with hopes of making the NHL, but he still needs more time to develop. He has some skills that are NHL-ready including blazing speed and a heavy and accurate shot. If you take a look at the goals he scored last year, they came from a variety of areas on the ice with heavy one-timers, sneaky wrists shots, off the rush, and from firing a point-blank slap shot.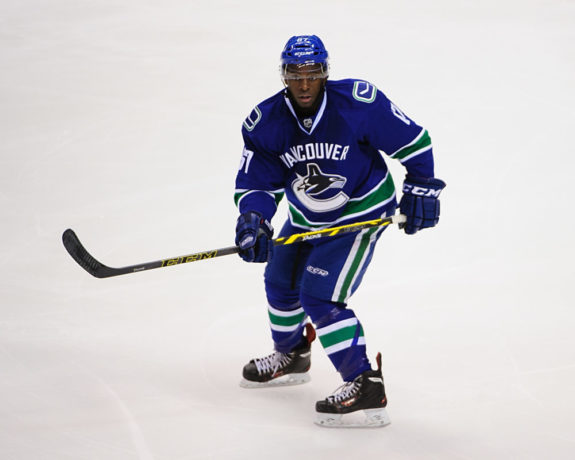 He also tends to make a good first pass out of the zone, although Canucks head coach Travis Green says that he still has an "AHL pass." That was probably the first sign Subban wouldn't last long in Canucks camp.
Preseason presents a terribly small sample size, but Subban wasn't a factor. He scored a nice goal against the Vegas Golden Knights, but he was also on the ice for a few goals against. The defensive part of his game still needs work, especially during one-on-one battles.
Philip Holm
The 25-year-old Swedish defenceman was a dark horse to make the Canucks roster, even though most of us didn't know much about him. He was touted as a defensively responsible, quick and agile defenceman and so far through the preseason, he has looked more adventurous than responsible.
The Canucks were feeding Holm a ton of ice time with most of the veterans off to China. In preseason games against the Golden Knights and Calgary Flames, he played more than 26 minutes and leads all Canucks in ice time this preseason.
Through four games, Holm has a mixed bag of results. He has a 68.1% scoring chances for total, showing that he can move the puck up the ice and create scoring chances, but he has also been on the ice for six goals against and zero goals for. He had some bad turnovers in the game against the Golden Knights and still needs some time before making the NHL jump.
Holm might be one of the first guys in the call-up line, but he needs to fine-tune his game a little more.
Olli Juolevi
If there are three prospects to single out during Canucks training camp, you might have kept your eyes on Brock Boeser, Jake Virtanen, and Juolevi. The first two guys have really jumped out while Juolevi has been far less impressive.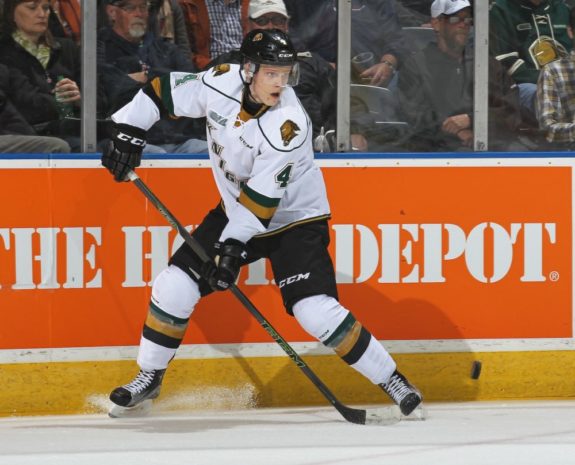 Juolevi will likely never be a flashy player at the NHL level. What made him such a coveted first-round pick was his hockey smarts and smooth transition play. Unfortunately, during the preseason and Young Stars Classic games, he is getting noticed for defensive zone mishaps.
There's always going to be pressure on Juolevi since he was a first overall pick, and everyone loves to make the Matthew Tkachuk comparison. Still, Juolevi is only 19-years-old and should have a longer leash. The Canucks need to get his development right. Although some wanted him on the team as a 19-year-old, it's clear that he's not ready.
Not every defenceman will jump into the league as a 19-year-old, like Zach Werenski, and perform right away. Juolevi needs more time to hone his game, and a season playing in Finland mixed with some AHL games is best for his development.
KPU Journalism Graduate. Trevor has been writing for The Hockey Writers since October 2014. He has contributed articles related to the Ottawa Senators, Vancouver Canucks, and other issues/stories regarding the game of hockey. Trevor currently lives in White Rock, B.C.