Summer can be a bit slow for hockey news, but that doesn't mean there's nothing to talk about.
If you get two people together who love to talk hockey, there's no time that isn't suitable for a good hockey talk. Even in the dog days of summer, Ben Birnell of the Utica Observer-Dispatch and myself were able to cover a lot of ground in our talk about the Utica Comets.
Just like the Vancouver Canucks, injuries ravaged the Comets roster last season. They also lost players like Michael Chaput and Jayson Megna after early season call-ups to the Canucks, from which they never returned. It made for a challenging year in Utica, but Travis Green still managed to get the Comets within three points of a playoff spot.
The Comets should have a more competitive team next year, with a logjam of both forwards and defencemen in Vancouver. It looks like the Canucks want to ice a veteran team, meaning that there will be a glut of young players down in Utica.
I was curious about a few players in general, and I've already written articles on both Cole Cassels and Jordan Subban since our chat from August. However there is lots of great insight from Birnell in this chat, so it's worth a listen.
Cole Cassels (0:15), Jordan Subban (5:23), Joseph LaBate (12:17), Evan McEneny (15:55), Jake Virtanen (19:22), Andrey Pedan (24:05), Trent Cull & Ryan Johnson (29:45), Comets Most Surprising Player (31:29), Comets Most Exciting Player (35:15), Thatcher Demko (36:16), Travis Green (41:53)
---
Joseph LaBate
Guess who played more games with the Canucks last year: Jake Virtanen or Joseph LaBate?
LaBate edged out the Canucks sixth overall pick from 2014, but only by three games. The 6'6″ winger played in 13 games for the Canucks, but Willie Desjardins sheltered him heavily. Labate was averaging a shade more than six minutes per game.
Even with limited ice time, LaBate enjoyed steady improvement. He brought some physicality to the fourth line, registering three fights in his 13 games. LaBate was very impressive during last year's training camp, following up his strong season in 2015-16. It earned him a comparison to one prolific NHLer from his Utica teammates.
"Towards the end of the 2015-16 season, guys were joking and calling him Martin Hanzal," said Birnell.
There's even tougher competition this season up in Vancouver. If LaBate impresses again, he could be in-line for an early season call-up. Even with the logjam of forwards, LaBate does bring that physical element the Canucks sorely lack.
"There's a wild card with having Travis up there," said Birnell. "He knows what LaBate can do."
Evan McEneny
Not many players enjoyed a more meteoric organization rise than Evan McEneny last season. The Hamilton, Ontario native finally enjoyed a clean bill of health, and he made it count.
"In a way, he kind of came out of nowhere," notes Birnell. "He progressively continued to get better." He was one of the most steady defencemen the Comets had last year."
That's high praise for someone who only had three AHL games to his credit coming into this season. His performance meant that he jumped ahead of other notable Canucks prospects like Andrey Pedan. He isn't as exciting as Jordan Subban, but McEneny is of the Canucks most well-rounded defensive prospects.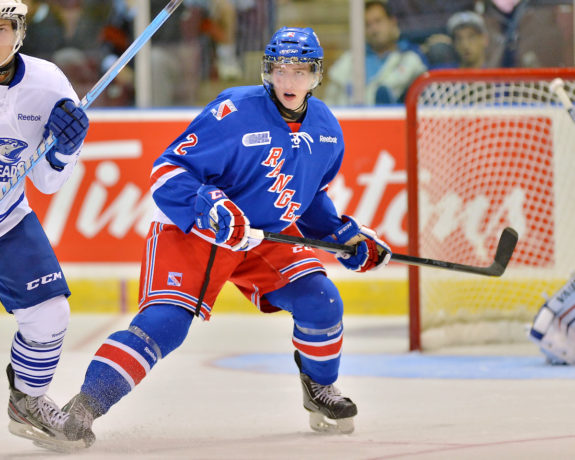 His strong play led to him being called up to the Canucks in February, where he played his first NHL game. Many fans were surprised that McEneny got his first taste of NHL action before Subban, although it's worth noting Subban was injured at the time.
The call-up didn't surprise Birnell. "He talked about gaining that confidence. I was not at all surprised when he got that call-up," said Birnell.
"The Canucks got to see a guy that they didn't know a whole lot about."
Jake Virtanen
A discussion about the Comets wouldn't be complete without discussing their most-discussed player. Even though Jake Virtanen had a less than flattering year statistically, Birnell notes that Virtanen improved his all-around game.
"As him time and Utica progressed, it seemed like his skill speed and that heavy game that people are expecting from Jake were there on a more consistent basis," said Birnell.
"From what I could tell, he came in with a good attitude and wanted to get better." It seemed like he got quicker as the season went on."
Perhaps Canucks fans need to be more patient with the 21-year-old Virtanen. Despite the lack of point totals, his skill set was evident down in Utica, especially in the latter part of the season.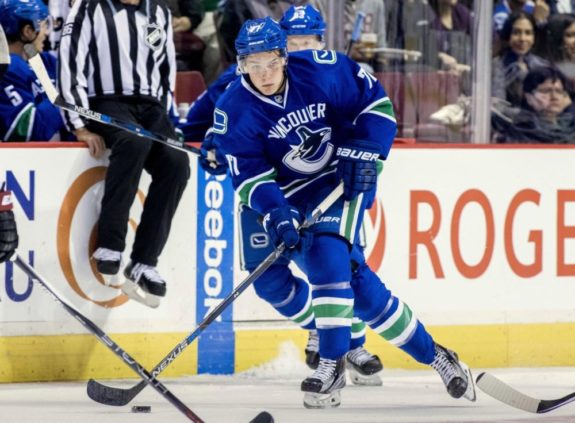 Birnell also notes that the puck wasn't bouncing Virtanen's way last season. His 19 points didn't reflect a lack of chances.
"Offensively, a lot of guys on the Comets didn't have those bounces last year. "Jakes got speed and a shot that's heavy. Sometimes he would put on a great shot that wouldn't find its way in, and you were often left wondering how it didn't go in."
If Virtanen endured bad luck last season, then it makes it more likely that we see the Abbotsford, B.C. native in a Canucks sweater this season. It probably part of the reason reporters like Jason Botchford of The Province are vocal proponents of seeing Virtanen in the NHL to start the season. Still, Virtanen will have his work cut out for him to get back to the NHL.
"It goes back to that logjam," said Birnell. "It's hard to see where the spots might go."
"It seemed like he was taking steps after working with Travis last year. Working with Travis probably gives him a bit of an advantage."
Andrey Pedan
Birnell was honest about Pedan's 2016-17 season in Utica.
"It was a bit of an up and down season for Andrey Pedan," he said. "There were times he was a healthy scratch, and times where he wasn't where he wanted to be, which led to those healthy scratches."
Pedan had his point totals sliced in half, despite playing in more games in this season compared to last. While his point totals dropped, he recorded an AHL career-high 100 PIM. Birnell notes that this came from Pedan being overly aggressive defensively at times, which often got him into trouble.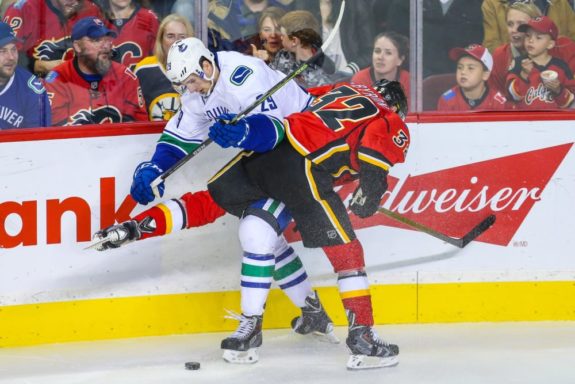 The Canucks re-signed him this offseason to a one-year deal. Benning traded for Pedan in his first season, and he clearly still has some belief in the 24-year-old defenceman. Still, it's concerning that McEneny and career AHLers like Colby Robak passed Pedan on the depth chart.
"He's got the size, and that something that the Canucks are looking for," said Birnell. "If he can put it together and show off what the Canucks are looking for, he could easily be back [in the NHL]."
Pedan could also benefit from working under defensive guru Cull, the Comets new head coach.
Darren Archibald
Despite four years since his last NHL appearance, Darren Archibald is still with the Canucks organization. He played in 16 games for the Canucks in 2013-14, registering a goal and an assist under old head coach John Tortorella.
Archibald was finally healthy after enduring injuries for the last two seasons, resulting in him becoming the Comets MVP. He also had his role increased under Green, earning special teams time. Birnell says that Archibald was never a regular on the penalty kill until last season.
He was a leader for the injury-depleted Comets, but could his strong play result in a recall back to the NHL?
"I think if he continues on the path that he's on, he could get back," said Birnell. "That's kind of why he stayed with the organization. he wants to earn that contract and get back up there with them."
Nikolay Goldobin
With the recent signing of Thomas Vanek, Nikolay Goldobin's chances of playing in the AHL this season have skyrocketed.
While many fans aren't excited to watch a slow, veteran Canucks team, it sure will make hockey in Utica entertaining. That starts with Goldobin, who Birnell noted one of Utica's most skilled players.
"He's a fun guy to watch."
Birnell also noted that Jonathan Dahlen will be another player to keep an eye on. With Goldobin, Dahlen, Reid Boucher, Anton Rodin, and others, the Comets should pack a greater offensive punch next season.
Thatcher Demko
For some reason, it seems like Demko's stock went down after his rookie season in Utica. His numbers don't jump off the charts. but many don't realize that Demko was one of the best goalies in the AHL for the last couple months of the season.
"Towards the end of the year, Demko was lights out," said Birnell. "He took that role and ran with it. He's a fun player to watch."
If someone is pegging the goalie as a fun guy to watch, then he must have been good. Goalies don't often get that designation.
Despite his strong season, Birnell notes that Demko did go through some tough stretches.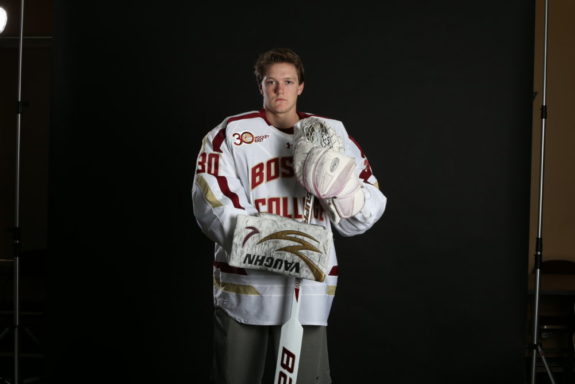 "He wasn't happy about how the year started out, but by the end of the year he was one of the teams best players. He had two shutouts towards the end and a run of seven wins in a row."
There is still another talented goalie in Utica that Demko will battle for starts. Richard Bachman was a valuable mentor to Demko in his first pro season. Not to mention, Bachman wasn't a slouch in net either. He rose to the occasion during his recall to Vancouver, especially during a memorable game against the Anaheim Ducks where he had 43 saves in a 2-1 Canucks win.
"I could see it start out as a 50/50 split," said Birnell regarding the Comets goalie situation. Even though Demko is the Canucks goalie in-waiting, the organization shouldn't want to gift him any roles. You could argue that after the end to last season, Demko does deserves to be the number one guy.
Travis Green
There was some speculation that Travis Green would be similar to Willie Desjardins in the sense that he isn't adaptable. During his last seasons in Utica, Green adapted because of injuries, and wasn't shy in benching guys like Pedan.
"There were a lot of times where he changed up his lineup to get some more offence," said Birnell. "Demko was one of the guys who said that Travis Green was a big reason why they were so close to barely missing the playoffs."
Injuries certainly hampered the Comets success last year, but Green still had them of the cusp of the playoffs. Part of that is because Green preaches an aggressive style of play.
"He wants guys to play hard and be hard to play against," said Birnell. "[Green] wants guys to be active, win puck battles, and go hard to the net. He wanted more crashing the net last year."
Another thing to watch this season is how Green handles his goalies. Both Jacob Markstrom and Anders Nilsson will gun for playing time. Green's handling of the goalies in Utica could foreshadow the Canucks goaltending situation next year.
"With Travis, it's generally been a 50/50 split," said Birnell.
KPU Journalism Graduate. Trevor has been writing for The Hockey Writers since October 2014. He has contributed articles related to the Ottawa Senators, Vancouver Canucks, and other issues/stories regarding the game of hockey. Trevor currently lives in White Rock, B.C.