Jacob Markstrom, despite some inconsistency early on, has been a reliable 1B goaltender alongside Ryan Miller the past season and a half for the Vancouver Canucks. With Miller aging and his contract expiring this offseason, most fans and analysts see Markstrom as the team's next uncontested starting goaltender.
From Pedigree to Consistency
Introduced to most analysts and fans as "the best goalie not in the NHL" before coming to North America after two stellar seasons for Brynas in the Elitserien, the 6-feet-5-inch native of Galves, Sweden, bounced between the NHL and the AHL with the Florida Panthers and their affiliates before ultimately being shipped to Vancouver in the Roberto Luongo trade.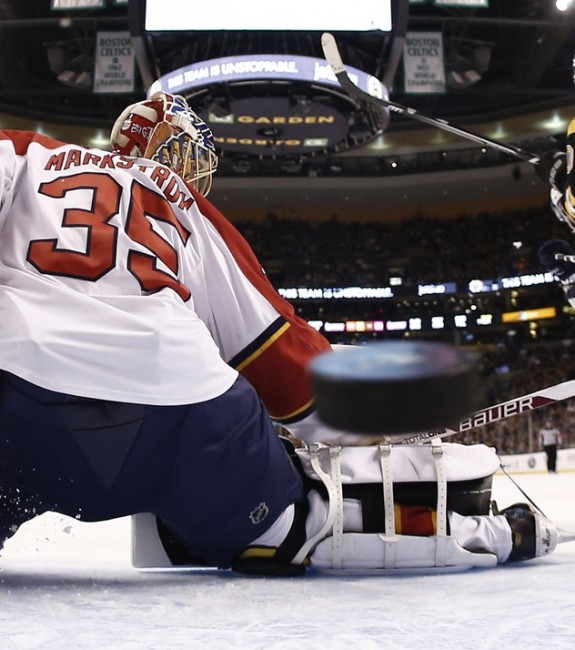 While Markstrom always shone at the AHL level, he failed to replicate his minor league success in the NHL. That is, until finding consistency in his game during his last 50-odd starts with the Canucks. It stands to reason then that his personal statistics have improved during that same span and indeed they have. When comparing his time in Florida to his time in Vancouver, Markstrom's goals-against average (GAA) has improved from 3.09 to 2.69 and his save-percentage has improved from .906 to .913. However, there's one thing that has continued to allude Markstrom so far in his career: he has never recorded an NHL shutout.
While Markstrom's "anti-shutout streak" may not be a total surprise given the caliber of the teams he has played for and given the up-and-down nature of his career's beginnings, it is remarkable in that he is the only active goaltender to play more than 100 NHL games without earning a shutout.
The Island of Misfit Goalies
According to quanthockey.com, the only other active NHL goaltenders without a career shutout are Jean-Francois Berube, Juuse Saros, Aaron Dell, Zane McIntyre, Chris Driedger…aaaand I'll just stop there because I think you get the point. What's common amongst all these goaltenders, besides their inability to earn a shutout thus far, is that they've all had extremely limited playing time. Berube has played 10 games, while the rest have played only five or fewer. Markstrom? He sits at 101 and counting.
Historically speaking, Markstrom doesn't exactly sit in prestigious company. The NHL's all-time leader in games played (GP) without a shutout is Eldon "Pokey" Reddick at 132. Others in the club include Jim Hrivnak (who had a tremendous college career for Merrimack and almost single-handedly dragged his team into Hockey East but then played mostly on some genuinely terrible Washington Capitals teams), Hardy Astrom (whom Don Cherry famously referred to as "The Swedish Sieve") and current NHL Network analyst and former Chicago Blackhawks goaltender Darren Pang.
So there you have it: Pokey, The College Boy, The Swedish Sieve, Panger and … Jacob Markstrom. To be perfectly fair to Hrivnak, Astrom and Pang however, they never crossed the 100 games played threshold. That's purely the territory of Reddick and Markstrom.
Once Upon a Time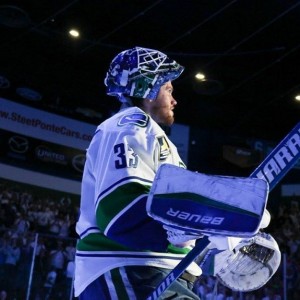 In a truly cruel twist of irony, Canucks fans and Utica Comets fans may remember a time in the 2014-15 season when Markstrom was taking a healthy run at the all-time AHL shutout streak. Ultimately, he fell 30 minutes short of breaking Barry Brust's 268 minutes of shutout goaltending when he surrended a goal, ending his streak at 238 minutes. During that run, Markstrom managed to post three consecutive shutouts and allowed only one goal in four games.
That 2014-15 season Markstrom found the consistency that had alluded him up until that point in his career and led the Comets to a Calder Cup Final. While the Comets ultimately lost the Calder Cup to the Manchester Monarchs, Markstrom's stellar play earned him a contract renewal with the Canucks and another shot at the NHL.
It's Coming, Right?
Since becoming a full-time NHLer following his run with the Comets, Markstrom has made a real case for himself to supplant Miller in the 1A slot for the Canucks. The two have split starts equally this season and over the last two seasons, Markstrom has gained ground in this respect substantially.
According to NHL.com, the pair's GAA and save percentage statistics are incredibly close through 2015-16 and the first third of 2016-17. Markstrom's 2.69 GAA bests Miller's 2.75 GAA, while Miller's .914 save percentage just edges out Markstrom's .913 percentage. Again, it's incredibly close. Also to be completely fair to Markstrom, Miller has only earned one shutout himself during the same time period.
Barring injury or trade, one can assume that Canucks head coach Willie Desjardins will continue to split starts between his two goaltenders for the remainder of the season. This means that, technically, Markstrom won't earn enough starts to surpass Reddick's infamous record this season. One can also assume, however, that Markstrom and his teammates aren't interested in any such distinction.
The hunt for the goose egg continues.
Copywriter and web developer by day, THW contributor by night. Rabid hockey fan, beer-league defenceman and tyke hockey coach always. Covering the Canucks from BC's Sunshine Coast.