When the casual hockey fan is asked who they believe is the best goaltender in today's NHL, the most common response is "Carey Price." There's no arguing that Price is an elite goaltender but is he really the clear cut best on the planet?
Devan Dubnyk might have something to say about this common belief, if not in words, then at least in performance on the ice.
Head to Head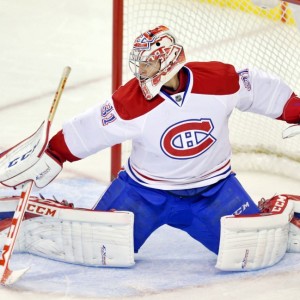 The Minnesota Wild visit the Bell Centre on Dec. 22 where they will compete against the hometown Montreal Canadiens in what has the potential to be a goaltending dual for the ages. If Dubnyk ever wanted to truly steal the spotlight away from Price then this game would be the perfect time for him to do it. Both number one netminders have been confirmed as tonight's starters and you have to believe that they'll be fired up for what will be their first head-to-head matchup of the season.
Dubnyk currently leads all of his peers with the NHL's best goals-against average and save percentage. He also ranks number with a league-leading five shutouts but, despite being tops in these three major categories, the Saskatchewan native is still playing second fiddle to the 2014-15 Hart and Vezina Trophy winner.
The Wild goaltender's 1.55 GAA is an impressive 30 points better than Matt Murray's second-best mark of 1.85. Price, for his part, is right there in third spot sporting a sparkling 1.87 GAA. Dubnyk's sensational .948 save percentage is 10 and 12 points ahead of Murray and Price respectively. Price does have the numbers advantage in one category, however, as his 18 wins best Dubnyk's 16 on the year. Minnesota's 6-foot-6 puck stopper can close that gap to one with a victory tonight.
Two MVPs
Both Dubnyk and Price can, without question, be considered their respective team's most valuable player so far this season. One just has to look at the numbers they're posting and then compare them to the numbers of their backups. It's plain to see what a huge difference maker these two workhorses are for their teams.
Dubnyk has started 25 of Minnesota's 31 games in 2016-17 and is posting a save percentage 41 points better than backup Darcy Kuemper. Price, meanwhile has played in 24 of his team's 32 games and sports a save percentage 31 points higher than backup Al Montoya. It's not a coincidence that their winning percentages are far superior than those of their partners, either.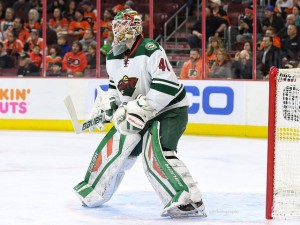 Each a former first-round draft pick, these two guys are calm, cool and collected in the crease. If they have any panic in them whatsoever, they don't show it on the ice. Both goalies have battled hard to be where they are right now. Dubnyk from almost being exiled from the league a few seasons ago and Price in his first months back from serious injury. These guys share a lot of common traits, mainly the skill and the will to be the best in their trade.
Ultimate Showdown
If you love hockey for the goals then tonight's Minnesota vs. Montreal game might not be on your must-watch list but I'd suggest making a one-time exception for this one. Tonight's battle in net could feature two remarkable performances as both goalies look to reign supreme as the game's best.
Let's just say that if this one goes scoreless into overtime, it won't be because of any neutral zone traps. These two unbeatable goaltenders are well aware of each other's abilities and will be battling to swat every puck away that comes near their blue paint. If you're a gambler, go for the under on this one.