When general manager Ken Holland traded Pavel's Datsyuk's contract to the Arizona Coyotes during the summer, he freed up $7.5 million for the Detroit Red Wings to pursue free agents. The team landed their "big fish" when they signed Frans Nielsen to a six-year, $5.25 million AAV contract.
With the remainder of their recently freed up cap space (plus a little extra), the Red Wings signed Thomas Vanek and Steve Ott each to one-year deals worth $2.6 million and $800,000, respectively. Both deals were a bit of an afterthought compared to Nielsen's at the time, but the consensus was that the team could have a bargain on their hands with Vanek. It has turned into an even bigger bargain than Wings' fans could have imagined, which begs the question: can the team re-sign the 32-year-old forward? Furthermore, even if the Wings can afford him, should they bring him back?
Worth Every Penny
The Minnesota Wild bought out the Austrian-born forward in late June, which is why Holland was able to sign Vanek at such a low cap hit. It's not as if his production had completely dried up, either. While Wild general manager Chuck Fletcher felt Vanek was not living up to his $7.5 million cap hit, the skilled forward was able to collect 93 points in 154 games with the team, scoring at a clip of 0.60 P/GP.
Minnesota Wild to use buyout on Thomas Vanek https://t.co/5CmEl2WJwT pic.twitter.com/sgpd78f6is

— Yahoo Sports (@YahooSports) June 25, 2016
Still, once the Wild decided to buy out the final year of his contract, the 32-year-old signed his deal in Detroit with something to prove. According to Vanek, Minnesota was not a good fit for him, though he could not exactly explain why.
So far, it has been the exact opposite in Detroit. Vanek brings the kind of offensive creativity that the Wings sorely lack throughout their lineup. Though he is known for his goal scoring, his playmaking ability has stood out the most this year.
Through 22 games, Vanek has notched five goals and 12 assists, scoring at a pace of 0.77 P/GP. Had the skilled winger not missed 11 games with a hip injury, it is entirely possible that he would lead the Wings in scoring this year. Holland may have signed Vanek to serve as a complementary piece to the team's group of forwards, but nearly halfway through the season, he stands as one of their top offensive weapons.
Off to Greener Pastures?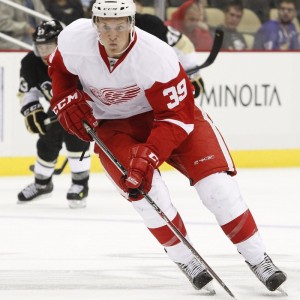 With Vanek proving his worth with the Red Wings, it is tough to imagine he is not in line for a raise with his next contract. If he can maintain his offensive production throughout the remainder of the season, it's not unreasonable to assume that another team might offer him a two-year deal, with an annual average value of $4-5 million. The Red Wings are moving into a brand new building for the 2017-18 season, but they are also on the decline. Currently, the Wings rank 27th in both goals (2.27 GF/GP) and shots (28.2 Shots/GP), and dead last in the league on the power play (12.4 percent). Considering Vanek is heading toward the twilight of his career, it is likely that he will want fair compensation, and to finish his career with a competitive team.
Not to mention, re-signing him could hurt the team in the long run. Along with the stellar goaltending of Jimmy Howard, Vanek's offensive production is one of the reasons the Wings have managed any success at all this year. If the team is going to build a strong core again, Holland needs to stop plugging holes with veteran signings, and rely more heavily on the young players like Anthony Mantha and Andreas Athanasiou. While Vanek's offensive production is a boon for the Red Wings, it could also delay the start of the inevitable rebuilding process bound to happen in Detroit.
I am a writer from Windsor, Ontario who has covered the Detroit Red Wings for The Hockey Writers. I have had the pleasure of doing so since February of 2015. Previously, I have written about Red Wings prospects for Hockey's Future. I am always up for chatting about the Red Wings and hockey in general, so leave me your comment and/or tweets. Follow me on Twitter at @BrandonPeleshok.