Though it seemed that Devante Smith-Pelly was ready to put up impressive totals and be a vital part of the New Jersey Devils heading into 2016-17, the year did not go as expected.
Despite a strong camp, and racking up eight goals and 13 points in 18 games following a trade to the Devils the year prior, the 25-year-old struggled with a recurring knee injury. Despite the fact that he told the team about the injury at the start of the year, he did not have a procedure done until the end of the season and was in and out of the lineup, sometimes as a healthy scratch. Combining his injury troubles with his lack of production, he tallied just five goals and nine points through 53 games in 2016-17.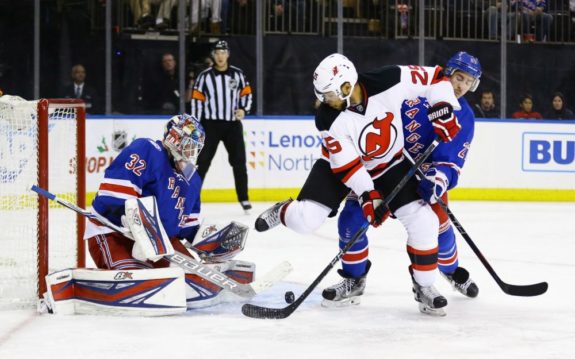 "Expectations were pretty high after I performed the year before, and I had a good camp and a good start and things just kind of snowballed in the wrong direction for me and the team," Smith-Pelly said. "So now I'm trying to move past it and I'm looking forward to getting the year started."
A Change of Scenery
On the day before free agency, Smith-Pelly was placed on unconditional waivers so that the Devils could buy out the remainder of his contract. A few days later, he received a call from the Capitals and earned a one-year deal to prove his worth to the organization.
Still, despite a tough ending to his time with the Devils, he said doesn't hold anything against the organization moving forward.
"New Jersey was good, I had a good time, I have nothing bad to say about anyone there," Smith-Pelly said. "This is a good team, and that was a good team there… I have nothing bad to say about them, but I'm having a good time here."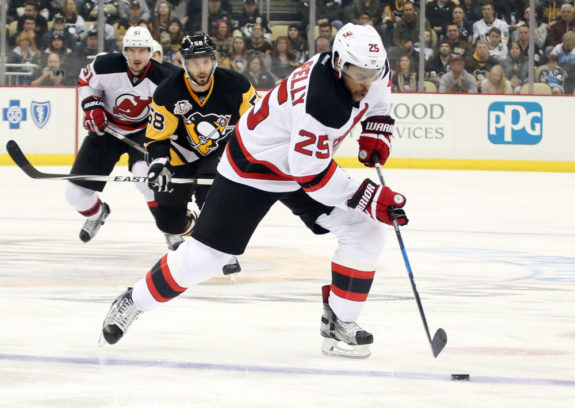 In order to prepare for his new opportunity with the Capitals, the former second-round pick decided to focus on training during the offseason.
"I've prepared for this all summer. I had a really good summer, injury-free summer, it was a long one, unfortunately, but I did all I had to do to make sure I was ready," Smith-Pelly said. "I think I've shown that I'm in better shape, faster, feel stronger, like I said hopefully I can continue to stay healthy and do what I have to do."
Through offseason training, as well as a week at BioSteel Camp, Smith-Pelly gained eight pounds by "putting on muscle mass and losing body fat."
Capitals Gains
Coming into Washington, Smith-Pelly said that he is not too focused on individual goals but instead wants to do whatever he can to benefit the team as a whole.
"If I'm doing my job and doing it well, I'll be an everyday player and I'll be effective and I'll be able to help the team," said the Scarborough, Ontario native. "Personally, I don't put too much stock into goals, assists, points, all that. I'm more worried about doing what I have to do, getting on the penalty kill, finishing my checks, stuff like that that will make me successful and in turn, make the team more successful."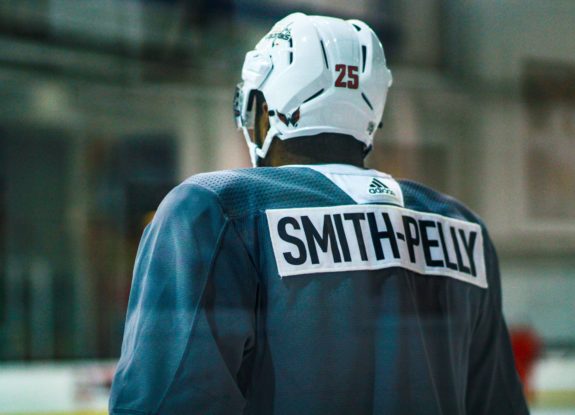 Looking at the Capitals' lineup to start the year, he said he sees himself on the fourth line alongside players like Nathan Walker and Jay Beagle. He said it could be a strong "energy line" that also could help "put up a little bit of offensive numbers."
Still one of the younger players on the Washington roster, he discussed being in a new locker room with a mix of prospects, veterans and star players. As he adjusts to the Capitals' system and gets to know the team better, he has been watching his teammates and learning from them as he works through camp.
"You always try and watch superstars and stars and guys who had good seasons last year. You always want to watch what they're doing and take something from them," Smith-Pelly said. "I find myself watching Ovechkin and Backstrom and Oshie and stuff like that, seeing what they do to get ready every night. You like to take little tips every day and incorporate it into what you do. That's what I do, personally. I watch those guys and try to take something from them."