While Devante Smith-Pelly is making it even easier to second-guess the Montreal Canadiens these days, it isn't exactly hard to play devil's advocate and defend the team.
Smith-Pelly Leads All Players
Smith-Pelly leads all players traded at the deadline with seven goals (10 games) since that fateful day. In 46 contests with the Habs this season, he scored six, and even that figure is generous.
With his 11 points as a Devil, he has nearly doubled his output with the Habs … total, over the past two seasons. Granted, that's not saying all that much, considering he scored just 15 points over the course of what amounts to nearly a complete campaign, but that's primarily the point.
On a positive note, that trade for Jiri Sekac is looking even better these days, but it would constitute little more than further revisionist history to say Smith-Pelly never had a shot to perform with Montreal. And, while there were flashes in the pan of the productive player Devils fans are seeing right now, for the most part Smith-Pelly remains what the Canadiens thought he was when they gave up on him: the player the Anaheim Ducks gave up on, as well.
Smith-Pelly on Broadway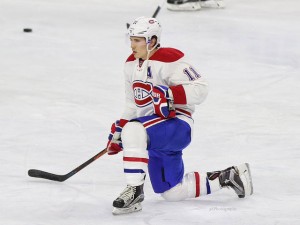 Once Brendan Gallagher got injured (the first time) this season, a casting call went out far and wide. Auditions were held on a near-nightly basis for his replacement on the top line, then alongside Tomas Plekanec and Max Pacioretty.
Smith-Pelly, already given looks earlier in the season on the second line to replace Alexander Semin, was the first name called to the stage. Believe it or not, he actually rose to the occasion, scoring two goals in a 5-1 victory over the New York Rangers.
Then it all hit the fan, and not just for Smith-Pelly, as that was also the game Carey Price left and never returned. Oh, the Canadiens proceeded to win their next game, coming back to win in a shootout, coincidentally against the Devils, with Smith-Pelly curiously seeing a dip in his ice time from the previous game from an at-the-time season-high of 15:06 to 11:46. However, the beginning of the end was nigh.
Maybe head coach Michel Therrien saw something he didn't like—zeros across his row on the scoresheet except for a minor penalty might have done it. Or maybe it was just one of those things. Nevertheless, the very next game, also against the Devils, Smith-Pelly was given another chance with 16:10 of ice time, the most he would get until being traded.
Missed Opportunities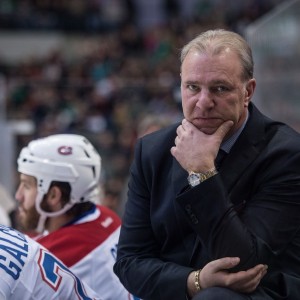 He squandered it, getting just one shot on goal (three total over that three-game stretch, despite the two goals) and posting a minus-2 rating in a game the Devils came back from two down to win 3-2, with the game-tying goal coming in the final minute of the third. He didn't see a shift in overtime. The next game he was back down to under 10 minutes. The game after that, he played a season-low 5:56.
Obviously plus/minus is a flawed stat that may say more about what your linemates aren't doing than what you are. However, if you're thinking to yourself something to the effect of, 'Wow, looking back I don't really recall any of my linemates regularly missing their on-ice assignments," that's because you're probably the one not doing your job, too busy looking at your linemates for some reason instead of the puck.
The takeaway here is not that Therrien gave up too soon on Smith-Pelly—although he does have a tendency to mix things up more often than a bartender trying to come up with new cocktails. It's that Smith-Pelly was the first player Therrien saw in that first-line role, replacing Gallagher.
Obviously, Habs fans know now that it's impossible to pull that feat off perfectly, but the fact remains at one point Therrien looked at Gallagher then looked at Smith-Pelly and said to himself, "Eh, close enough."
Fans can go back and forth questioning Therrien's assessment of talent and make a pretty good case either way. Toronto Maple Leafs forward P.A. Parenteau, currently second in scoring on his new club and en route to a likely 20-goal season, comes to mind as a player who wore out his welcome in Montreal, with his greatest sin as a Hab being a lack in production as a regular healthy scratch.
Game Shape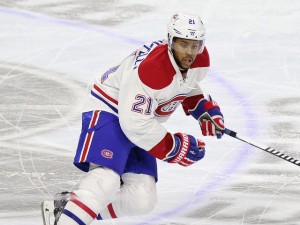 Still, in this particular case, Therrien wasn't all that off. He probably could stand to ask for proper eyesight, half a mind and maybe some hair when he's off to see the wizard, why not. However, Smith-Pelly just wasn't working out as a Hab, having to literally work out once he arrived just to get into game shape.
There's no denying the Habs would most certainly like to have the player that is lighting it up as a Devil right now instead of Stefan Matteau, whom they got in exchange. It's just unfortunate for Devils fans that they're eventually going to have to come to the realization the Smith-Pelly they're seeing these days is one and the same relative to the former Hab who couldn't hit the broad side of a barn without the puck going in off his broad side.
Up until his last game, when he admittedly added to his point total as a Devil with an assist but didn't score, Smith-Pelly had a shooting percentage of 35 percent with New Jersey. When Smith-Pelly was busy scoring an impressive five goals as a Duck on a line with Ryan Getzlaf and Corey Perry back in the 2013-14 playoffs, it was 19.2 percent.
So, are we to conclude that Smith-Pelly's current linemates are better? Or simply that he finally got his game together and, it turns out, is simply more efficient at scoring than Alexander Ovechkin (12.10 percent)?
Making Bergevin Look Like a Fool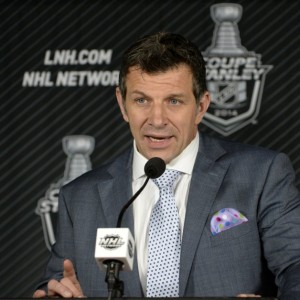 Maybe, just maybe, it's a combination of a few things, namely luck and Smith-Pelly being motivated not to re-enter a head coach's doghouse so soon after leaving Therrien's. However, the notion that Smith-Pelly is making Habs general manager Marc Bergevin look like a fool is flawed and will inevitably be short-lived, once Smith-Pelly has grown comfortable enough in Jersey to take his foot off the pedal.
Things may not work out with Matteau, even though he does have that French-Canadian thing (kind of) going for him that Therrien seems to find so irresistible in David Desharnais. However, exchanging problem children with the Devils was a solution to a, well, problem that wasn't getting any better.
Montreal is not worse off today than they were when Smith-Pelly was in the lineup. And, on the very off chance that Smith-Pelly continues to find success with the Devils, good for him, sincerely.
However the issue was never that he couldn't score—Bergevin did acquire him for a reason besides his size. He always had potential as a former second-round pick. It was the sustained effort that he lacked and that wasn't going to change in Montreal. It's key to remember that Smith-Pelly—and no one else—made sure of that.
Sure, he could have been given another chance, but this is it, isn't it? He had best not waste this one too.
Featured Image was provided by Amy Irvin / The Hockey Writers