Over the last few weeks, Arizona Coyotes' goaltender Louis Domingue found his edge. Playing with confidence, poise and results, Domingue's recent play could force decision-makers into a few difficult judgments.
That would center around playing time for Domingue and veteran Mike Smith, the Coyotes' netminders who are playing now at an elite level. Since Smith's return to the lineup from stomach surgery on March 12 at Edmonton, the Coyotes, as a team, have won four of their last six games. That includes a convincing 3-1 win Thursday night over the Dallas Stars before 11,887 in Gila River Arena.
With Domingue between the pipes facing Dallas, the rookie kicked out 37 of 38 shots and prompted coach Dave Tippett to remark afterward, "he was great in goal, and had a real good showing."
After Tippett ran him out for 11 straight games and Smith watched from the press box, Domingue's edge was comprised and his focus spent. Now with Domingue back from a needed break, Tippett delivered a four-letter word which Domingue clearly needed. That was "rest." Domingue, as well, recognized the heavy workload and mental stain. Now with Smith back in net, proper breaks are now part of his routine.
"It's really necessary for me and Mike to have those breaks," Domingue said after increasing his season mark to 14-15-5. "With the proper rest, the energy level is higher and I feel much better."
If Domingue is getting adequate time between starts, he is beginning to show the influence of Smith. Known as a strong stick-handler with the ability to move the puck, Smith acts as a sixth skater, and teammates take note of swift puck movement into the neutral zone.
"I like to move the puck, too, and Mike and I talk about this all the time," Domingue added. "I see what he does with the puck, and it's beneficial to watch Mike play."
While the Coyotes' goaltending duo clearly can aid by moving the puck, the team appears to be the beneficiary. Players noted a strong improvement from playing with a one-goal, third period lead against Edmonton Tuesday and playing with a similar advantage against the Stars two nights later. Despite Dallas getting 14 third period shots on Domingue, there was praise surrounding execution.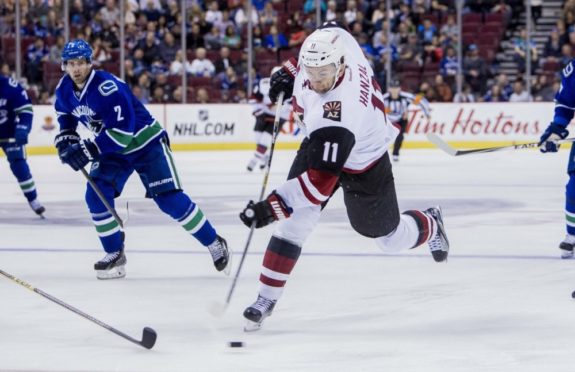 "I thought we played better as a team (against Dallas)," said Tobias Rieder, who scored the Coyotes' first goal when he tipped in Martin Hanzal's shot at 14:11 of the opening period. "We didn't turn the puck over, and took as much space from them as we could."
Now with Domingue getting his game back and Smith playing at a strong level, the team itself could face a challenge of adapting to the style of each netminder. Now so, said Hanzal, who picked up his second, two-goal game of the season. The other was at the Staples Center against the Kings on Nov. 10.
"Both goalies are strong behind the net and with the puck," said Hanzal. "They are very similar in style,  and it's certainly good for us to have both."
Now the challenge for Tippett going forward to find the right balance between rest and industry. Though the Coyotes have only eight games remaining, let auditions begin for the 2016-17 season.
A Significant Milestone
When Hanzal drove the puck in behind Stars' goalie Kari Lehtonen just 55 seconds into the second period, that registered as his 100th career NHL goal. This was also the second straight game in which Hanzal scored, and that marked only the second time this season he accomplished that feat. Earlier, Hanzal scored single goals in back-to-back games against the New Jersey Devils and Montreal Canadiens. Both came on the road, on Nov. 16 and Nov. 19, and Hanzal said of scoring 100 goals, "that's just a number, but a nice number."
The two goals against Dallas gives the Czech Republic native 13 on the season, and increased his production to 38 scoring points.
"He's a real force out there on both ends of the ice," Tippett said of the veteran center. "It's great to see him rewarded with some goals because he spends a lot time around (the front of the net)."
Elsewhere On The Scoresheet
Defenseman Oliver Ekman-Larsson picked up his 51st point of the season, and that's tied for sixth in points among NHL defensemen. … Brad Richardson picked up his 28th point of the season, a career high. Richardson was also stopped on a penalty shot with 8 minutes left in the second period. He was hooked from behind by Jamie Benn in front of the net, but shot wide to the left on his attempt … Arizona captain Shane Doan tied Mike Modano (1,459) for sixth place on the NHL all-time games played list with one franchise. … The Coyotes have two games remaining on this current home stand. That includes the Philadelphia Flyers on Saturday and Calgary this coming Monday night.
Featured Image was provided by Amy Irvin / The Hockey Writers
Mark Brown is a former sports editor for daily newspapers in the Philadelphia and Cincinnati markets. He was named Best Sports Columnist, honorable mention 2004 by the Associated Press Society of Ohio. He is a contributor to major daily newspapers, including the Chicago Sun Times, Philadelphia Inquirer, Honolulu Star-Bulletin, Milwaukee Journal, Arizona Republic, Nashville Tennessean and the Associated Press. He was a Featured Columnist for bleacherreport.com and covered the Arizona Coyotes.