The Detroit Red Wings will begin training camp this weekend heading into 2017-18 without a playoff streak to uphold for the first time in a quarter-century. While they are leaving Joe Louis Arena behind and beginning a new era at Little Caesars Arena, the team will face more questions than answers entering the year with relatively the same roster as last season.
Nowhere is that uncertainty more potent than on the back end.
Top-four and bottom-pairing defensemen have been called on to play above their actual expected potential (see Danny DeKeyser), and the results have been anything but encouraging. Detroit's shots-per-game rate in the past two seasons ranked 26th. This was due largely in part to the lack of a dynamic, puck-moving defense that the team enjoyed in its glory years.
Unable to consistently move the puck out of their own zone, the team ranked eighth-worst in terms of goals-against-per-game in that time span.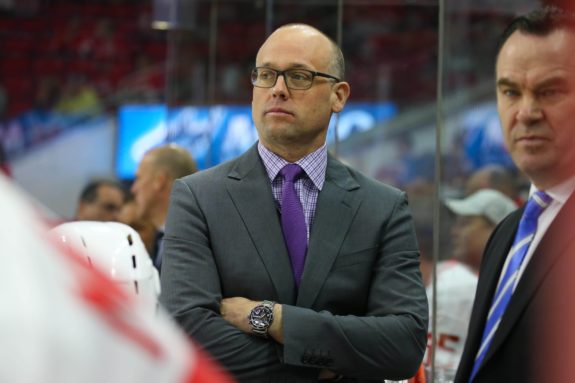 This will likely be the year that Detroit falls into the early stages of the rebuild that they've been trying to evade. Because of this, the urgency should be high for certain players to audition for a future role. Despite the adversity, general manager Ken Holland and head coach Jeff Blashill still believe that this team will make the 2018 Stanley Cup Playoffs. This will result in an opening night defensive alignment with names that are far from what pundits and fans agree with.
However, one must make do with what they have on hand. This mentality is essential for putting together a lineup with Detroit's current offerings. Let's begin with an overview of what the Wings have to work with.
A Revolving Defense
Entering Traverse City, the depth chart remains virtually unchanged outside of Trevor Daley and Luke Witkowski signing July 1 deals. Between the number of spots available and the rotating roles of a patchwork blue line, the possible combinations seem endless. The variety of pairs rolled out by Blashill last season indicates why.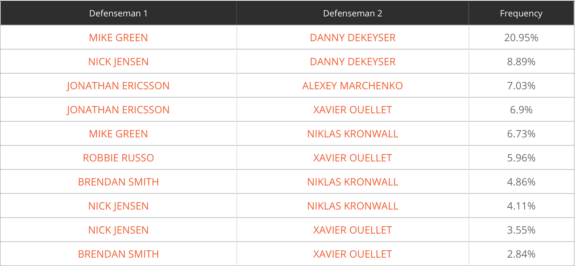 Currently, including Witkowski who can play forward and defense, the Wings have nine defensemen competing for seven spots. That number could boil down before training camp is over, however. Witkowski will either play forward or get sent down to the AHL. Ryan Sproul looks to be headed for long-term injured reserve due to a knee injury. His chances, even if he becomes healthy, are already slim.  The 24-year-old defenseman never played in more than nine consecutive games last season due to the injury and healthy scratches.
As for the rest of the blue line, the seven defensemen who will make the team are likely set.
Of these seven names, Dekeyser (46.05%), Daley (46.40%), Jonathan Ericsson (46.77%), and Mike Green (47.50%) all finished in the bottom-50 in terms of Corsi-for percentage among defensemen who played at least 40 games in 2016-17. Niklas Kronwall was not far ahead with a 49% possession rating. DeKeyser, Ericsson and Kronwall combined for seven goals and 34 points. Those three also combined to make $14 million last season.
It's clear Detroit does not have the strongest personnel or financial flexibility to work with from the outset. However, Blashill will be measured in the spirit of Vince Lombardi with how his team performs despite their current situation.
There is only one version of the lineup the Wings could roll out to give their best attempt at satisfying that measurement.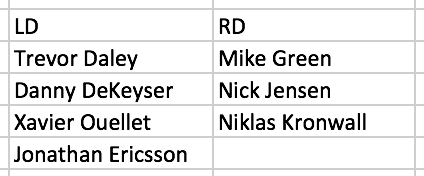 A disclaimer to start the evaluation of this group: Kronwall and Ericsson are locks on assumption that their overvalued veteran presence will earn them spots.
Green is Number One
Starting with the top duo, by default Green has to log top minutes to maximize his value come February 26's trade deadline. Despite his pairing's rough possession numbers, the soon-to-be 32-year-old posted 14 goals and 36 points last season. However, that doesn't begin to even scratch the surface of his impact.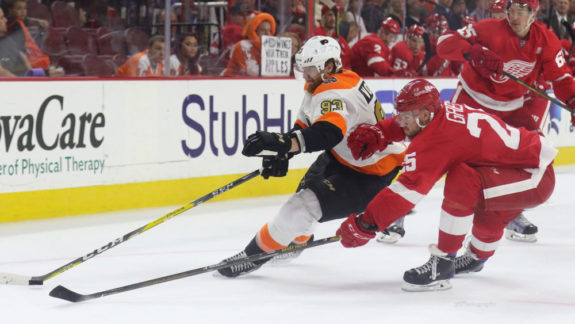 Since Green signed in the summer of 2015, he's played in 146 games and has tallied 21 goals to go with 71 points. The next defenseman tallied 39 points in that timeframe. Only three others potted five-plus goals. In fact, only two others posted 25-plus points.
Reminder: these numbers are from the past two seasons combined.
On the power play, it's even more disproportionate. On the 23rd best man advantage in the league over those two years, Green scored eight goals and 30 points. The rest of the defense posted three goals and 27 points, with Kronwall tallying 20 of them.
Given Green's performance on a team that has not provided him with any elite partners, a contender able to provide that depth should covet his services on the power play and in the top-four. Entering a contract year, the former Washington Capital should be given every opportunity to raise his stock.
Daley's New Beginning
Daley on the surface is quite a marginal upgrade for Detroit, as he struggled in his scattered role the past two seasons. The Sault Ste. Marie product posted a 49.74% Corsi-for percentage and -3.8% Corsi-relative mark in 109 games. His 11-goal, 41-point performance over that span was average and likely boosted by the elite offensive dynamos Pittsburgh had.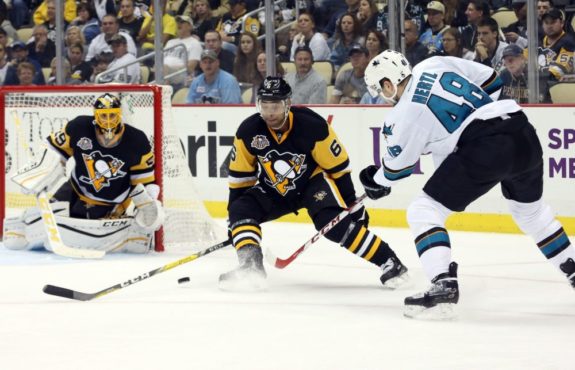 Defensively, at even strength this past season he never seemed to gel with any one of his partners and each were better off separated.

At this point, you're probably skeptical of Daley riding shotgun with Green. There are some factors to think about however, so hear me out.
For starters, he and his most consistent partner from last year in the form of Olli Maatta were never able create chemistry. This was the case for the entirety of Daley's tenure. In 2015-16, Daley's most common partner was Brian Dumoulin. The numbers speak for themselves.

While Dumoulin fared better without Daley, there was a clear chemistry between the two that made the latter better. This hit a snag particularly due to injuries. The Toronto native suffered a broken ankle in the 2016 Stanley Cup Playoffs and missed time last season due to knee surgery that kept him out for nearly two months. Two days after the setback, the Penguins acquired Ron Hainsey. By the time Daley returned, the former Carolina Hurricane was a lock on Dumoulin's side.
One has to wonder if the change to a partner with more experience and ability to generate shots will do Daley well this season. At this point in his career, he needs a player alongside him who can make him better. Green, in need of a new partner himself, could do just that with more raw offensive production and shot impact to offer relative to the stagnant Maatta. Daley should also get Green's best offerings with him likely auditioning for a new home next summer.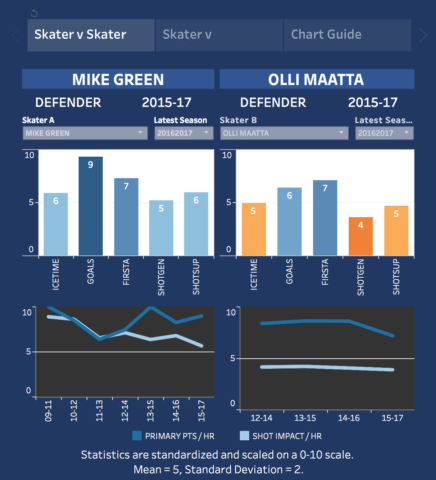 Daley is an average defenseman at best and may be flirting with below-average at this point in his career. Despite this, on a blue line with no clear elite foundation, he vaults to the top alongside a player that has the best chances of making him better.
There does exist an underlying reason for his positioning in this lineup, however, and that is revealed with the next pairing's evaluation.
DeKeyser Needs Confidence
A step down to the second pair will do DeKeyser well, as the 27-year-old was clearly overwhelmed in his role the past two seasons. In 160 games, he posted a 47.37% Corsi-for percentage and -4.2% Corsi-relative percentage. This performance was turned in under nearly 22 minutes of ice time each night. The Western Michigan product began logging that level of duty in his second full NHL season at 25 years old.
Detroit made a tall ask for an inexperienced player coming straight from college with little professional experience in the AHL and NHL.  The $5 million cap hit on his head for the next five seasons applies even more pressure for DeKeyser to get back to what the Wings valued him to be: a defensively reliable anchor that can play in the top-four. He needs to break from the two-year experiment with Green and play with a piece that will help him reset and start moving the needle again.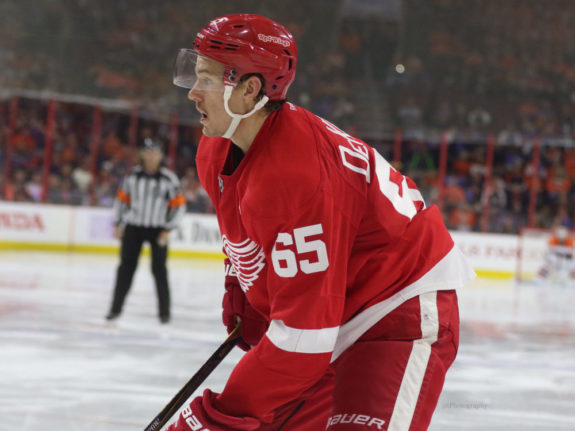 That piece is Nick Jensen.
Jensen A Late Bloomer
Since making his NHL debut on December 20th, the soon-to-be 27-year-old defenseman played more with DeKeyser than any other partner logging 333:18 of even strength time by his side. The results are staggering with the amount of salvation that Jensen offered to his reeling partner, albeit in a small sample size.

Possession numbers of course are not the end-all, be-all. However, there seemed to be some chemistry brewing between the two with a difference this significant in terms of moving the needle.
By the end of the season each finished in the top two on the defense in terms of shot suppression per 60 minutes. DeKeyser allowed a rate of 28.31 and Jensen 28.68. Both were around a full two shots below the team average among defensemen who played at least 300 minutes last season.
The St. Cloud State alumnus was no slouch offensively either in 2016-17, well on his way to a 20-point pace with 13 points in the 49 games he played.  He would've been the only Detroit defenseman other than Green to reach at least 20 points.
Jensen actually tied Kronwall for second-best in terms of overall offensive production among Detroit blue liners this past season. That speaks volumes about how much the team needs an injection of puck movement in its top-four and why the Wings were so inclined to give him a two-year extension.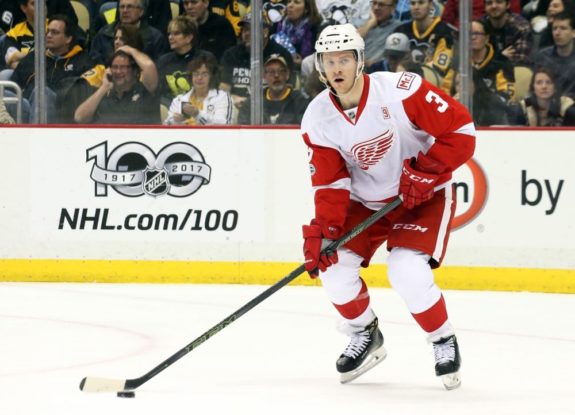 Jensen will not completely turn DeKeyser's career around. However, giving the latter some time to breathe off the top pairing with a partner that he seems to vibe with makes sense for this season in terms of restoring his confidence.
Free Ouellet Forever
Ouellet was not given the easiest ride to his first full-time stint in the league. Playing 29 NHL games combined from 2013-2016, he finally stuck with the big club playing 66 contests this past campaign. The 24-year-old was never a notable offensive contributor at the professional level with the Griffins, scoring four goals and 29 points in his final AHL campaign.
However, his two-way play was evident last season, especially in a defensive role starting 51.67% of his shifts in his own zone. Among the nine defensemen who played at least 300 minutes at even strength this past season for Detroit, the table below shows where he ranked.

While not overwhelming, for a player who logged just under 18 minutes per game it's about as solid as one can get for $715,000. This summer, the Wings rewarded him with a two-year contract and on the surface, a vote of confidence. However, in Traverse City, no spot is guaranteed. Alexey Marchenko, Teemu Pulkkinen, and Martin Frk can attest to this. He should get the nod based on his merit and room to grow, unlike the seventh defenseman in this lineup.
Kronwall Will Be There
As much as many loathe the idea of the 36-year-old Kronwall taking a roster spot from an up-and-comer like Joe Hicketts, it will happen. He's going to receive any opportunity to play based on his intangible leadership qualities as the organization feels he's earned it. Despite this overwhelming loyalty harming the on-ice product's overall performance, credit is due to Kronwall for working tirelessly to continue playing the game he loves.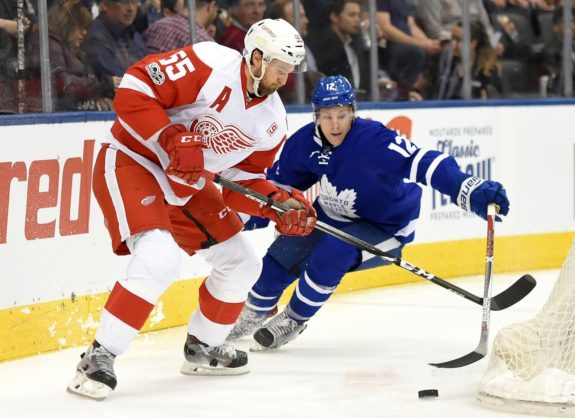 Ouellet and Kronwall compiled just 79:52 of ice time together last season so there is not much familiarity between the two. However, both end up on the bottom pair given their current roles by default. There was not as much strategy to this pairing as there was with the top-four. I'm just expecting Kronwall to have an automatic spot. Between Ouellet and Ericsson, there's really no contest as to who would be the better fit to drive the pair and bail out the veteran when needed.
If Kronwall makes it through camp, he must stay away from the top-four pairings and play in a reduced role, much like the one he was deployed in last season. The Viksjo native logged 15:18 of even strength ice time per game. 2016-17 also marked the second consecutive season that saw him play in progressively fewer games, going from 80 in 2014-15 to just 57 last campaign.
Before the Red Wings close the book on 2017-18 it's likely that Kronwall will be on long-term injured reserve. In the meantime, he must be as sheltered as possible playing the role of the sixth man.
Outlook for October and Beyond
While the Red Wings brass may have confidence in this team returning to the postseason, many pundits and fans alike have their doubts. Most of that apathy goes back to the lack of any dynamic difference makers on the blue line. This is a problem that will haunt Detroit more than likely at multiple points this season. However, there are some positives to take from what is expected, outside of management, to be a lowly campaign.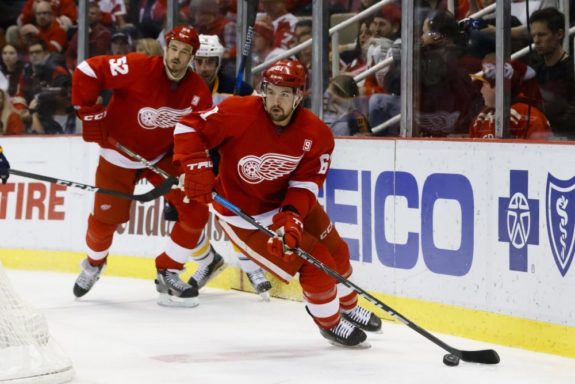 Some defenders have the chance to individually grow, bounce back, or even increase their value to be flipped at the trade deadline this spring. DeKeyser, Green, Jensen and Ouellet are all players to watch in this regard. It is essential that they all are put in the best possible positions to succeed.
Even if this starting six gets broken up at some point in February, players like Hicketts and Vili Saarijarvi could be given the opportunity to log some NHL minutes. There also looks to be a prime crop of young defensemen headlining the 2018 draft class that the Wings would have a chance to snag.
Out of camp, these are the optimum defensive pairings for Blashill to piece together. It will not be for a playoff run, but for the near future.
Advanced statistics courtesy of NaturalStatTrick.com
Griffin is a Junior at Northwood University in Midland, Michigan pursuing a Sports and Entertainment degree. His passion of writing began when Detroit Red Wings captain Henrik Zetterberg was out for the season in 2014 and he wanted to give his thoughts. Griffin comes from LastWordOnSports.com where he had the role of "associate editor" and wrote nearly 300 articles over three years for their hockey department.