From the moment the Boston Bruins announced the signing of David Pastrnak to a six-year/ $40 million deal, it was only a matter of time before the comparisons started to make the rounds on the recently inked eight-year/ $68 million pact of Edmonton Oilers forward Leon Draisaitl. On the surface, it may look as though Peter Chiarelli had once again overplayed his hand but in this case, the two situations are similar but not exactly alike.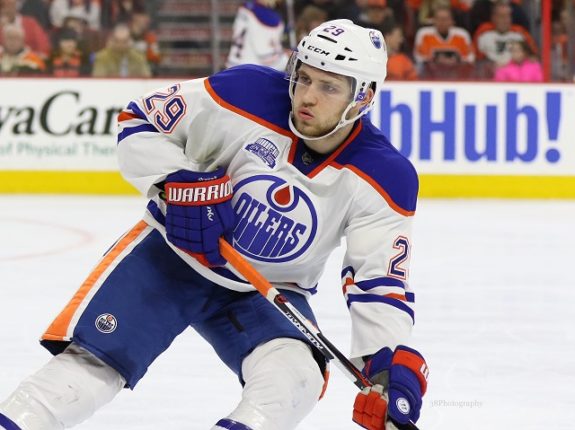 There is a certain pedigree which comes with being a top three pick in the NHL Entry Draft that is not part of the equation for late first-round selections. That so-called pedigree can lead to said players being paid at different levels during their first three years in the league, even if their performances are somewhat similar. Like it or not, this is part of the deal when it comes to the fellow 2014 draftees and how their extensions were handed out.
All about Entry Draft Placement
A quick glance at last year's leading scorers shows us Draisaitl finished eighth with 77 points and Pastrnak was 18th at 70 points. The difference is frankly negligible but when we take a look at how the two were compensated for their efforts, its apples to oranges. While the Bruins shelled out $925,000, the Oilers had to cough up that same amount and additional $2.475 million in bonuses that come with having a top three pick who produces on your roster.
In fact, it was the second consecutive season in which Edmonton had to pay out bonus money to the fan favourite. If anyone thinks for a second that doesn't play a part in how negotiations turn out, when coming to an agreement on a player's second contract, you are either (A) unfamiliar with how sports contracts work or (B) naive. When a player has been paid "X" amount, be it via bonus or base salary, that becomes the starting ground for a new deal.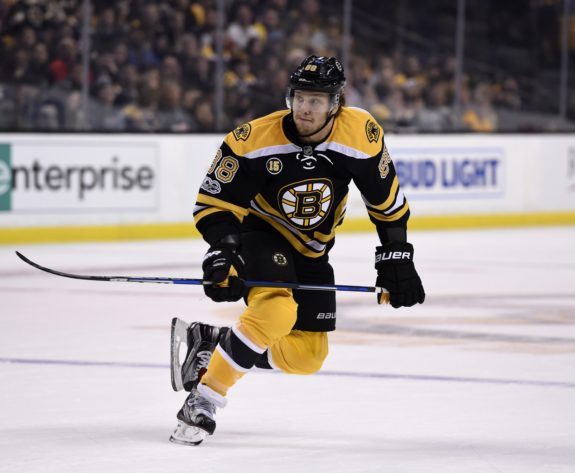 Again, they are similar but not exactly alike. Despite having to "settle" for an annual average salary of $6.67million, Pastrnak was given more than a 700% increase in pay over his first three seasons in the league. However, when we take a look a Draisaitl, we are a talking about a "mere" 250% hike in pay from his $3.4 million ticket from a season ago. Remember that pedigree bit I mentioned earlier? This is where it comes into the equation.
Also, let's not forget the 2015 Memorial Cup MVP gave up an additional two years of free agency and every club is going to have to pay for those years. If salaries continue to rise, there is a good chance Pastrnak may very well surpass the $8.5 million Draisaitl makes when he hits unrestricted free agency following the 2023-24 campaign. The Oilers were willing to go that extra mile and the player took them up on it.
Oilers Went Extra Mile with Draisaitl
No matter what you think of either player, the similarities and differences in their games are there for all to see. Both are extremely skilled and just starting to scratch the surface but one has the ability to play a dominating physical style and roughly 30 pounds on the other. By no means, does that make one better than other but it allows Draisaitl to do things on the ice Pastrnak cannot and the fact one is viewed as a centre and the other is not, is important.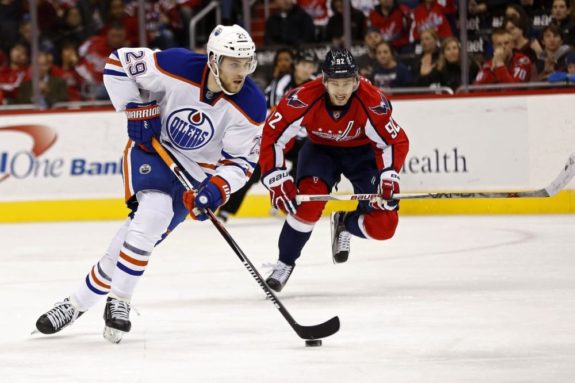 Regardless of what side of the fence one lands on, both guys hit the jackpot but Edmonton was forced into handing out a little bit more for two reasons: The aforementioned draft position/bonus potential and looking at Draisaitl as a viable long-term fit down the middle. After all, it's no secret that centres tend to be paid more than wingers and the timing could not have been better for No. 29 to cash in that chip.
After watching Connor McDavid sign for eight years at a cap hit of $12.5 million per, it only made sense for the big German's camp to look for a number in the neighbourhood they ultimately able to wrestle out of the Oilers. The organization had made it quite clear that both he and No. 97 were going to be the two leading the charge over the next decade, so it was always a matter of how much and for how long.
McDavid Set New Benchmark
Now is there merit behind the argument that Draisaitl has yet to show the ability to drive a line over the course of an entire 82-game schedule? Sure but there was a reason why he played to the extent he did with McDavid in 2016-17. The club was at their best when the two were on the same line, they wanted to play together and Edmonton went from zeros to heroes overnight, thanks in large part to the performance of their new dynamic duo.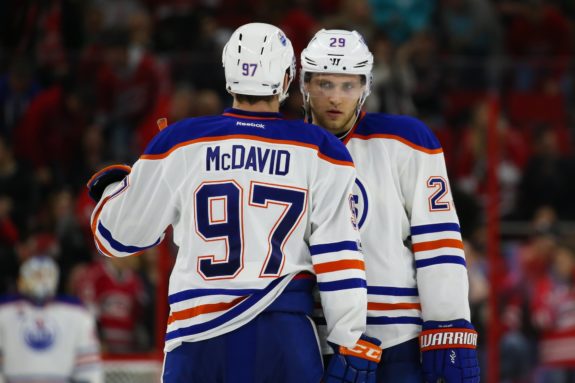 Don't get me wrong, Chiarelli took a big risk signing Draisaitl to the number and term he did but in my mind, it was worth taking and will pay off in the end. Could his annual hit have been a little lower? Possibly but for me, nickel and diming your best players for the sake of doing so is a recipe for disaster and one every organization would be wise to avoid whenever possible. Simply put, management identified their main pieces to the puzzle and tied them up.
If you want to complain about some of the iffy trades and bad contracts this general manager has made and dished out since taking over the reins, have at it, as there are more than a few to choose from. With that said, the signing of Leon Draisaitl was not one of them and trying to use the David Pastrnak signing as a comparable is nothing more than an attempt to create a scenario that never really existed.
Also available from Rob Soria: 
Connor McDavid: Hockey's Next Great One
Rob Soria is the Author of Connor McDavid: Hockey's Next Great One. He has chronicled the Orange and Blue since creating his Oil Drop blog in 2011 and has also had his writings featured over at HometownHockey.ca and Vavel USA, where he has covered the NHL, MLB and ATP Tour. Rob was born, raised and still resides in Edmonton, Alberta and can be reached via twitter @Oil_Drop.